Home | Bus routes | Operational details | Service changes | Operators & Garages | Photo gallery
---
Route 77
30 October 2013
In the late 1990s, the 77 survived a proposal to withdraw the route in connection the opening of the Jubilee Line extension. The intention was to split it into two overlapping sections, with one section from Tooting to Vauxhall numbered 447 and one from Clapham Junction to Waterloo, continuing to London Bridge to replace the P11 (or 381 as it is now), numbered 377. In addition the 447 service would have provided a new link from between Lavender Hill and Vauxhall via Queenstown Road and Nine Elms.
This plan was dropped – what would the residents of Tooting have made of "Route 77 is being withdrawn because of the Jubilee Line Extension"?! – but there was then a plan to renumber the route to 272, to match with the number 270 on the common section between Tooting and Earlsfield. Either way, in due time route 77A would have been able to lose its suffix, thus eliminating the last suffixed London Buses route, though quite why this was deemed so important has never been made clear. The aim was eventually achieved after the number 87 was vacated by a different structural change!
Interestingly, there was then a further plan for a new 437 between Vauxhall and Clapham Junction. This sounds very like a resurrection of part of the 447 proposal, with the revised number being suspiciously similar to the 137, which also runs down Queenstown Road. This aim was eventually fulfilled instead by an extension of route 156.
The 77 and 77A (now 87) were both well established routes, although both have shrunk at both ends. Latterly the two only had a short section in common, between Clapham Junction and Vauxhall, whereafter the 77 runs to Waterloo while the 77A/87 crosses the Thames and runs to Aldwych. But the routes used to continue running parallel via Lambeth Bridge, Aldwych and Euston to Kings Cross. At the other end an additional service ran under the number 77 from Tooting via Mitcham and Carshalton to Wallington – essentially the 127 route.
The 77 was an early recipient of low floor buses in the guise of Plaxton President bodied Volvo B7TLs, but these have now been swept aside by a fleet of new E40D/Enviro400 buses. E279 (SN13 CJO) stops at Vauxhall bus station on 6 June 2013, during the first week of the new contract that called for these buses. I do not know if the lack of an offside advertisement reflects a lack of advertisers or simply the fact that the bus was new.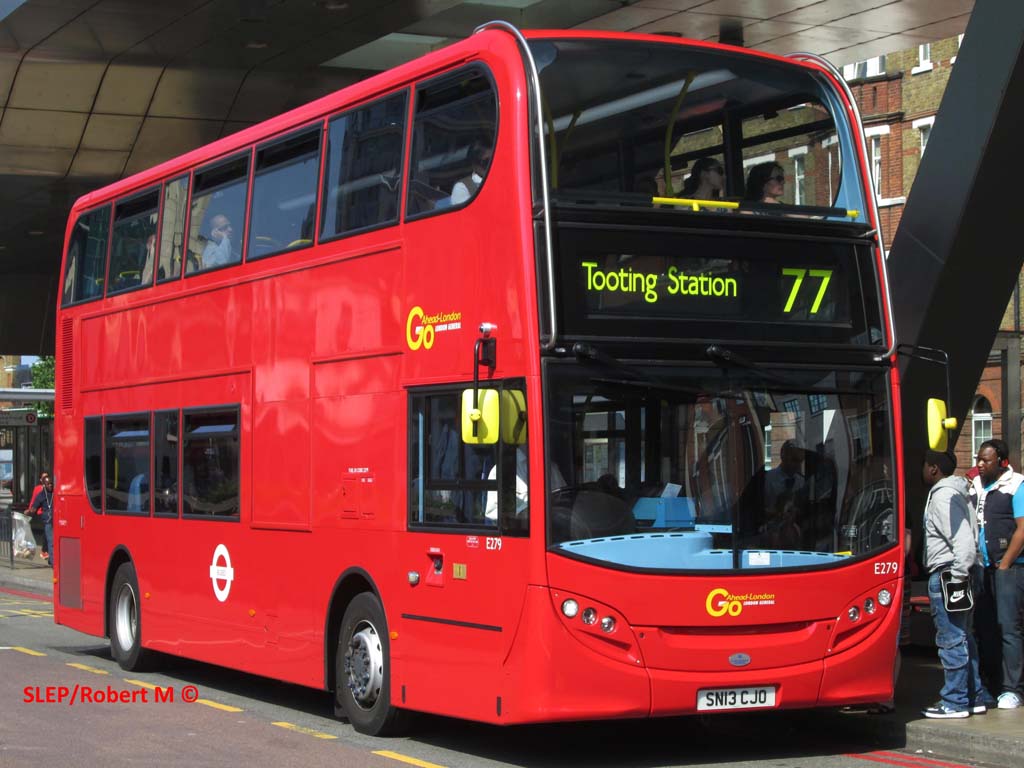 Photo © RNAM200 (Robert Mighton).
Stockwell has a variety of vehicle types allocated and not surprisingly there is some mixing. The most excusable variety is for older Enviros with the Trident chassis – from a passenger perspective the differences are largely cosmetic. E80 (LX57 CKK) was at the same spot on the same day.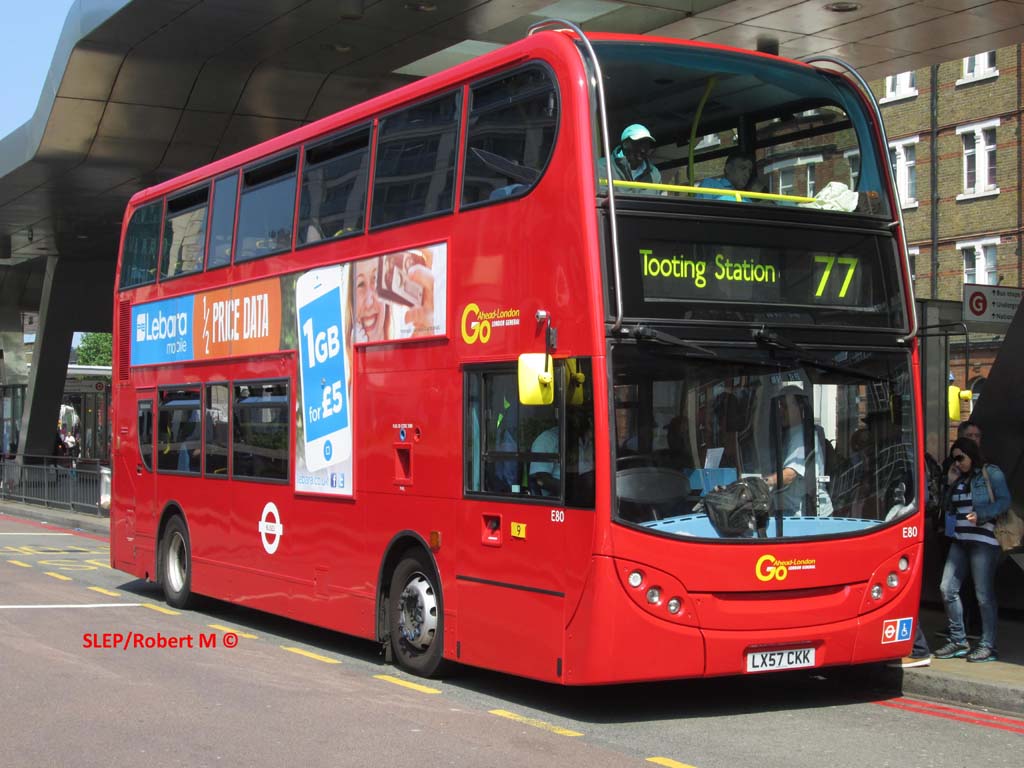 Photo © RNAM200 (Robert Mighton).
Navigation
| | | |
| --- | --- | --- |
| | Previous | Next |
| Chronologically | 144 | 965 |
| Numerically | 73 | 80 |
See also routes 381, 44, 344, 270, 87, N77, 127

Photo Gallery | Bus route list | Operational details | Service changes | Operators & Garages