Home | Bus routes | Operational details | Service changes | Operators & Garages | Photo gallery
---
Route 161
20 May 2006
The 161 is a well-established service, having started out in replacement for part of the 227 bus between Chislehurst and Eltham. At peak hours the original had extensions to Sidcup and Woolwich, the latter being unusual in being non-stop. Since withdrawal of the 44 tram, the main service between Eltham and Woolwich, the trunk of the service has always been Chislehurst to Woolwich.
However, a variety of extensions and variations has been operated — and subsequently retracted. The number 161A has been used more than once, and branches have run all three possible ways from Chislehurst! The focus of the latest activity has however been at the Woolwich end, with an extension to North Greenwich Station and the Dome, giving the route a curious L shape. Ironically it did run this way before for a few years, to Greenwich, albeit only during peak hours.
A further route variation began on 24 February 2001, with buses diverted through the rebuilt Queen Elizabeth Hospital on Woolwich Common, once this took on a more important role to replace Greenwich District Hospital. This has added a few minutes to journey times, but in order to reduce the extra distance required, a new access road to the south end of the campus via Baker Road was specially constructed.
Following operation variously by Sidcup, Plumstead and Bromley garages (the latter following extension of the route back to Bromley in April 1991, and coincided with one incarnation of the 161A running to Petts Wood), the route was lost to Kentish Bus on 12 March 1994, who operated it from their "Lewisham" garage (in Deptford) using new Volvo Olympians. The service was once again consolidated to run between Chislehurst and Woolwich only, with the 161A being withdrawn. These southern legs were merged into new route 162.
However, difficulties at Kentish Bus resulted in the route passing to Metrobus from 2 December 1995, the date they lost route 61, and the Leyland Olympians from the 61 were used for several years. The extension to North Greenwich resulted in new Dennis Tridents being ordered, as Transport for London had stipulated that all routes serving North Greenwich should be operated with low floor vehicles. This was particularly surprising as the route was near the end of its contract, making financing new vehicles much more difficult.
Fortunately the route was retained when the route was re-tendered in 2001, but 2006 brought more new buses predictably in the shape of Scania/East Lancs Omnidekkas. The original 431+ fleet number series for this type (following on from the Tridents) quickly overflowed, and the former Metrorider 901+ series has now been adopted, and so we have 916 (YN55 PZX) on 22 March 2006 at Eltham Station heading for the Jubilee Line station at North Greenwich. As with the 127 Omnidekka, a couple of air inlet pods can be seen above the windows near the front.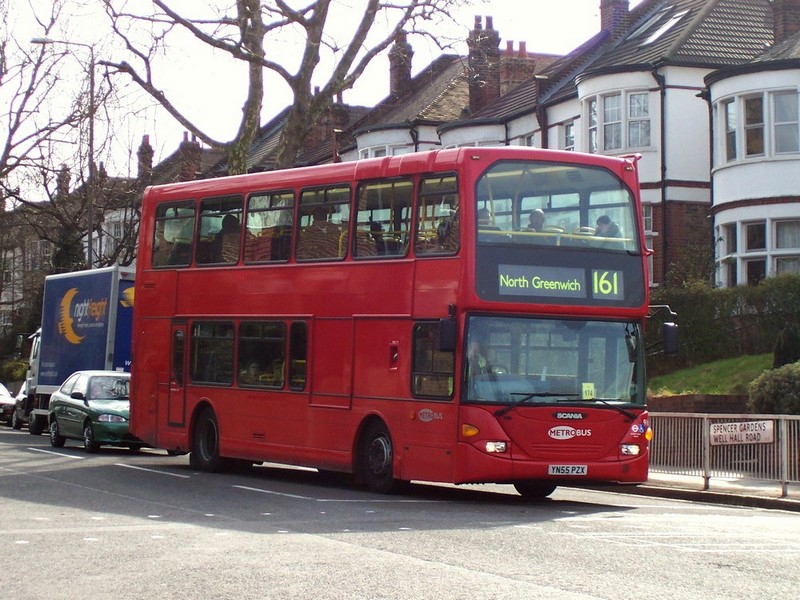 Photo © Russell Baldock.

Navigation

See also routes 227, 162, 61, 474

Photo Gallery | Bus route list | Operational details | Service changes | Operators & Garages