Home | Bus routes | Operational details | Service changes | Operators & Garages | Photo gallery
---
Route K5
17 October 2011
London United has made a bit of a habit of losing "small" routes to Quality Line, the latest being the K5, which passed to the new operator from 2 July 2011. Optare Solos are used, and two views are provided here. The first two depict the same bus, OP33 (YJ11 EJD). The first view is in Mostyn Road, Merton Park, nearing journey's end on one of the "hail and ride" sections of the route along residential streets. The date was 26 July 2011.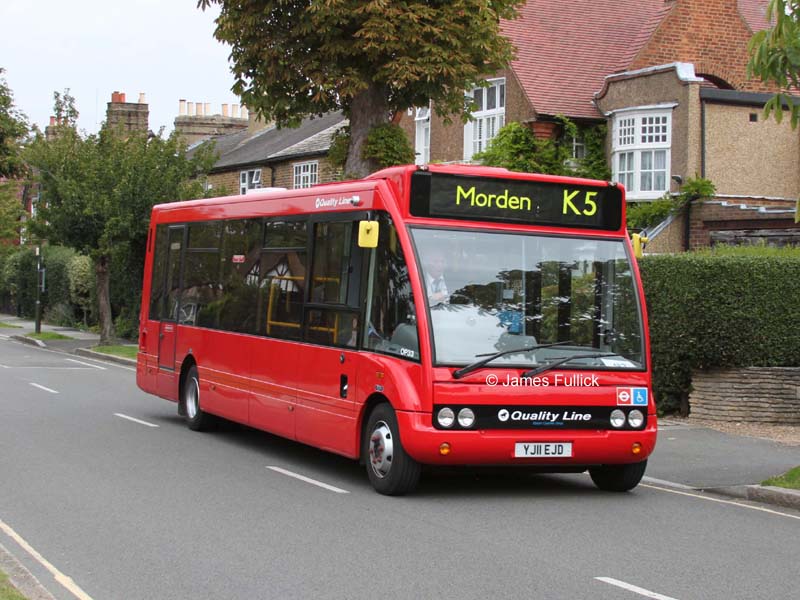 Photo © James Fullick.
The second photograph was in Clarence Road, Kingston, on 23 July 2011. Buses have a complicated routeing through Kingston in order to serve Eden Street, the main shopping area. Although it is a one-way street, buses pass this spot (and Cromwell Road, which the bus is about to turn into) heading for both Ham and Morden. Towards Morden buses have to traverse Cromwell Road and Queen Elizabeth Road twice on each trip.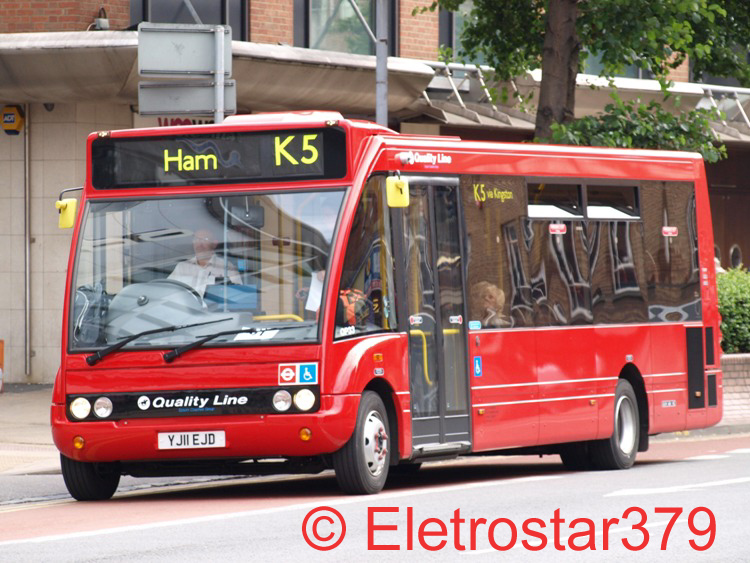 Photo © John Boateng.
The K5 combines portions of former routes K5 and K6, which were both introduced in 1989. The Initially the K5 ran as a shuttle between Kingston and the South Lane area of New Malden, where it ran in a loop working, via Cambridge Road. The K6 ran between Kingston and Kington Vale (Robin Hood Estate) via Kingston Hill (a function now covered by the K3). Both routes ran Mondays to Saturdays, except evenings. In 1990 both routes were enhanced, the K5 being modified to terminate at the fountain at New Malden, with two-way running over most of the roads concerned. It was also diverted via Kingston Hospital at the same time. The K6 was extended at both ends, to Roehampton Vale Asda and to Ham. The latter extension provided greater penetration than the 371, the main route to Ham. Shortly afterwards, both routes were taken over by Westlink. The routes passed to London & Country in 1993 and were reduced to shopping hours only.
In 1998 L&C merged routes K6 and R61 and renumbered them to 485, making it a lengthy and circuitous trip from Ham to Richmond via Canbury, Kingston, Kingston Hospital, Kingston Vale, Roehampton Vale, Roehampton, Mortlake and Kew. The present day 485 is actually a direct descendant of this route, even though it now has nothing in common with the original! At the same time, the K5 was extended from New Malden to North Cheam, taking over sections of routes K10 (via Motspur Park) and K9 (via Malden Manor) between New Malden and Worcester Park. Arriva took over L&C, but pulled out of the area in 1999, both routes then being taken over by Tellings-Golden Miller.
In 2000 came a further major re-structuring. The 485 was withdrawn between Kingston and Ham, that section passing to the K5. Malden Manor, Worcester Park and North Cheam were abandoned, and instead the K5 was diverted at New Malden to approach Motspur Park from the opposite direction before continuing to Raynes Park. In 2001 the route was re-tendered and awarded to Mitcham Belle, with a further extension from Raynes Park to Morden taking in some previously unserved back streets in the Merton Park area. Mitcham Belle got into operational difficulties and was taken over by Centra (Central Parking Systems), but they failed to sort out the problems with the operation subsequently being wound up. Meanwhile, the K5 had been awarded to London United from July 2006, but LU was able to take over early, from February.
The original award was on the basis of cutting the route back from Ham to Kingston, allowing it to be operated by two vehicles (as before the Morden extension). However, the residents of Canbury and Tudor Estate objected strongly to this loss of service. TfL initially investigated an off-peak only shuttle service between Kingston and Ham that could have been run using a bus spare off another route between the peaks, but eventually relented and allowed the K5 to continue in its previous form. However, LU had only ordered two new buses, so the third was sourced from route 272, which was a mixed type operation at the time.
Navigation
| | | |
| --- | --- | --- |
| | Previous | Next |
| Chronologically | 73 | 484 |
| Numerically | K4 | N21 |
See also routes 371, K3, 485

Photo Gallery | Bus route list | Operational details | Service changes | Operators & Garages