Home | Bus routes | Operational details | Service changes | Operators & Garages | Photo gallery
---
Route 7
27 August 2007
First London haven't been doing too well in recent tender rounds in the last couple of years, and have lost several large contracts to neighbouring operators. The latest such loss is of central London route 7, which uses 22 buses plus spares. Although the route runs very close to their Westbourne Park base, Metroline were able to undercut First's bid from Perivale garage, which is a 10 minute run down the A40 from the East Acton terminus of the 7.
New Scania/East Lancs Olympus double deckers were ordered, although due to late deliveries some of First's buses had to be hired for the first couple of months to allow existing Metroline fleet vehicles to be used on the 7. Here SEL748 (LX07 BBJ) is seen on the stand at East Acton last month. The enormous raked-back front windscreen does in fact comprise four separate pieces of glass!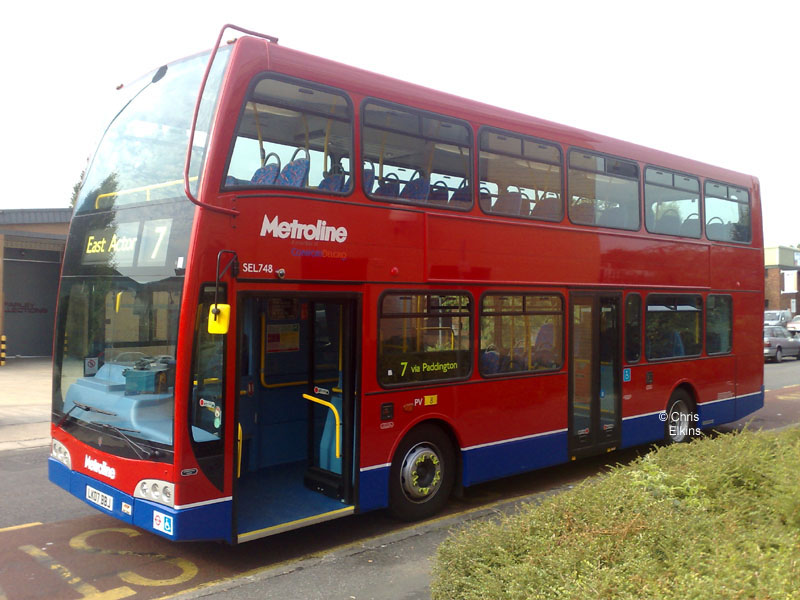 Photo © Chris Elkins.
Similar vehicles for Transdev and Metrobus have suffered from certification problems owing to weight distribution issues, but these ones seem to be entering service fairly quickly. This is despite having a proper air conditioning system (as opposed to now mandatory air circulation) – the unit is mounted on the ceiling above the staircase, and is clearly visible in this photo.
The 7 has always been a relatively short route, its main extremities having been Acton and Liverpool Street station. A 7A variant ran to London Bridge, as did the main 7 in later years, while at the other end was an extension to Kew Green for a few years, initially Mon-Sat, and then Saturdays only. The route had no Sunday service until 1981, the route being covered by an extension of the 15 on this day (through to Kew and, later, Richmond). The new Sunday 7 continued the service to Richmond until 1989, and Kew Green (for Kew Gardens) until 1995. The Sunday 7 had long been the only bus service along Gunnersbury Avenue – and then only along the southern end of it – but the bus stops were still in situ last time I was there, a year or two ago!
The route was replaced west of Wormwood Scrubs in 1987 (except on Sundays), a re-structured 52A taking over on Mondays to Saturdays, although the 7 was re-instated as far as East Acton a couple of years later. This section is now covered by route 70, although this did not run on Sundays until 2000, the 7 still covering on this day only. Meanwhile the central London terminal of the 7, which had latterly been variously Oxford Circus, Tottenham Court Road or Bloomsbury, was changed to Russell Square in the 1992 scheme of changes to bus routes in central London, serving the British Museum on the way – roads not previously served by bus.
Navigation
| | | |
| --- | --- | --- |
| | Previous | Next |
| Chronologically | 549 | 472 |
| Numerically | 6 | 8 |
See also routes N7, 70

Photo Gallery | Bus route list | Operational details | Service changes | Operators & Garages