Home | Bus routes | Operational details | Service changes | Operators & Garages | Photo gallery
---
Route 6
28 May 2007
The 6 is a short route — 6 miles, coincidentally — but a high daytime frequency contributes to a substantial requirement for up to 30 buses in service at any time. It used to run through to Hackney Wick via what is now route 26, being cut into two at Aldwych in the July 1992 Central London scheme — unusually with no overlap. This means the west end of the route now has no access to the City, although links from Hackney and Cambridge Heath to the West End are still covered to some degree by the 55. The main reason was to remove the sharing of the route between Willesden and Ash Grove garages, which were in different divisions of London Buses, in the run-up to privatisation.
Kensal Rise and Hackney Wick had been the established terminals since 1942, when the route was cut back to Kensal Rise from Willesden (White Hart, now referred to as Church End), although before and after that change there had been some projections to Leyton Town Hall at certain times. However, Willesden garage journeys ran in service, and this practice continued after the route was split. Strangely, LT maps never acknowledged the existence of these journeys, and even the public timetable only made a vague reference to "some journeys," but I suspect they have been running for many years.
Upon driver-only conversion of the route in March 2004, it was decided to run all journeys to the garage, to provide a more consistent service over this corridor. Unfortunately, the residents of Staverton Road, along which the 6's garage journeys passed (along with buses on route 52 and 302) objected to the increase in buses, perhaps also noting that the new low floor buses were heavier and more likely to damage their houses. So the number of through journeys had to be limited to the previous level, with other journeys running out-of-service by a different route. Eventually the whole service via Donnington Road and Pound Lane to simplify matters, although a handful of peak journeys still terminate at Kensal Rise.
As noted above the 6 recently lost crew-operated Routemaster buses in favour of modern low-floor driver only vehicles. These are short wheelbase Volvo B7TLs, and VP512 (LK04 CPY) is seen passing BHS in Oxford Street, approaching Oxford Circus, on Friday 18 February 2005. Note the gold trim outlining the advert panel - this denotes a premium advertising space, and should be used on routes in central London. The picture is already out of date as RMs in Oxford Street are a thing of the past!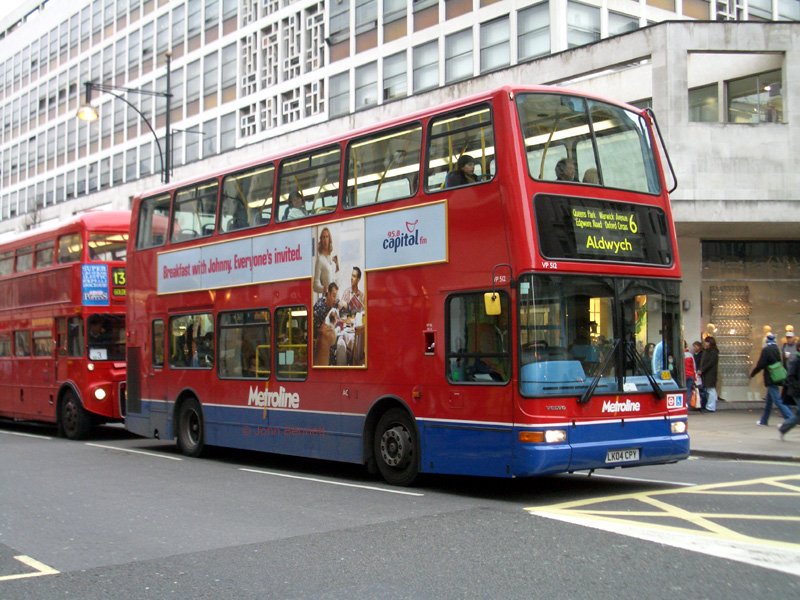 Photo © John Bennett.
For a couple of years before the full OPO conversion of the 6 evening and Sunday journeys were worked by similar, but longer buses, from the route 52 allocation. Most of these are still based at Willesden garage and thus liable to appear on the 6 from time to time, so I have kept the previous photograph of VPL 171 (Y171 NLK) noted accelerating away from Oxford Circus bound, as can be seen, for Willesden rather than Kensal Rise, on Sunday 8 April 2001.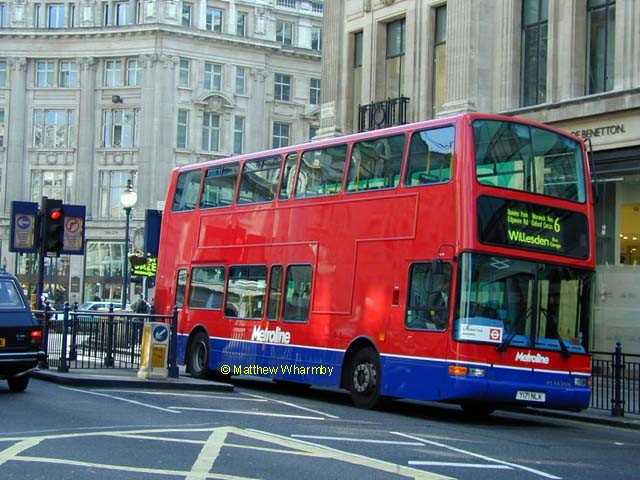 Photo © Matthew Wharmby.
Despite being 0.8 metres longer, the VP class Volvo B7TLs boast 12 fewer seats than the RMLs (even the longer VPLs have 5 fewer seats), which demonstrates how the emphasis has shifted from maximising the number of seated passengers to accommodating wheelchair bays, more legroom, extra doorways and various safety features.
Navigation
| | | |
| --- | --- | --- |
| | Previous | Next |
| Chronologically | 60 | T31 |
| Numerically | 5 | 7 |
See also routes 26, 55

Photo Gallery | Bus route list | Operational details | Service changes | Operators & Garages