Home | Bus routes | Operational details | Service changes | Operators & Garages | Photo gallery
---
Route 55
19 June 2013
Since I last updated this page, Stagecoach has pulled out of London and then come back again, but without the blue skirt it had previously, and so an update to the route 55 page is in order. The 55 is still officially operated by long wheelbase Tridents, and so we have 17852 (LX03 BZF) in Bloomsbury Way on 17 March 2012, freshly repainted complete with Stagecoach "beach ball" logo and also the LT roundel which has made a re-appearance after a long absence following the appointment of Leon Daniels, a man with a sense of transport history, as managing director of TfL surface transport.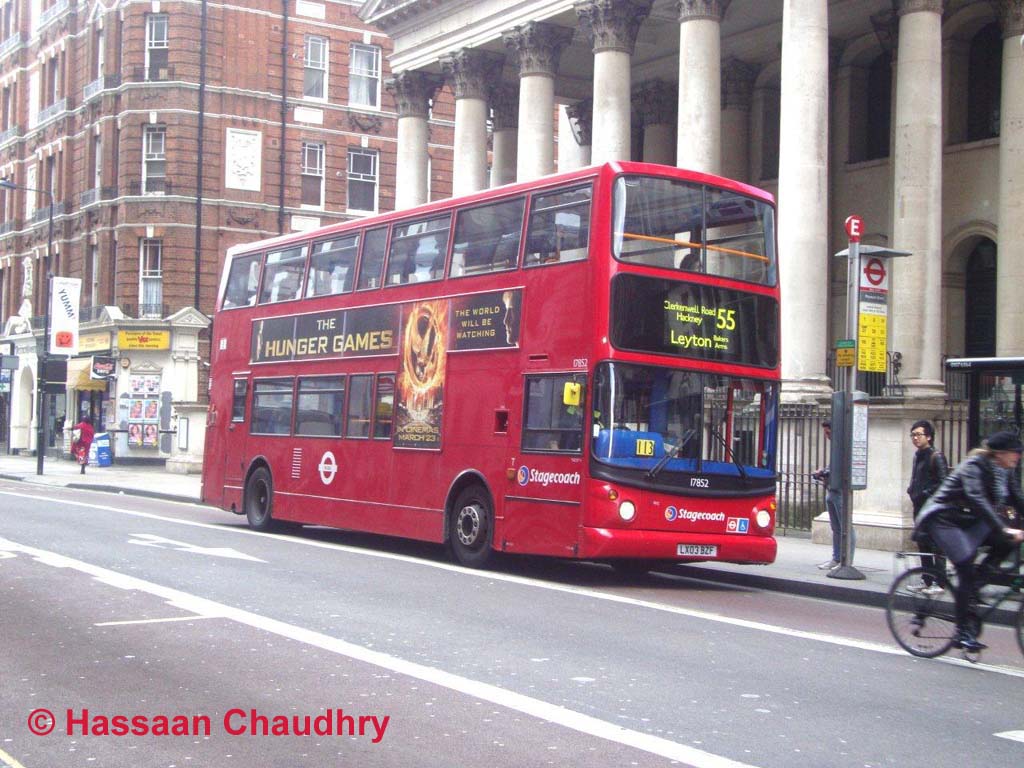 Photo © Hassaan Chaudhry.
Leyton garage also has a batch of Scania Omnicity double deckers which were delivered while the company was out of Stagecoach ownership, Stagecoach otherwise preferring ADL products, possibly due to their common Scottish roots. These are nominally for routes 48, 56 and 215 – these were tendered in the same batch as the 55 starting in February/March 2010, and for some reason only the 55 retained existing buses. Buses of this vintage are now quite a rarity in central London what with the push to hybrids.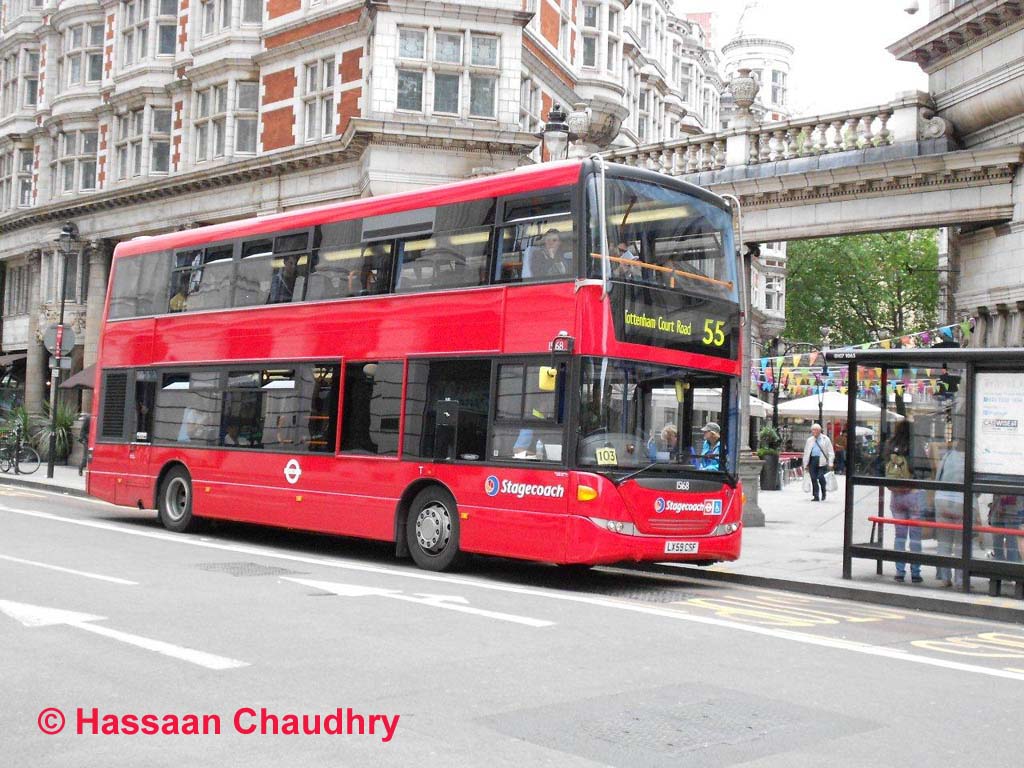 Photo © Hassaan Chaudhry.
The first picture shows 15168 (LX59 CSF) at the next stop on from the Trident photograph, Bloomsbury Square, heading the other way on a short working to Tottenham Court Road Station, this time on 7 July 2012. Then we have 15152 (LX59 COU) on 2 November 2012 in Oxford Street near Oxford Circus, included to show the interesting poppy livery that was applied for Armistice Day.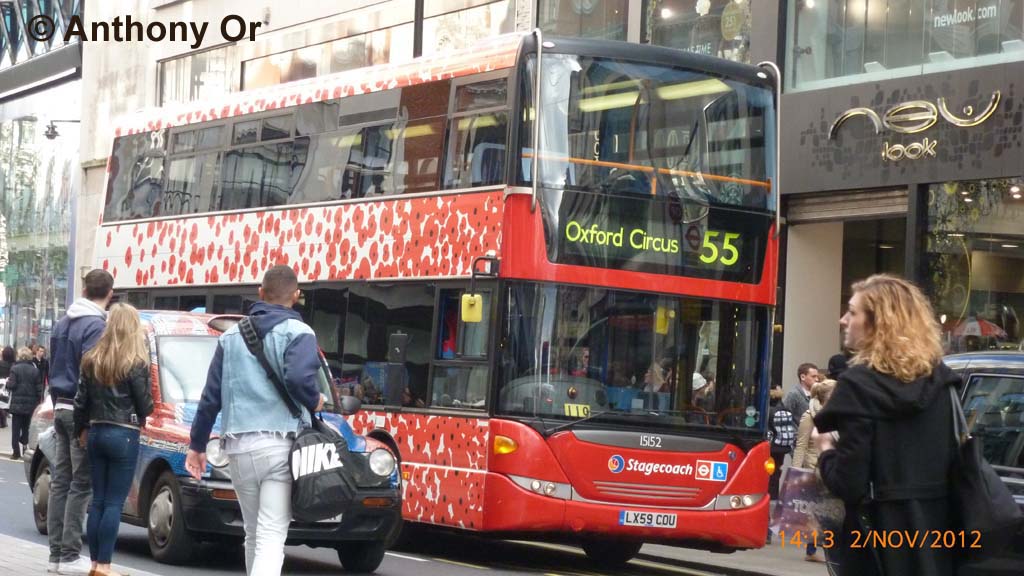 Photo © Anthony Or.
The 55 is also host to two special buses, both of which are "firsts." The first of these is 17001 (S801 BWC), the very first Dennis Trident for London (and possibly anywhere?). There are not many S registered buses in service in London now, but this one has been retained as a "heritage" vehicle. It is painted in original style Stagecoach London livery including the previous logo style, and carries its original fleet number TA1. It is significantly different to other Tridents that are still in the fleet, being low height with a spiral staircase and bench seats. It also has a higher capacity than most later double deckers, a feature which would seem to make it well suited to the 55! TA1 was allocated to Leyton garage when new, and the 55 was one of its haunts then. It was photographed in Oxford Street (near Great Ticthfield Street) on 1 April 2013.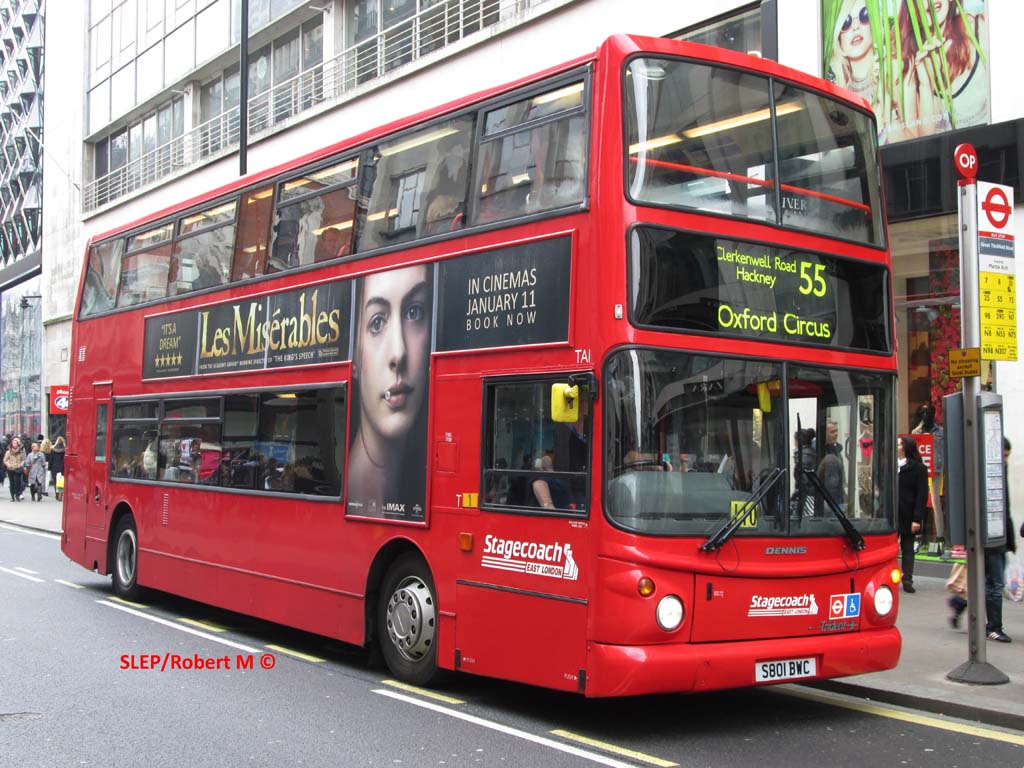 Photo © RNAM200 (Robert Mighton).
The other special bus is the first Enviro400. It was delivered in 2005 as number 18500, following on from the last ALX400 bodied Tridents which had coincidentally ended at 18499. Although originally built as a demonstrator, it was instead supplied as a replacement for Trident 17758, which was destroyed by a terrorist bomb on 7 July of that year whilst in service on route 30. It was given the name "Spirit of London," and registered R30 SOL, as a memorial to those killed in the bomb attacks, and duly entered service on route 30 with no advertising but instead the slogan "7 million Londoners" – the idea being that life can go as normal whatever the terrorists may attempt. Unfortunate unforeseen connotations resulted it being re-registered with a conventional mark as LX55 HGC, and as a new numbering series had been started for production Enviro400s, it was later renumbered to the beginning of the sequence as 19000.
At the time the bus broke quite a bit of ground technically, in particular by achieving a well above average seating capacity of 76, with 31 seats downstairs. This was achieved partly by being longer than other buses at 10.8m long, and partly by innovative lower deck design allowing seats to be squeezed into unusual places. Sadly these features were not perpetuated, subsequent Enviro400s having around 65 seats in line with other contemporary double deck designs.
Route 30 was lost to First London in June 2011, so 19000 was re-allocated to other routes at West Ham garage. Unfortunately whilst in service there during October 2012, someone thought it would be a great idea to set it on fire – very probably they had no idea of the significance of the bus. The bus was severely damaged, but it was decided to repair it, and it is duly back in service freshly repainted with its name much more prominently featured. It is now allocated to route 55 based at Leyton garage and can thus be found once again in central London. It was however photographed on 3 May 2013 at Hackney Central.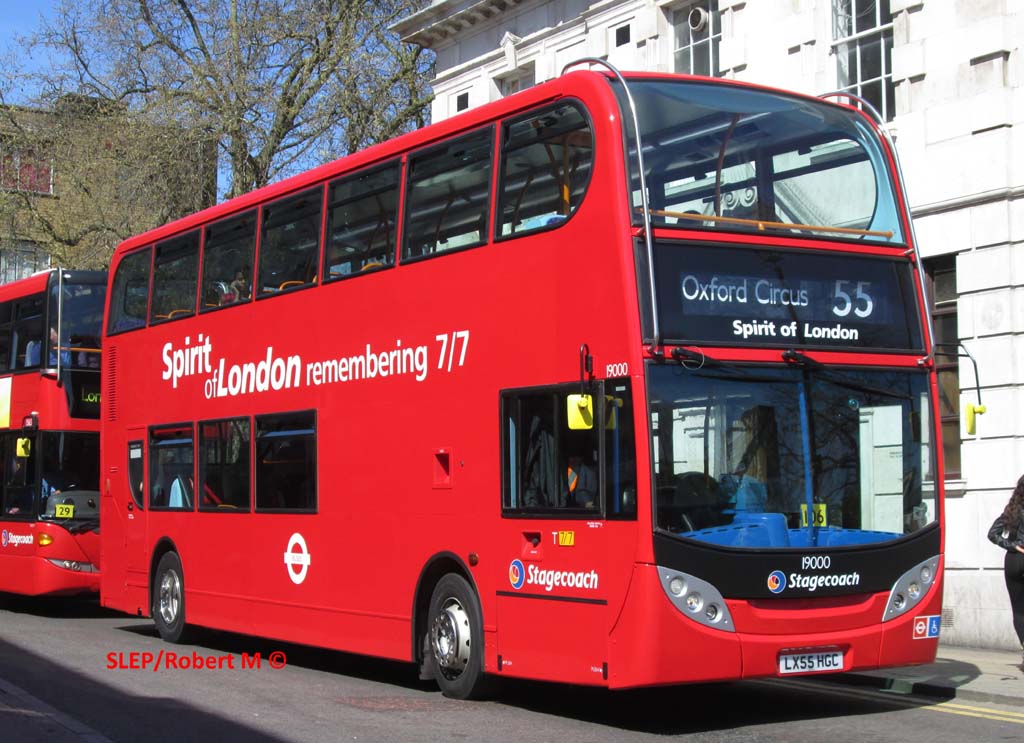 Photo © RNAM200 (Robert Mighton).
Note the special '7/7' running number plates carried, this being a mimic of the '9/11' designation of the (admittedly far more serious) 2001 attack on the World Trade Center in New York. Likewise TA1 carries a '1' plate. Stagecoach long ago abandoned use of traditional running number plates, the actual running number being displayed on a card in the windscreen.
The 55 is an extremely busy route, and despite improvements buses apparently cannot cope at certain times of day. Perhaps that is why the previous Mayor of London, Ken Livingstone, selected the route for a trial of crew operation on "ordinary" buses – the second time the route has been converted from driver only to crew! This was after his first election to office, on a manifesto which included increasing crew operation. Although some Routemasters were placed back into service any major increase would have had to use modern buses.
Crewed operation using doored buses is not always too successful, as passengers get confused and try to pay the driver even though there is a conductor on board. Of course, who can blame them with several different methods of bus boarding in force! Nonetheless trials were carried out to see if any time saving would be possible. The unsurprising conclusion was that although there was a small saving it was not enough to offset the extra costs involved, and the experiment was abandoned as soon as Ken thought he could get away with it.
The 55 started in October 1969 using RTs from Leyton garage running from Walthamstow garage to Marylebone via Walthamstow, Leyton Green, Clapton, Hackney, Cambridge Heath, Shoreditch, Old Street, Oxford Street and Baker Street. The number perhaps recalled trolleybuses 555 (Leyton Green to Bloomsbury) and part of 557 (Chingford Mount and Walthamstow to Shoreditch and Liverpool Street), withdrawn a few years earlier. The route diverted at Bloomsbury to Aldwych in April 1971. It was converted to one persion operation in October 1972 using DMSs from Leyton – the only OPO double deckers there at the time – and a peak hour extension to Waterloo was added, which lasted until April 1978.
It was however converted back to crew operation, using Routemasters, in January 1981, being cut back from Walthamstow Garage to Walthamstow Central and diverted again at Bloomsbury, this time via the 38 through to Victoria. In February 1983 it was diverted to Whipps Cross, with route 48 covering the section from Walthamstow, and longer Routemasters were introduced. The crew operation lasted until 1987 when OPO operation resumed, first on Sundays (using Leyland Nationals!) and then daily using Leyland Titans – the first at Leyton, with the type and garage codes matching as 'T'! At the same time the route was withdrawn west of Tottenham Court Road.
The route was lost upon re-tendering in February 1990 to Kentish Bus with new Leyland Olympians. As part of the scheme introducing route 56 the 55 was cut back to Clapton Pond, the shortest form the route has had. KB initially used the ex-BRS premises in Ruckholt Road, Leyton, although LT called it Temple Mills (TM). They later moved into the mothballed (and half-empty to this day!) former London Buses Ash Grove garage, which Kentish Bus called Cambridge Heath, although the London Buses TM code was transferred and was later adopted by KB – unusually being written onto the buses in neat marker pen!
The route was re-extended as far as Oxford Circus in the central London changes of July 1992, in compensation for the 22B being cut back from Piccadilly Circus to Tottenham Court Road. More ambitious in 1997 was a re-extension to Leyton, after the completion of an extensive bus priority scheme in Lea Bridge Road. At the time a major extension of a route of this kind was considered quite radical, although happily it has set a trend. In February 1998 the route was restored to East London's Leyton garage upon re-tendering – the recent extension having conveniently extended the route quite close to the garage! Initially Titans were once again used, but new Volvo Olympians quickly arrived, and then the planned Tridents late in 1999.
Navigation
| | | |
| --- | --- | --- |
| | Previous | Next |
| Chronologically | 243 | 211 |
| Numerically | 54 | 56 |
See also routes 230, 48, 56, 242

Photo Gallery | Bus route list | Operational details | Service changes | Operators & Garages