Home | Bus routes | Operational details | Service changes | Operators & Garages | Photo gallery
---
Route 230
25 July 2013
Whilst nearly everybody seemed to be out looking at, riding on or photographing the New Bus for London conversion of the 24, another change happened on the same day with the transfer of route 230 from Stagecaoach London to Arriva London operation. DW class VDL DB300s are now the order of the day and two offerings are provided here. First we have DW538 (LJ13 CLY) at the first stop in Wood Green on 25 June 2013. The route is run from Tottenham garage, which it passes; Arriva also has a garage at Wood Green, but that is effectively full.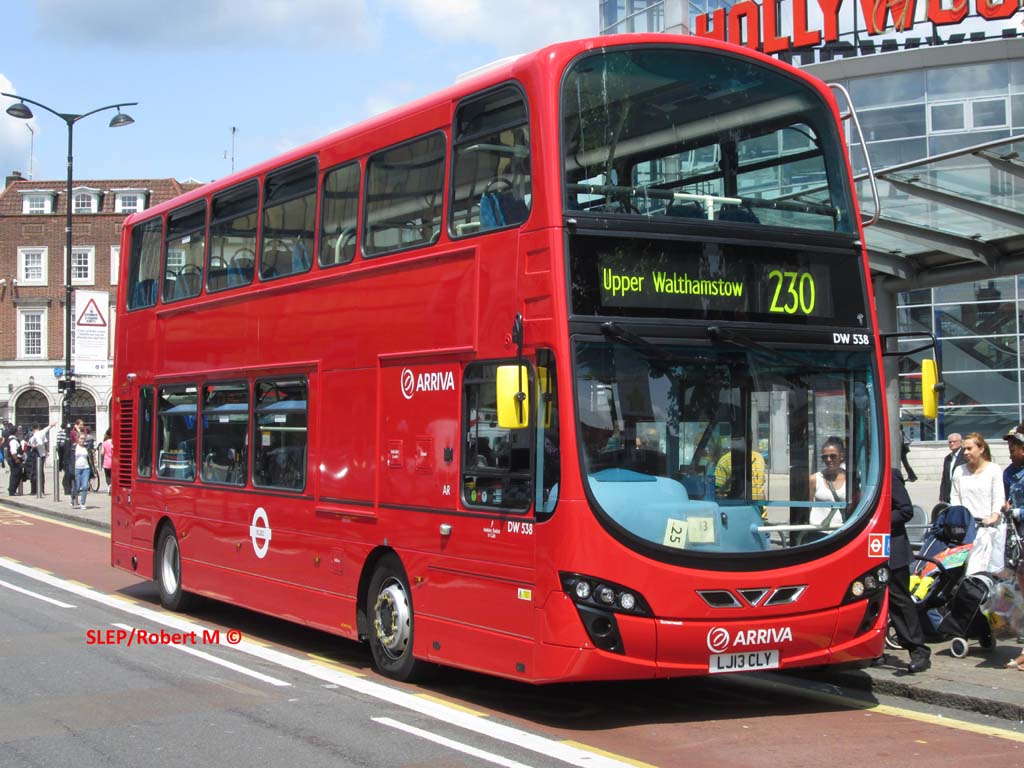 Photo © RNAM200 (Robert Mighton).
Meanwhile at least one photographer did get away from the 24, and photographed DW545 (LJ13 CFG) near the other end of the route, at Walthamstow Central bus station, on the first day of Arriva operation, 22 June 2013.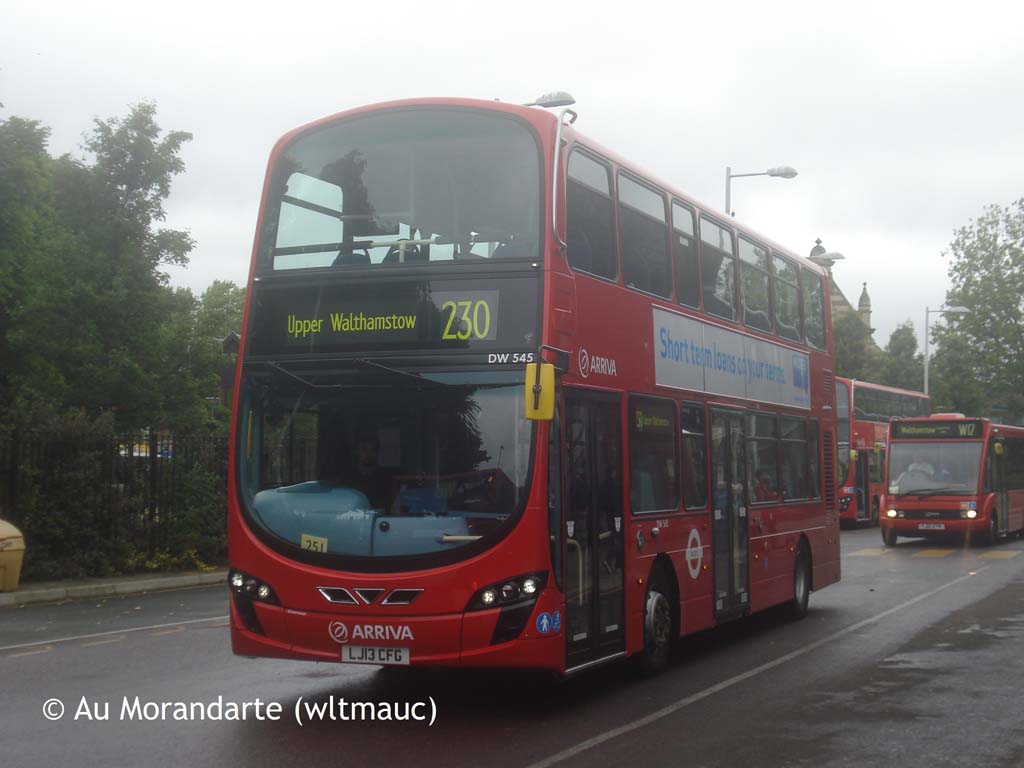 Photo © Au Moran.

Route 230 provides many useful links across the Lee Valley in north London, not least between the major centres of Wood Green and Walthamstow. The Lee Valley, with all its reservoirs, divides north London into east and west to almost the same degree that the Thames divides London into north and south, and those routes that do traverse it can be put under considerable strain. The decision to convert the route to single deck in 1996 was therefore a grave mistake, but thankfully has now been reversed.

Before 1996, the 230 ran every 20 minutes with Leyland Titans between Wood Green and Leytonstone (Green Man), with no late evening or Sunday service. The section between Whipps Cross and Leytonstone was deemed redundant following enhancement of route 257 in 1993, and the stand at the Green Man was required for redevelopment as part of the M11 link road scheme. So, late in 1996, this section of the 230 was taken off, and diverted to Upper Walthamstow, giving this area a bus for the first time.

Unfortunately the new section of route between Whipps Cross and Upper Walthamstow is dogged by narrow roads, parked cars and overhanging trees. This meant double deckers could not be used. In any case, the low frequency was not attractive, so as was fashionable at the time, the 230 was increased in frequency, but not nearly enough, with the daytime service increased from 3 to 4 an hour. A new 20 minute evening and Sunday service was also added.

Low floor Darts were specified, and these were going to be the first for Stagecoach. At the time Stagecoach was firmly committed to Alexander for bodywork orders, and Alexander had yet to produce a body for the low floor version of the Dart. Initially some standard Darts were used, but within a few months a batch of 9 low floor Darts duly appeared, classified SLD. These had bodywork to a new design, which was quite radical at the time, having a much more curvy appearance than was traditional. This turned out to be part of the as-yet-unlaunched ALX range of bodies, designed for the low floor revolution, and which fast became standard in London.

Severe overcrowding ensued, partly because the frequency simply was not adequate, and partly because the route is just part of the busy corridor between Wood Green and Tottenham Hale, and pilfered more passengers from other routes such as the 67 and 41. Nevertheless the 230 does provide many links which are unique to it, such as Wood Green to Philip Lane, Wood Green and Tottenham to Walthamstow and Blackhorse Road to Leyton.

Eight buses were used on Mondays to Fridays, giving a very tight timetable, with an additional bus on Saturdays only. As only 9 buses were purchased there were no spares on Saturdays! A standard floor Dart (a DRL) soon appeared to complement the others when needed. However, a major improvement came when the daytime frequency was enhanced from 4 to 5 per hour, and now using 11 buses on Mondays to Fridays (12 Saturdays) making for a more realistic timetable with buses getting 132 minutes for a round trip at Monday to Friday peaks rather than 120. Several extra SLDs were transferred in for this reason, including the first dual door examples for the route, SLD 35-37.

This was still a tight allocation however, the 230 being Leyton garage's only single deck route, and inevitable vehicle shortages sometimes prompted substitution by double deckers. Unfortunately these had to be curtailed at Whipps Cross due to the Upper Walthamstow area being inaccessible to the larger buses.

Moreover, the enhanced frequency was still totally inadequate. Even if all buses ran they would often leave people behind, while buses still struggled to keep to schedule leading to cuts often at the Wood Green end of the route. Several commentators noted the quick fix solution of cutting the 230 back to Walthamstow Central or Leyton Green and extending the single deck W11 to Upper Walthamstow in its place, allowing the 230 to be double decked.

TfL however seemed unwilling to acknowledge the problem and proceeded to award a new contract from summer 2001 on the same basis, with new dual door vehicles. There was an improvement to the evening and Sunday service to every 15 minutes, but ignoring the more pressing needs of the daytime Monday to Saturday service!

However Stagecoach continued to press for double deckers on the route, along with a number of others, and as some double deck routes started to have their existing low floor buses replaced by new ones the possiblity of cascading the older buses on to routes such as the 230 was at last seriously considered. Initial proposals focused on re-routeing the service away from Bisterne Avenue via Fyfield Road to Beacontree Avenue, as these roads were considered more suitable for double deckers, but in the end this proposal was abandoned and pruning work on the trees (plus careful driving) means that they are now permitted over the original route.

Navigation

See also routes 257, W11, 67, 41

Photo Gallery | Bus route list | Operational details | Service changes | Operators & Garages