Home | Bus routes | Operational details | Service changes | Operators & Garages | Photo gallery
---
Route 67
28 May 2013
One distinguishing feature of the 67 is its run up Commercial Street to Aldgate. The route supplements the busy 149 and 243 routes between Stamford Hill, Stoke Newington and Shoreditch, but thus provides a useful link to the east end of the City. The link to Wood Green also saves the need to travel all the way via Tottenham on the 243 when going from these areas to Wood Green.
Route 67 came into being on 19th July 1961; it replaced trolleybus route 647 (London Docks–Stamford Hill) but was extended beyond Stamford Hill to Tottenham and Northumberland Park. The route is notable in that during its lifetime it has been extended at both ends, in both cases bringing buses to roads that had previously not had a bus service; and it was host to two experimental batches of rear-engined buses, some of which were operated in Country Area green livery.
For the first five years of its life, however, the 67 led an uneventful existence. Then in July 1966 its Routemasters were replaced by Park Royal-bodied Atlanteans, the XA class; these had a single front entrance and were crew operated. They stayed on the route until 16th June the following year. Meanwhile, on the last day of 1966, route 67 had broken new ground by being extended along The Highway and Wapping Lane to the then isolated riverside community of Wapping. Wapping had a station on the East London Line, but this was the first time it had had a bus service. At the time the area was very run down; the dark, disused warehouses loomed over everything and it would have seemed unbelievable that twenty years later they would be converted into expensive luxury flats for City workers.
In October 1969, another batch of experimental rear-entrance buses appeared on the 67. This time they were eight Daimler Fleetlines, the XF class; these were normally used on Country Area route 424 at East Grinstead and were painted in Country Area green (at that time London Transport still had a Country Bus Division); they made an unusual sight in inner North London and the run-down streets of Aldgate and Wapping. As the route needed 18 buses, Routemasters continued to appear alongside the Fleetlines. The green XFs returned home to East Grinstead on 24 January 1970.
The inevitable conversion to OPO occurred on 4th December 1971, Stamford Hill (SF) garage receiving a batch of DMSs, the production version of the Fleetline with Park Royal or MCW bodywork. At the same time the route was cut back from Northumberland Park to the former trolleybus terminus at Stamford Hill, and a Sunday service was introduced. Until that time the lack of a Sunday service on the 67 was covered by route 243A, a variant of route 243 which deviated at Shoreditch to follow the 67 as far as Leman Street. The section to Northumberland Park was taken over by new Monday – Saturday route 97, which was effectively a sectionalisation of the 67, running as far as Norton Folgate (the 243A being revised to terminate there also at this time), and is now part of route 76.
On 31st March 1979, the pioneering extension to Wapping was withdrawn when the route was cut back again to the other former trolleybus terminus at Leman Street (route 22A was extended in its place and served Wapping for ten years until it too was cut back in favour of new midibus route 100). This loss, however, was counterbalanced by a northward extension from Stamford Hill to Wood Green (Redvers Road), via St. Ann's Road, Black Boy Lane, West Green Road and Turnpike Lane Station, giving much of St Ann's Road a bus service for the first time. On 31st October 1981 the Aldgate terminus was changed to the Bus and Coach Station at Minories. In June 1982 the DMS class was replaced by new Metrobuses.
There was a minor route change on 31st October 1991, when the Wood Green terminus was moved to Wood Green (WN) Garage. WN – itself a former trolleybus depot – took over the route on 13th June 1995, when SF closed; however it did not operate from there for long as Capital Citybus took over on 24th April 1996, their yellow Olympians making a striking contrast amongst the sea of red buses through Stamford Hill and Dalston (much the way the green Fleetlines must have done sixteen years earlier). This was also Capital Citybus's first foray into the City, although several other routes (including 91, 76, 259 and 25) since followed, giving it quite a major presence there. To avoid "foreign" buses entering Leaside's garage, the Wood Green terminus reverted to Redvers Road.
Five years later, on 28th April 2001, Capital Citybus in turn handed over stewardship of the 67 to Stagecoach East London which operated it from their BW (Bow) Garage – interestingly, yet another former trolleybus depot. This award was quite a surprise as although Stagecoach do run several routes in the Shoreditch area, plus the 230 in Wood Green, much of the route is well outside its normal operating area, and the nearest point of the 67 is still quite some distance from Stagecoach's nearest garage – although no doubt the District Line provides a reasonably quick route between Bow and Aldgate for crew changes.
Stagecoach initially used Alexander-bodied Olympians, but these were replaced by low-floor Tridents in 2002. Stagecoach was not successful in retaining the route on retendering, however, and on 29th April 2006 it passed back to First London (of which Capital Citybus had become a part) which used its own low-floor Tridents on the route, transferred from Alperton's route 258. These were later replaced with Volvo B7TLs. As of 31 March 2012, Northumberland Park garage was sold to London General.
The route has again changed hands, as now Arriva London have won the route. The route is run with drivers from Stamford Hill garage, but 10 buses on Monday to Friday are drawn from the Tottenham allocation as there is not enough space within Stamford Hill. DB300/Gemini 2 buses are currently being delivered for the route, but as they are slightly late the route was started off using similar buses drawn from other routes at Tottenham garage, with some old DLAs being kept on temporarily to cover. DW443 (LJ11 ACU) illustrates the type as it passes Stoke Newington station on 28 April, the second day of Arriva operation.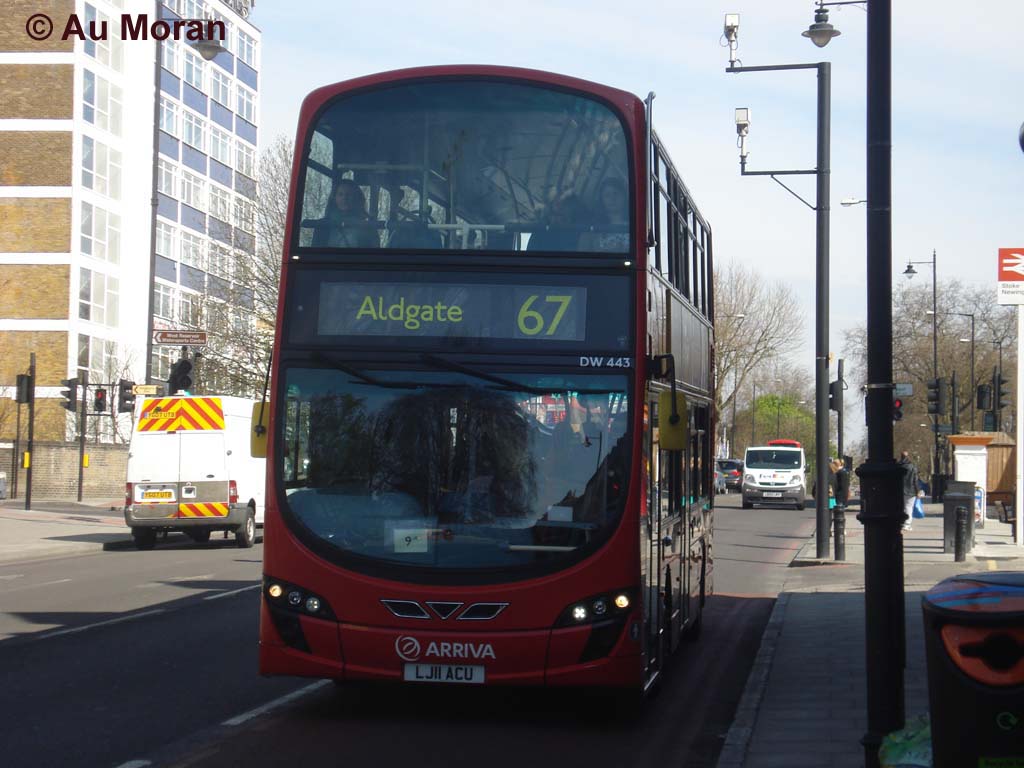 Photo © Au Moran.
At weekends sufficient buses are spare off route 73, also based at Stamford Hill, to cover the full vehicle requirement on the 67, so the Tottenham buses are not used. The 73 uses the hybrid B5L/Eclipse combination, and so these become a regular sight on the 67, especially at weekends, and HV53 (LJ62 BMZ) was seen at the same location on the same day, heading the other way.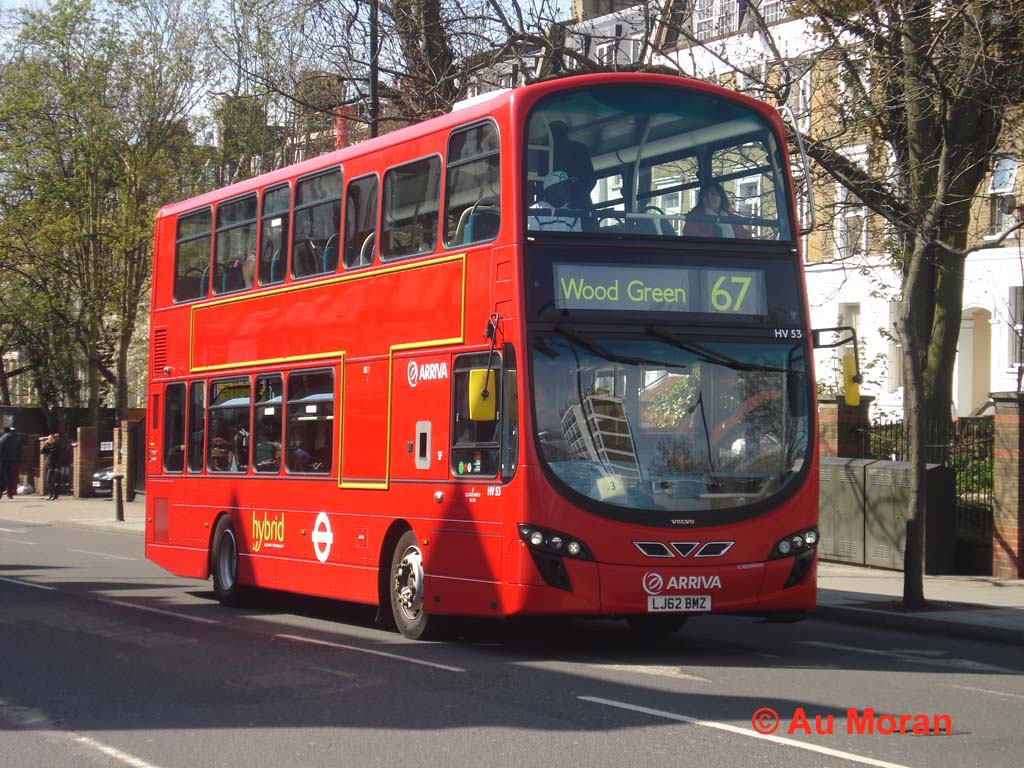 Photo © Au Moran.
Thanks to Julian Walker for providing the basis of this article.
Navigation
| | | |
| --- | --- | --- |
| | Previous | Next |
| Chronologically | 234 | 243 |
| Numerically | 65 | 69 |
See also routes 149, 243, 76, 100, 91, 259, 25, 230, 258

Photo Gallery | Bus route list | Operational details | Service changes | Operators & Garages