Home | Bus routes | Operational details | Service changes | Operators & Garages | Photo gallery
---
Route 149
16 November 2010
The programme of converting the routes operated with articulated single deckers back to normal double deck operation is now gathering pace. Many of the routes were converted to artics upon contract renewal, as this is the most cost efficient time to do it when vehicle leases are timed to expire anyway, and it saves having to make a mid-contract change. The same logic is applying to the conversions back to double deck (except that a few routes will run beyond the mayor's end-of-2011 deadline, and arrangements for those remain to be disclosed), and it is around now that many of the original artic contracts are reaching expiry after five or seven years.
The 149 falls into this category, as its previous contract expired on 16 October 2010 after a 7 year term. However, the introduction of artics, and associated route changes, had been heavily delayed and did not take place until 24 April 2004. The artics could not be accommodated at Stamford Hill garage, where the route had latterly been based (Enfield before that), so initially the vehicle allocation was from Edmonton garage (with some drivers still provided by Stamford Hill), later moving to the new Leeside Road garage from 19 February 2005. Double deck re-conversion has allowed the route to be moved back to a more traditional garage on line of this route, this time Tottenham – which is no doubt a contributory factor in a substantial saving being made by converting the route back to double deck.
Vehicles for the 149 are "Mark II DWs," the VDL DB300 with Wright Gemini 2 bodywork. As usual with high profile changes I have received a number of contributions, so here is a selection. First up is DW303 (LJ10 CVL) on the stand at the revamped Edmonton Green bus station on Sunday 7/11/10. The route has terminated here since its conversion to artics, new route 349 taking on the original section to Ponders End. At one time the route ran farther north still, to Waltham Cross.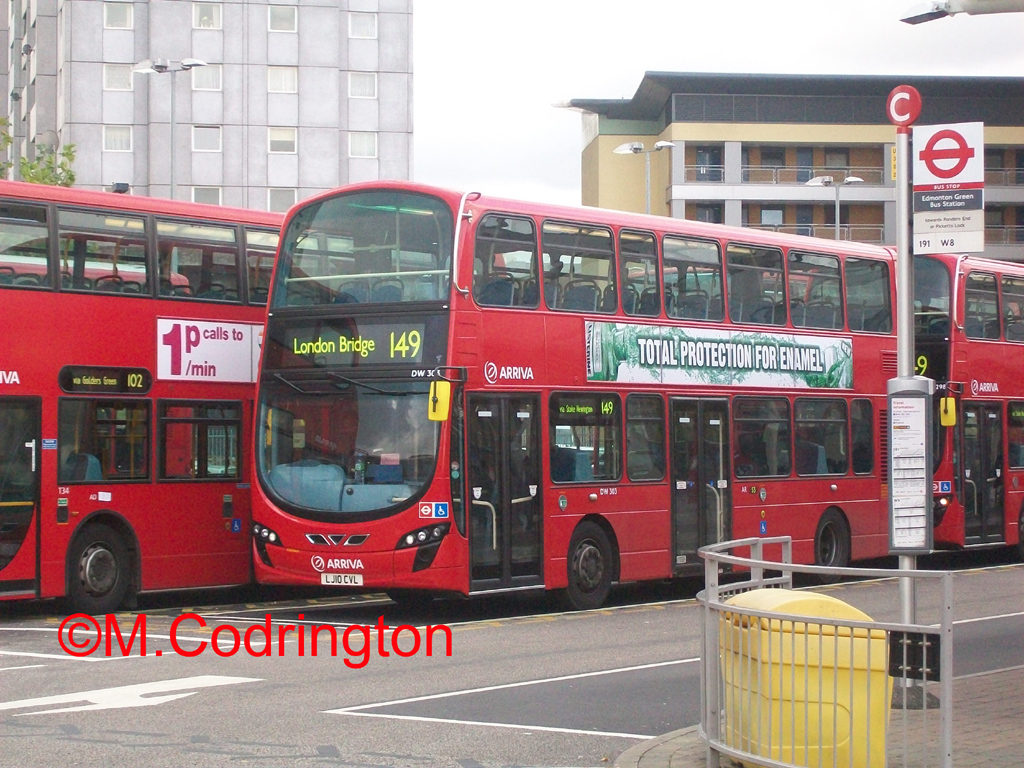 Photo © Myronn Codrington.
Just arriving at Edmonton Green on the first day of double deck operation, 16 October 2010, is sister vehicle DW329 (LJ60 AXN).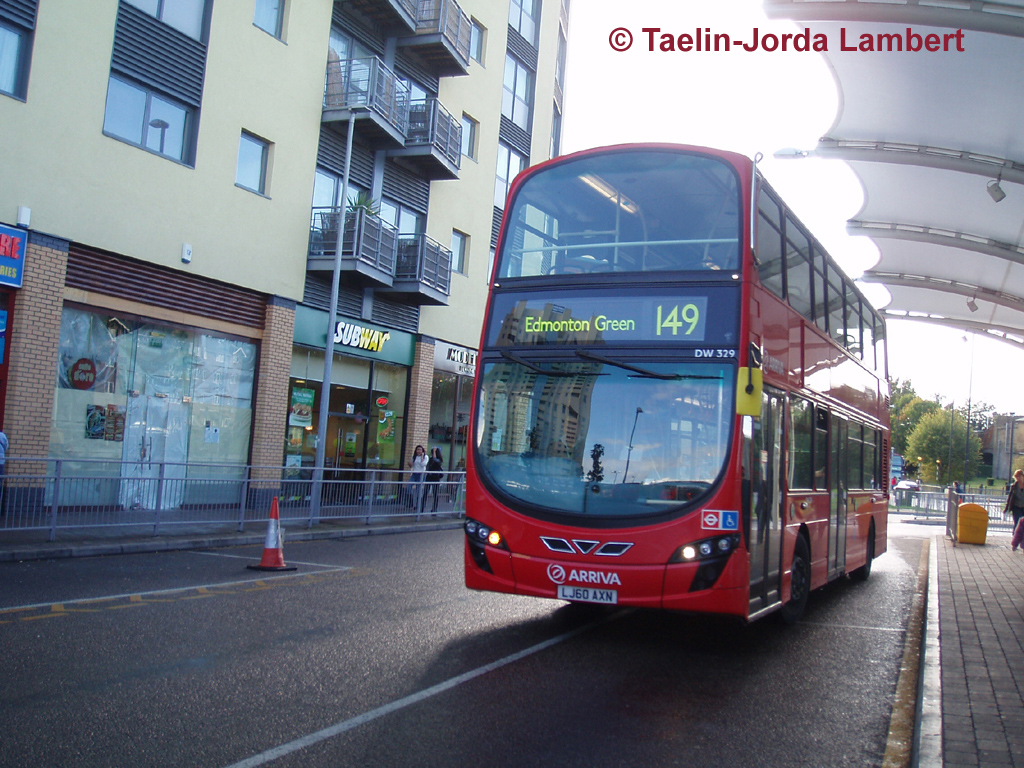 Photo © Taelin-Jorda Lambert.
Finally, at the other end of the route, we have DW318 (LJ60 AXX) at the dedicated stand in London Bridge Bus Station, which is one of the last (possibly the last) in London to retain a solid overall roof – the elaborate structure can be seen clearly in this view! The roof is about to be removed as part of the London Bridge Masterplan which will see the bus station completely re-designed. No doubt there will be improvements to the layout, but the changes will leave passengers exposed to the elements just as they are at most of TfL's bus stations. This photograph was made on 10 November 2010.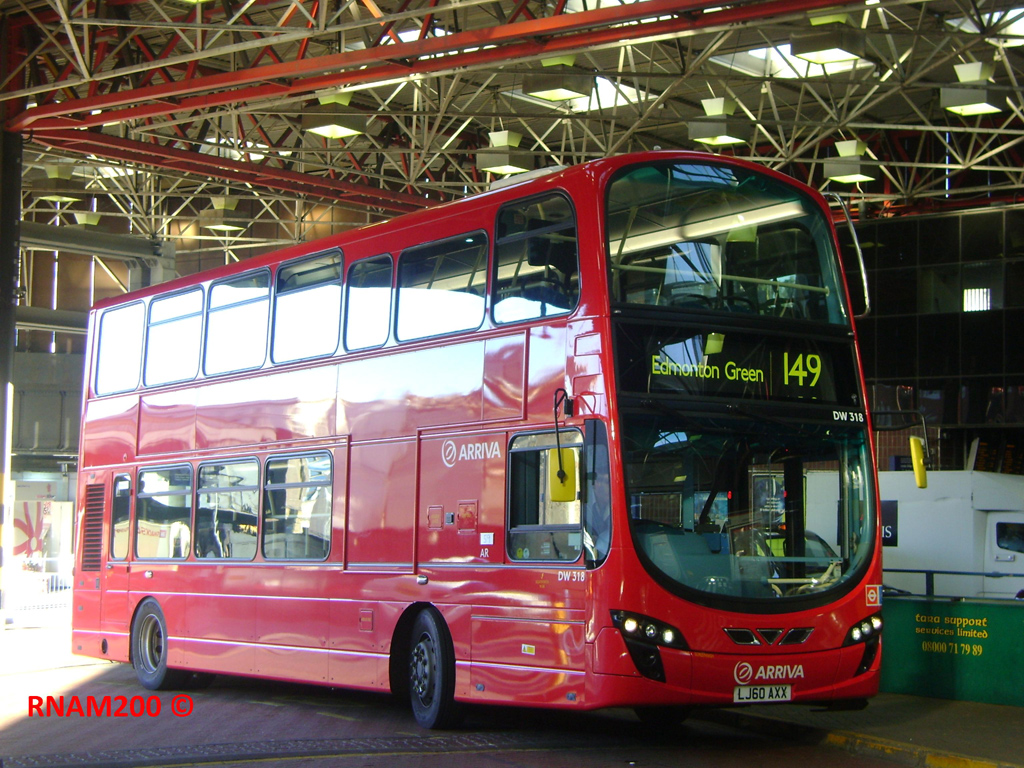 Photo © RNAM200.
The 149 reaching London Bridge is itself a relatively recent innovation, the 149 having been extended there from Liverpool Street Station in February 1998 to replace that part of the 22A, which was withdrawn in favour of the 242. The route's more traditional southern terminus was Victoria, reached by way of Southwark Bridge and Waterloo, and most unusually a few journeys to Waterloo were still in operation when the main service was extended to London Bridge, producing a bifurcation.
Navigation
| | | |
| --- | --- | --- |
| | Previous | Next |
| Chronologically | 66 | 5 |
| Numerically | 148 | 151 |
See also routes 349, 242

Photo Gallery | Bus route list | Operational details | Service changes | Operators & Garages