Home | Bus routes | Operational details | Service changes | Operators & Garages | Photo gallery
---
Route 229
4 March 2011
The 229 page has survived almost 11 years without a major update, but that has changed as the early PVL class Volvo B7TLS dating from 2000 have now been retired and replaced by the latest generation of Volvos, the WVL class B9TLs. First up is WVL375 (LX60 DXF) seen loading at the busy Bexleyheath clock tower stop, in the bus-only section of Mayplace Road West, on Tuesday 1 February 2011. Initial allocation of WVLs was concentrated on the 422, and this was the first noted on the 229, ten days after the new contract began.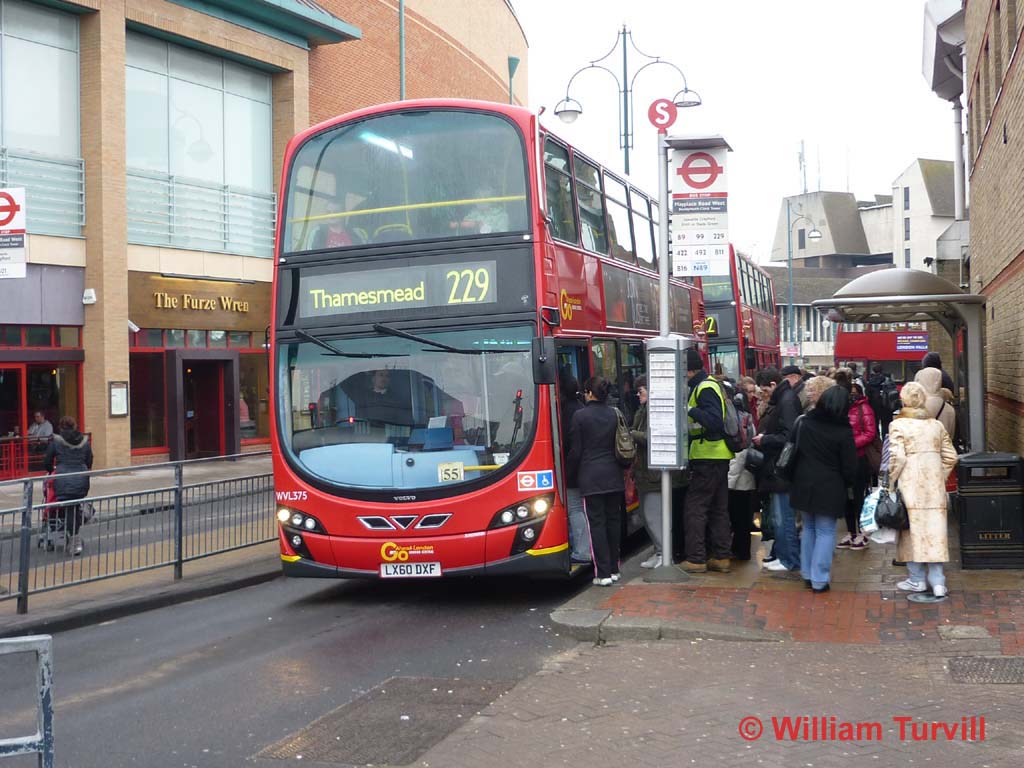 Photo © William Turvill.
Photographic variety is provided by this shot of sister WVL370 (LX60 DXA) on 9 February 2011, by which time the fleet was more or less in squadron service. This bus is just negotiating the Erith Road / Barnehurst Road roundabout, just near Barnehurst Station.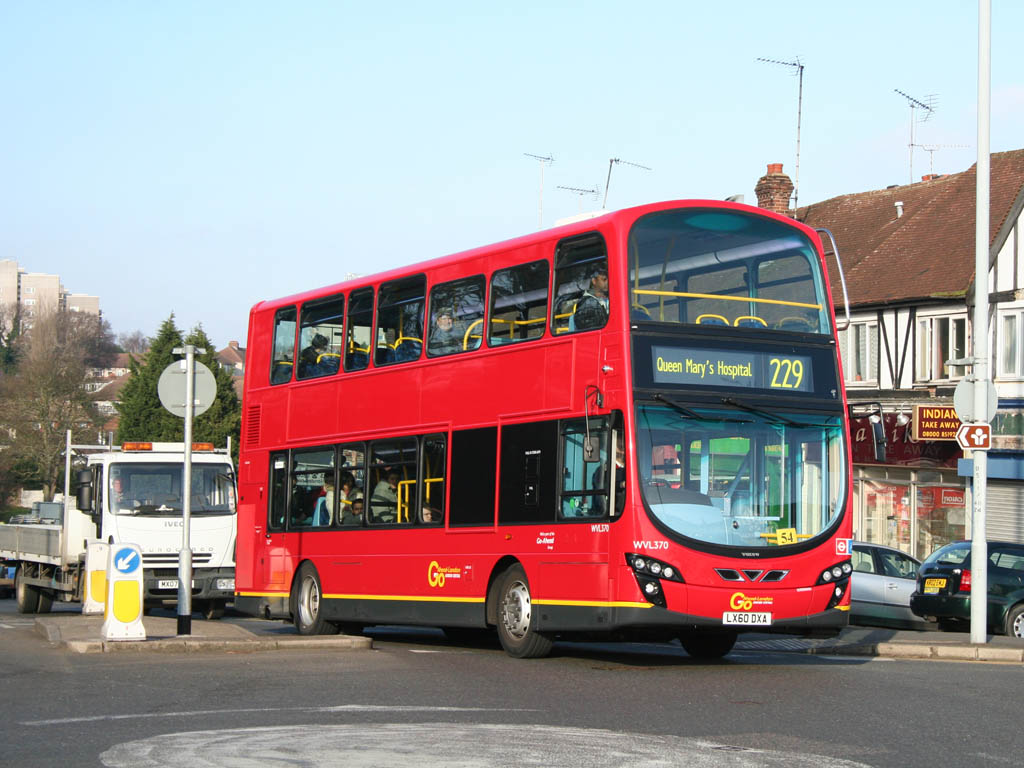 Photo © John Gillespie.
As well as PVLs, Bexleyheath garage has E class Trident/Enviro400s, which are meant to be on the 486 but do stray from time to time. It would seem that they have been less common in recent months, but there was about one a day on average when E51 was photographed in Hurst Road on 13 July 2009, and it is quite likely that sporadic appearances will continue!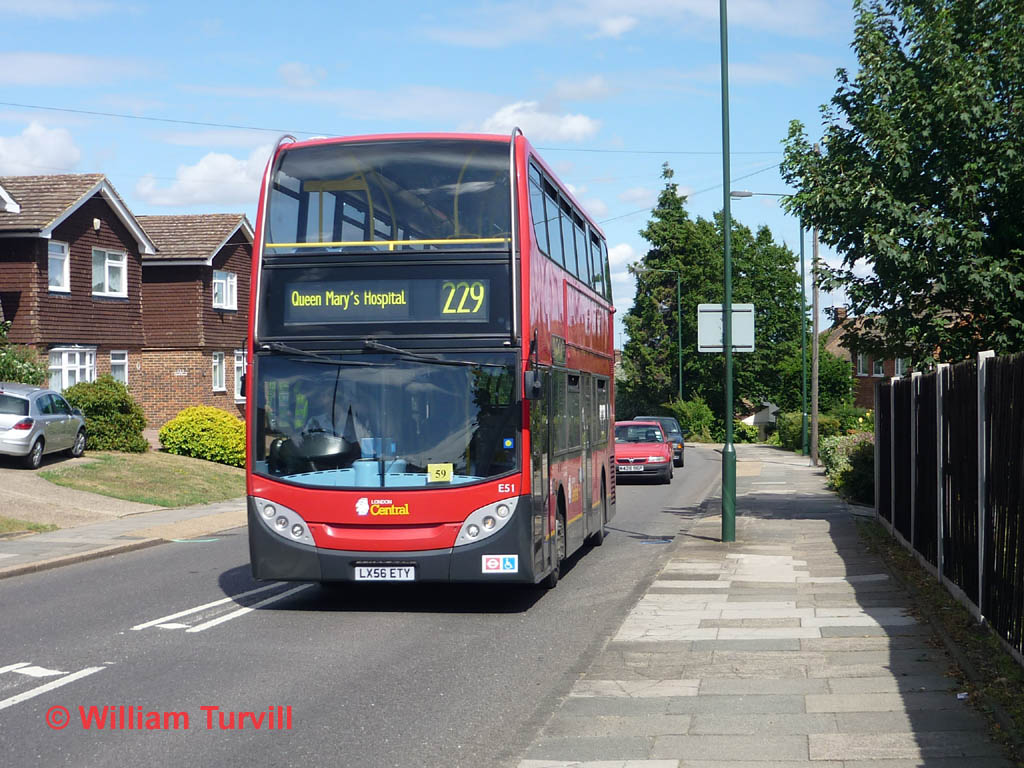 Photo © William Turvill.

The 229 has changed much over the years, and currently serves just a few hundred yards of its original route, in Station Road, Sidcup! The route number broke the general rule in force at that time, in that single deck routes were numbered 2xx and double deck routes generally had numbers lower than 200, whereas the 229 has always been double deck. Not a very pointful rule, but LT did have its odd ways then!

The route started on 21 February 1951 as a very local service in Sidcup, running between Sidcup Garage and Faraday Avenue, terminating in a loop via Melville Road and Wren Road. Just two buses were needed, of the SRT class, apparently an exotic beast in Sidcup! The blind display read 229 Sidcup L.T. Garage and Sidcup Wren Road, a rare example of a "lazy blind" that did not require changing at each end of the route.

However, the 229 was greatly expanded later the same year, from 17 October, running south to Orpington via what is now route R11 serving Foots Cray and St. Paul's Cray. Only a year later, 22 October 1952, it was extended at the other end to Bexleyheath via Murchison Avenue and Townley Road, terminating at the bus garage. This territory had not previously been served; indeed there had been no link at all between Sidcup and Bexleyheath, contrasting with the two routes today!

In the next major change, from 4 March 1959, as was mentioned on the 469 page, the route got too long for its own good by running to Erith, Belvedere, Abbey Wood, Woolwich and Charlton in replacement for the 698 trolleybus – and still running through to Sidcup and Orpington. The section between Woolwich and Charlton ran in peaks only and was abandoned form 1 July 1964. The extension was later retracted completely, with the 269 taking over from 21 May 1977; when the 229 was also extended to Farnborough replacing the 51, thus becoming Farnborough to Bexleyheath Garage, albeit still running on to Erith at peak times.

OPO conversion came about from 4 September 1982 using DMS type Fleetlines. This necessitated a diversion via Bexley Station by serving more of Hurst Road, bringing it into line with the 269, because the DMSs were apparently insufficiently manoeuvrable, compared with RTs or RMs, when it came to the tight turn from Bridgen Road into Elmwood Drive. The DMSs were replaced by new Titans later the same year; whether these would have been able to achieve the original routeing is not known! MCW Metrobuses were also to appear later, as part of comparative trials with the Titans at Sidcup garage; again bringing rare beasts in this part of London.

Launch of the Roundabout network from 16 August 1986 saw the Orpington-Sidcup service become the R1, so that the 229 ran just between Foots Cray and Erith, and served little purpose other than to supplement the 269 and 269A (what is now the 469) via the same roads; this part of the route already had restricted hours of operation. Operation was taken over by Bexleybus from 16 January 1988, when Sidcup garage was closed; Bexleyheath garage had had an allocation previously, during the period when the route ran to Woolwich. Then, from 19 January 1991, at Sidcup the route was diverted to serve Queen Mary's Hospital rather than running down Sidcup Hill to Foots Cray.

The route survived a few years in this form, but a scheme on 8 October 1994 to provide more services to the rapidly expanding Thamesmead area north of Woolwich resulted in the 229 being extended back to Abbey Wood via its old routeing! From there buses continued via Crossway to Thamesmead Town Centre, and a full evening and Sunday service was introduced.

Then, at last, in the big scheme of 23 January 1999 affecting Bexleyheath and Woolwich area routes, came the big improvement. The route took on the primary role between Sidcup and Erith from the 269 and 469, and was therefore improved from the long-standing 3 buses per hour frequency to 5 – it has subsequently increased again to 6bph. In addition buses were diverted more directly between Bexley and Bexleyheath, via Bourne Road and Gravel Hill instead of Townley Road. At the same time they were diverted via the western end of Hurst Road, rather than Faraday Avenue, the overall effect between Bexleyheath and Queen Mary's Hospital being to replace the newly-withdrawn 726. New buses were specified, but early production difficulties meant the PVLs did not arrive until 2000.

Navigation

See also routes 51, 269, 469, R1, R11, X26

Photo Gallery | Bus route list | Operational details | Service changes | Operators & Garages