Home | Bus routes | Operational details | Service changes | Operators & Garages | Photo gallery
---
Route 235
9 July 2012
The 235 took over the "out-country" section of route 237 in 1996, running between Sunbury and Hounslow – ironically providing a highly similar function to the original 237, before its extension to Shepherd's Bush! However, the 237 had run further out into the suburbs, reaching Chertsey via Shepperton, now the province of route 557. Conversely, the 235 runs through to Isleworth and Brentford, replacing a similar function once provided by routes 116 and 117, and maintaining some cross-Hounslow links that would otherwise have been lost when the 237 was split.
After just over a year of operation by London United, route 235 was lost to Tellings-Golden Miller in January 1998. The route is still operated by that outfit, though it has been through some changes of identity since. The route is currently (since contract renewal in January 2010) run with an odd mixture of relatively elderly Dart SLFs. Around half are 10.8m vehicles with Caetano Nimbus bodies, a popular choice in TGM days, and 8747 (RN52 FRD), originally TGM 628, collects passenges at the first stop at Brentford County Court. Note the Travel London logo from the previous era.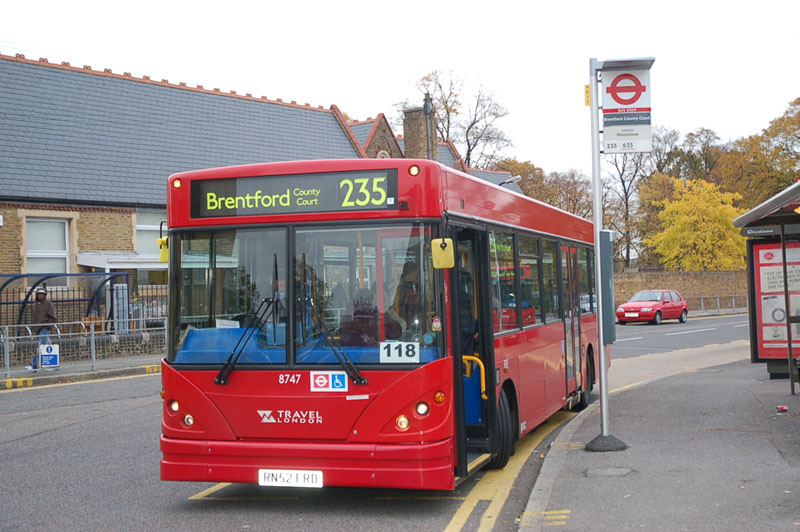 Photo © Ian Armstrong.
The remainder of the allocation is made of less suitable 10.2m Darts with Plaxton Pointer bodies - the route really needs the longer length, but due to an oversight in TfL's specifications the 10.2m buses were acceptable. These buses are second-hand, and ironically KP02PWV was previously with local operator Armchair (subsequently taken over by Metroline) which would no doubt have liked to have a stab at running the route itself! It was seen passing through Hounslow on 12 June 2010, and shows the Abellio London logos now displayed.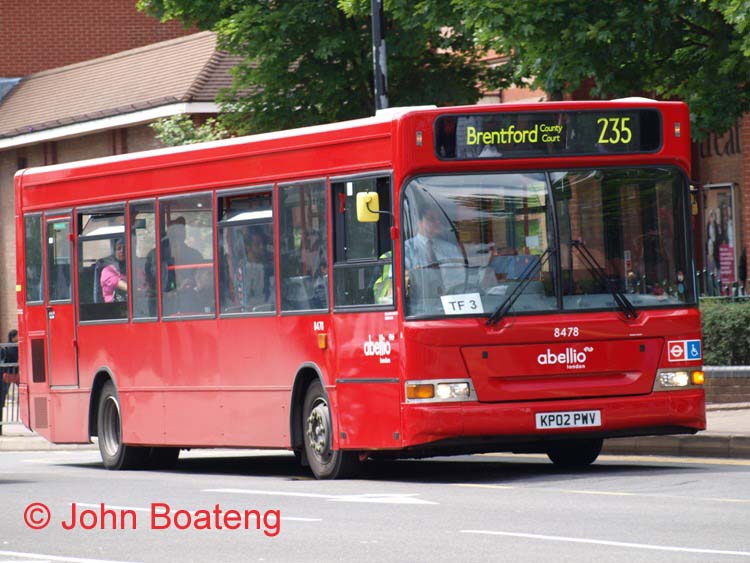 Photo © electrostar379.

The 2xx series route number gives away the origins of the 237 as a single deck route. The 237 was converted to double deck, but the new 235 restored single deck operation to the "country" section, enabling a much improved frequency. In 1936 the 237 ran every 30 minutes with a 20 minute Saturday afternoon service and a 15 minute Sunday service, while latterly it did slightly better with a 20 minute service for most of the week (reduced to half hourly evenings and Sundays). But now the 235 runs every 8 minutes, with a 12 minute evening and Sunday frequency, having increased from 10/20 respectively at the start of the previous contract in 2003.

Navigation

See also routes 237, 557, 116, 117

Photo Gallery | Bus route list | Operational details | Service changes | Operators & Garages