Home | Bus routes | Operational details | Service changes | Operators & Garages | Photo gallery
---
Route 240
5 February 2008
Route 240 is operated by Metroline from Edgware garage. A few years ago there were proposals to single deck the route on a higher frequency, but in the event the higher frequency has gone in and double deckers have been retained, although the route is always a favourite for Darts if there is a double decker shortage. Metroline have both short and long wheelbase double deckers in the fleet, but in general the length of vehicle allocated to each route seems to have little relationship with how busy the route is. The 240 is a case it point as it has the higher capacity vehicles, which is decidedly odd when the route is a potential single deck candidate!
VPL202 (Y202 NLK) is seen at Mill Hill East on 10 November 2007, in the layby used by buses towards Edgware, which also provides a turning facility for any unscheduled short workings. Strangely, in an era when maximum priority for wheelchair users is paramount, the bus appears to be unable to position itself anywhere near the kerb where the waiting passengers are, making deployment of the wheelchair ramp impossible!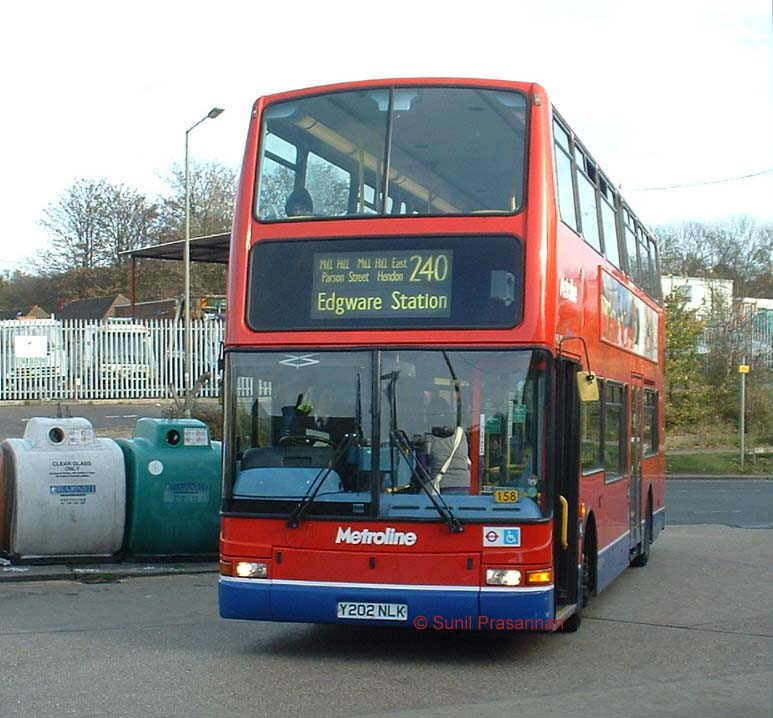 Photo © Sunil Prasannan.
Although the scheduled allocation are these VPL class long wheelbase Volvo B7TL with President bodywork, Edgware now has a substantial allocation of short wheelbase Tridents with the new Enviro400 bodywork, which inevitably appear on the 240 quite frequently. TE730 (LK07 AZG) was seen at Golders Green station on Boxing Day 2007. Buses now run at Sunday frequencies on Boxing Day (although not necessarily to Sunday timetables), but custom appears a little sparse. These vehicles are scheduled for the 186 and 204.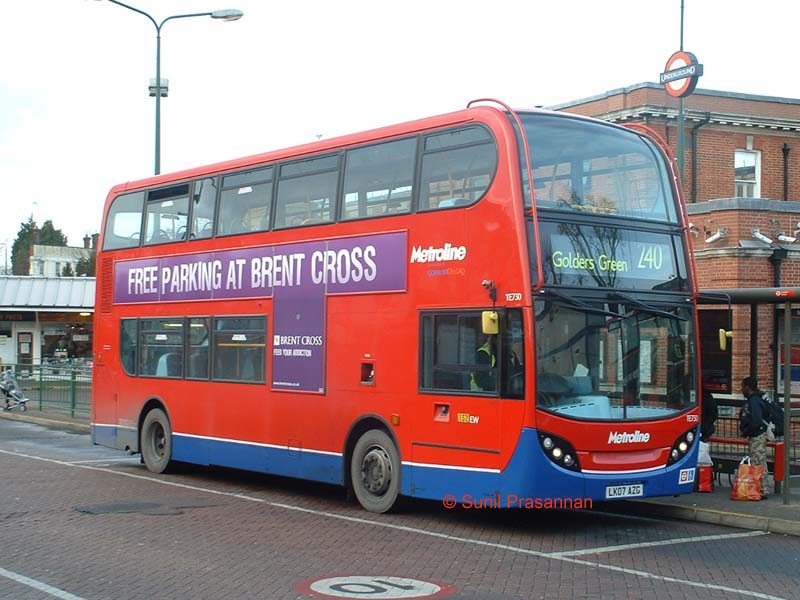 Photo © Sunil Prasannan.

Although shorter than the VPLs, the TEs have a specially designed lower deck layout to maximise seating, and consequently actually have one more seat than the VPLs! However, many of the lower deck seats are cramped, upper deck seat spacing is less generous, and there is less standing room downstairs. 26 is still a considerable improvement over early low floor double deckers which generally only managed 17-20 seats downstairs within a short wheelbase – in fact high floor vehicles only had slightly more seats.

Navigation

See also routes 186, 204

Photo Gallery | Bus route list | Operational details | Service changes | Operators & Garages