Home | Bus routes | Operational details | Service changes | Operators & Garages | Photo gallery
---
Route 186
1 January 2008
The 186 was one of five routes selected by London Transport for evaluation of the first low floor buses from 1993/1994. (The others were 120, 222, 144, 101.) All 68 buses ordered were fitted with Wright Pathfinder bodies, but the chassis were divided between Dennis and Scania, with the 186 being one of the routes to receive the LLW class Dennis Lance SLFs. These remained on the route until 2005, when a new contract, which started on 23 July, specified a reversion to double deck operation. The 186 was the last route to use the LLW type, although SLWs continued a little longer on route 101; passengers will have been glad to see the back of them as they were not well looked after by Metroline and latterly were in very poor condition.
New double deckers were specified for the 186, and also route 4, and these would be the first of a "new" type of bus, the Alexander Dennis Enviro400. Although the body style is new, the chassis is an updated version of the Dennis Trident. By agreement with TfL the new buses were instead placed on route 24, partly to keep them in one shed to ease maintenance and partly to put them in a high profile location where they would be more noticeable. However, loss of route 24 to London General in November 2007 has seen the vehicles re-allocated to the routes they were intended for – although both Holloway and Edgware have a tendency to mix them with other double deck types across all their routes!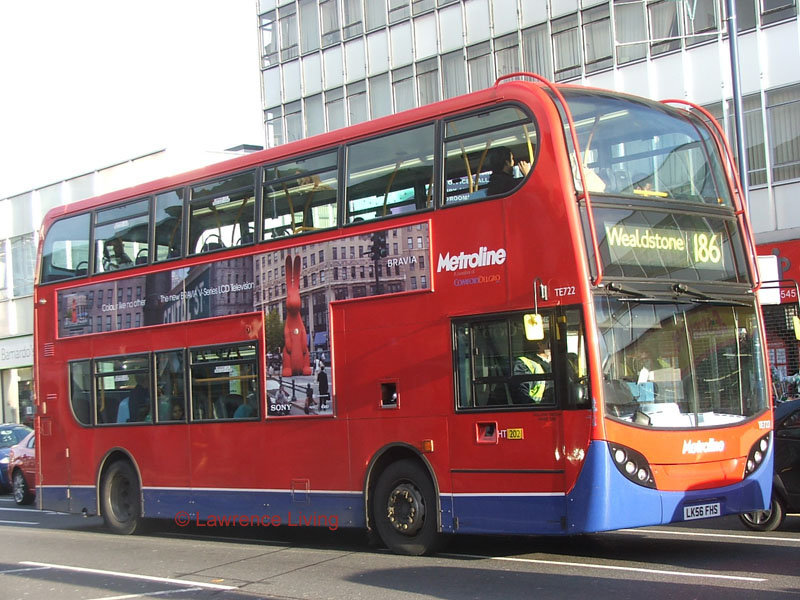 Photo © Lawrence Living.
Here TE722 (LK56 FHS) passes through Edgware on a short working to Wealdstone on Saturday 1st December 2007, still carrying its HT code from days on the 24. Thankfully the original display specified by TfL for this point, "Harrow and Wealdstone," has been amended – there is no such place, the description having arisen by uncleverly deleting the word "station" from the traditional display, "Harrow & Wealdstone Station."
When the TEs were delivered to Holloway for the 24, they indirectly replaced X registered long wheelbase Volvo B7TLs which were cascaded to Edgware for the 186. VPLs were the standard type at Edgware, so this made good engineering sense. Although they soon became mixed, VPL 151 (X651 LLX), seen in Wealdstone on Good Friday 14 April 2006, is in fact one of the transferred vehicles, and still carries the original deep blue skirt that has now fallen foul of TfL livery regulations; the TA on route 182 behind carries the compliant version. Compare the bewildering array of information on this vehicle's blinds with the minimal display on the TE above! The TEs have displaced some of Edgware's VPLs back to HT, although curiously, rather than sending back the acquired vehicles, indigenous machines have been sent instead.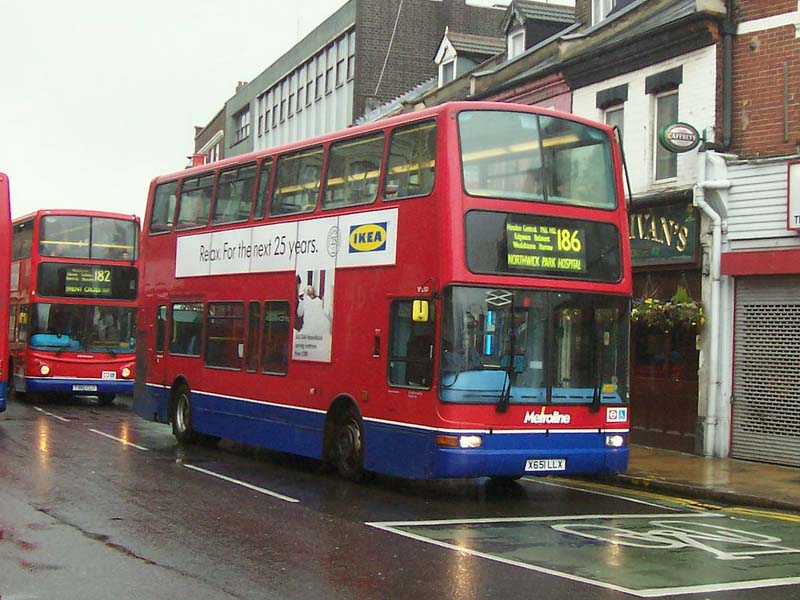 Photo © Russell Baldock.

The LLWs and SLWs were very much experimental vehicles, and a number of lessons were quickly learnt for subsequent orders. However, apart from artics, the vast majority of subsequent low floor single deck buses in London have been Darts and other lightweight models, which is a shame as full size single deckers offer better ride quality and more room. Neither of the LT designs was a major success anywhere in the country, but Scania, Volvo, Mercedes-Benz and MAN all make other models of full size low floor single deckers and these are quite popular outside London. The LLWs worked fairly well on the 186, with not-too-heavy loadings (despite their size the buses have only 34 seats) and at the same time no very narrow or twisty roads that could make their length a problem.

The 186 was the last route to run with LLWs by over a year, largely a coincidence of contract expiry dates. Withdrawal should have been early last year (a new contract began on 23 July 2005), but became rather protracted, as several times other needs for new double deckers took priority, and then the Enviros took a long time to enter service in turn delaying the cascade. Darts were used as a temporary measure to help speed up the process.

Belmont was first served by an extension of route 18, which had run as far as Harrow Weald, but was diverted at Wealdstone via the current 186 alignment to Edgware. Interestingly, this had a few journeys running to LT's Aldenham Works at Elstree, the major bus overhaul plant that lasted practically until the breakup of LT.

However, the time inevitably came for the 18 to be shortened, and new routes 182 and 186 were introduced to replace the section north of Sudbury, both also providing various new links around NW London, and running to the new shopping centre at Brent Cross. The 186 covers the section from Harrow via Wealdstone and Belmont to Edgware. At Harrow, buses terminate at the Northwick Park Hospital rather than in the town centre.

Meanwhile, during opening hours buses continued beyond Edgware duplicating long-standing route 113 via the Edgware Way and Watford Way, this being part of the A1, as far as Hendon, before running into the shopping centre. There are some opportunities for fast driving on this section, but buses do have to stop quite frequently, and new speed limits on much of the road have slowed things down a bit too. During the day on Mondays to Saturdays only half the service runs through to Brent Cross, the rest of the service terminating at Edgware. Surprisingly, this service structure was retained in the recent retendering, although early morning and late evening short workings were (rather wastefully) extended through (the buses then having to return out of service to Edgware!).

Navigation

See also routes 24, 113, 18, 182, 120, 222, 144, 101

Photo Gallery | Bus route list | Operational details | Service changes | Operators & Garages