Home | Bus routes | Operational details | Service changes | Operators & Garages | Photo gallery
---
Route 184
27 August 2009
The 184 has been doing well at getting new buses each time it is tendered, and the latest vehicle type is the Enviro200Dart. ENL45 (LJ09 KPK) represents the type at Arnos Grove on Thursday 13 August 2009. Thankfully the blind shows Turnpike Lane Station, rather than plain "Turnpike Lane" which the route does not serve.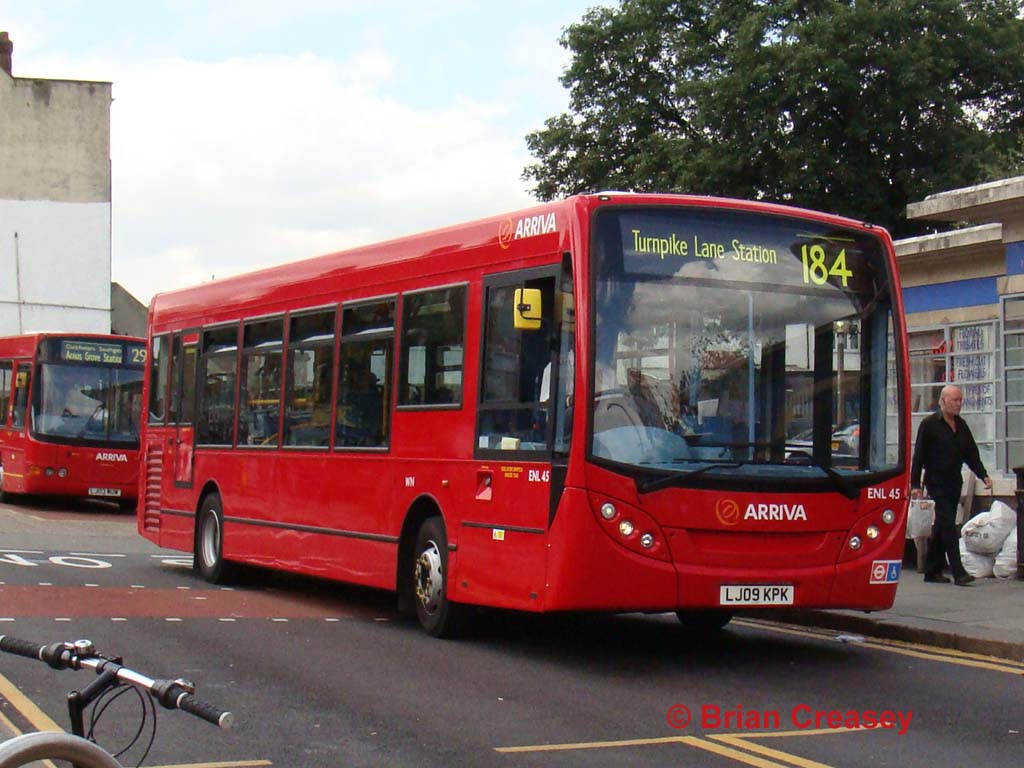 Photo © Brian Creasey.
The previous type on the 184 was the DAF SB120/Wright Cadet, a type not noted for its reliability. The vehicles on the 184 have moved to pastures new, but a handful of the type are still based at Wood Green garage for the 184, and so are liable to put in appearances from time to time. One of the batch, DWL17 (LJ51 DFA), passes through Barnet on Friday 15 August 2008, almost a year ago, when the 184 was still a DWL route and the casual observer would not have noticed the difference.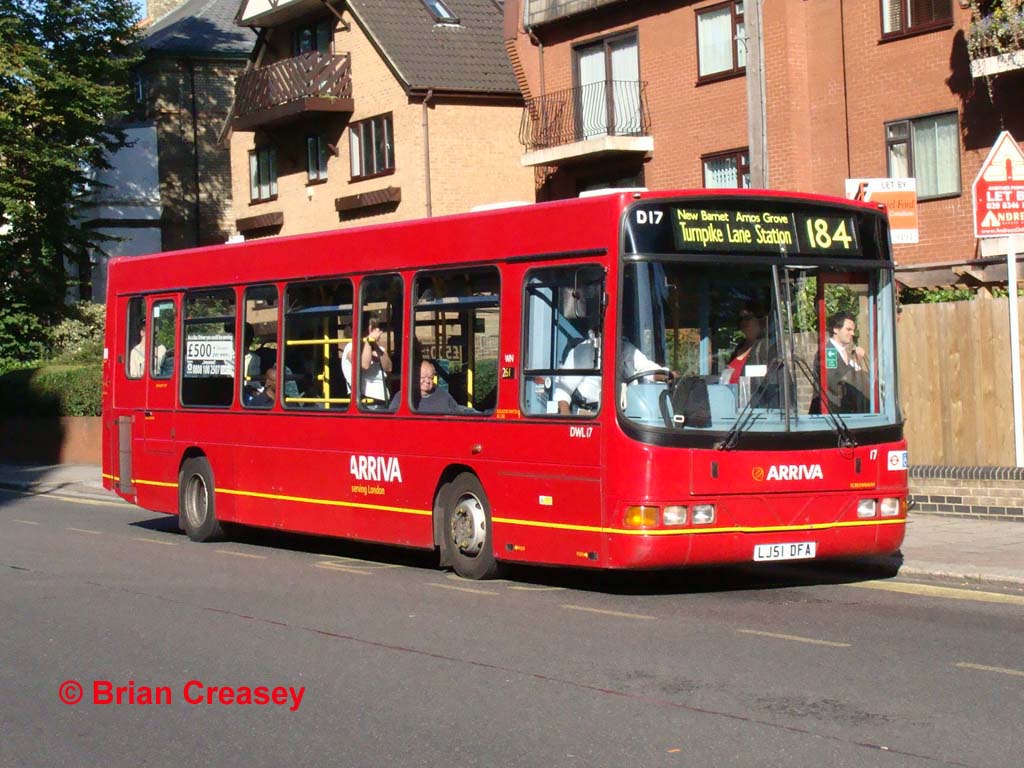 Photo © Brian Creasey.

The busy 184 could really use double deckers, but the upmarket residents of Alexandra Park Road (near Wood Green) have objected to large scale double deck operation along their road. Therefore, double deck operations are restricted to just one journey in each peak at school times.

The 184 number derives ultimately from the 84, having been a renumbering of route 84A in. Coincidentally, from 1940 to 1961 route 84 had also linked Barnet and Arnos Grove, albeit running via Whetstone between these two points, whereas Church Hill Road and Hampden Way now served by the 184 were then unserved. But the connection comes from a later period.

Soon after the war new route 207 started, providing a first-time local bus to the Meadway and Chesterfield areas of Barnet, running between Chesterfield Road and New Barnet. This was subsequently replaced by an extension of route 34, which previously terminated at New Barnet from the East Barnet Direction. In 1961 the 34 was cut back to New Barnet again, and another new route, 261, started from Chesterfield Road via the previous 207/34 route to New Barnet, then via East Barnet, Church Hill Road and Hampden Way to Arnos Grove. No Sunday service was provided, Chesterfield Road being covered by route 260 on this day instead.

In 1980 the 26, having already been shortened between Golders Green and New Barnet and by now covering the section to Chesterfield Road on Sundays, was extended there on a daily basis, with the 84 extended from New Barnet to Arnos Grove on Sundays only. Thus ended the 261, although the 84 initially had a few schoolday only journeys between Chesterfield Road and Barnet, presumably to maintain a local link.

But this proved too much for the 84, both in terms of route length and loadings at the south end, so from 24.04.82 it was curtailed to New Barnet again, with route 84A taking over the Barnet to Arnos Grove leg. The new route soon gained extensions at both ends to Arkley and Turnpike Lane station (via Palmers Green), with effect from 23.04.83. It was subsequently cut back to Barnet General Hospital from 13.08.90.

In the 02.02.1991 Barnet area route scheme the 84A was diverted via Meadway and Chesterfield Road to replace the 26/82, and diverted to the present 184 routeing south of Arnos Grove in order to connect Brownlow Road and Durnsford Road to the increasingly important shopping destination of Wood Green. DW class Darts took over, presumably with a frequency increase, and the following year these were replaced by 9m DRL class Darts. The 84A was simply renumbered 184 from 27.01.96, with an accompanying vehicle upgrade to 9.8m Darts, and these were followed by the DWLs in 2002.

Navigation

See also routes 298, 84, 34, 260, 326, 82

Photo Gallery | Bus route list | Operational details | Service changes | Operators & Garages