Home | Bus routes | Operational details | Service changes | Operators & Garages | Photo gallery
---
Route 183
4 February 2010
A new contract starting in September 2009 called for new buses for route 183. The previous Volvo B7TLs dated from 2001 and were becoming a bit "long in the tooth." For the last couple of years operator Transdev has standardised on the double deck version of the Scania OmniCity and here we have SP77 (YT59 RYB) in Kymberley Road, Harrow, on 22 October 2009.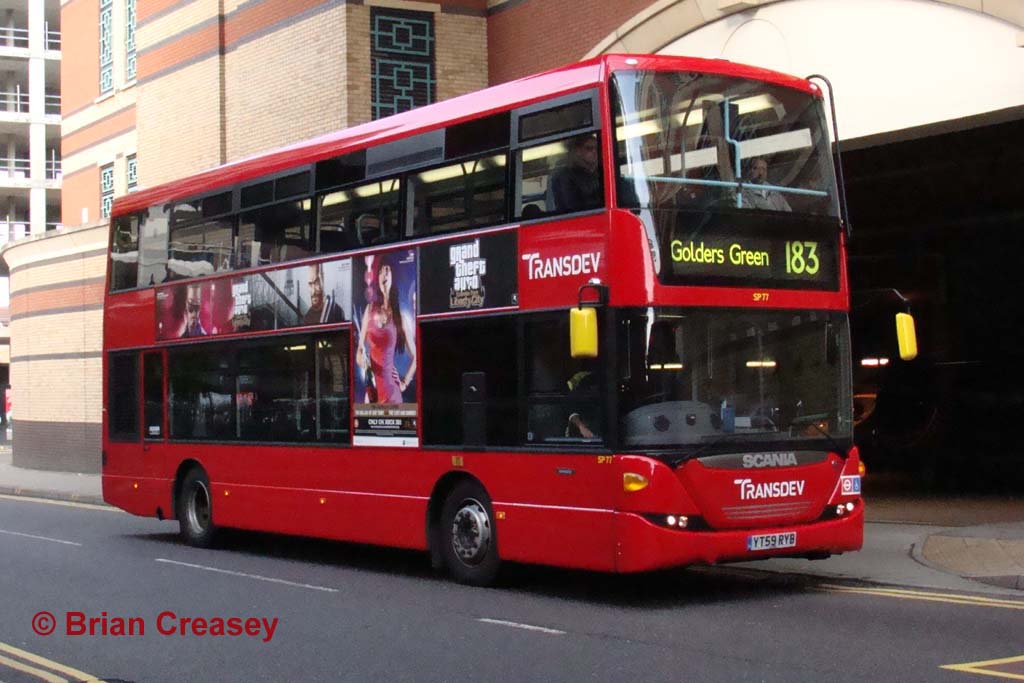 Photo © Brian Creasey.
A second view is provided at the Golders Green end of the route, where SP69 (YT59 RXS) waits time on 2 October 2009.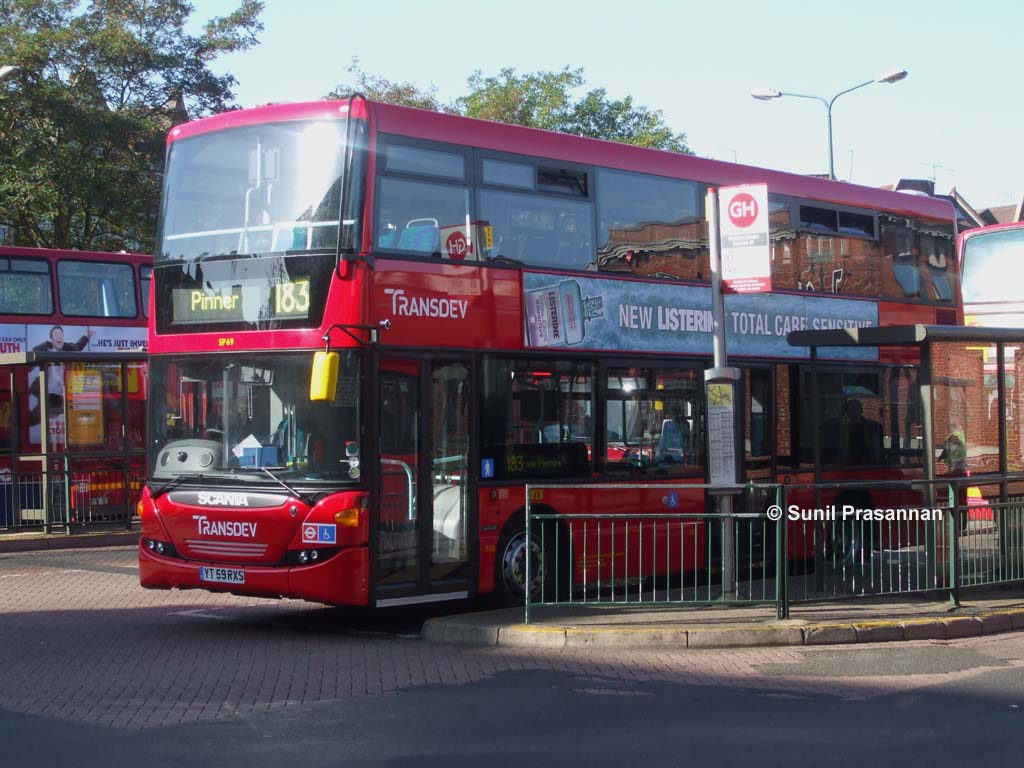 Photo © Sunil Prasannan.

The 183, which crosses north-west London from Pinner to Golders Green via Harrow and Kenton, was one of several disastrous attempts at single deck operation on a busy trunk route that occurred in the late 1990s. In this case the conversion started with a new contract in September 1999; the Monday to Saturday daytime frequency was enhanced slightly, to the tune an extra bus per hour, and brand new dual door Dart SLFs replaced the elderly Metrobus double deckers of Metroline.

However, this represented a substantial drop in overall capacity, and overcrowding ensued, not helped by persistently poor reliability on the route. The seemingly more enlightened regime under the new Mayor for London saw the problems and allowed a reversion to double deck, and a batch of new Volvo B7TL double deckers was phased onto the 183 during 2001. These buses in any case provided a much more refined ride than the cheap and nasty Darts.

The double decking was just as well, as in September 2002 the Jewish Free School in Kingsbury opened, with hundreds of pupils arriving there by bus on a daily basis, mostly from Golders Green, Hendon, Finchley and other areas of the borough of Barnet. Further extra capacity had to be added in the shape on an additional AM trip towards Pinner and a PM trip starting from the school grounds to Golders Green, and a second morning journey towards Pinner was added in January 2008. The latest new contract, from September 2009, has specified an all-day frequency increase to every 10 minutes.

Despite being the only route to pass Sovereign's Harrow depot, the 183 is actually operated from Edgware garage, as Harrow cannot accommodate double deck vehicles. Even before reverting to double deck, however, part of the 183 had been based at Edgware. Drivers change over by catching the Northern Line between Golders Green and Edgware – not an ideal arrangement and one which can hamper reliability.

To a large degree, the 183 has itself to itself, despite being, to all intents and purposes, a trunk route. The route parallels the 83 between Golders Green and Kingsbury Green, except that the 183 operates via Hendon town centre, whereas the 83 runs via Hendon Central station (an anomalous name if there ever was one!). However, until relatively recently, it was the other way around, with the 183 running via Hendon Central and the 83 via The Burroughs. Incidentally, in 1936 the 183 ran every 6 minutes for most of its length, with double deckers of course!

From Kingsbury Green the 183 is alone as far as Kenton, where it is joined by the 114, 223, H10 and H18 for the last mile into Harrow. Then the 183 is on its own again for the final stretch to Pinner, if one overlooks the occasional H18/H19 as far as North Harrow. From Pinner, most buses used to continue to the logical terminus at Northwood, but this section was transferred to the H11 with the introduction of Harrow Buses in November 1987, forcing through passengers from Northwood to Harrow to take a detour via some back streets in the West Harrow area – or, of course, to take the Metropolitan Line.

Navigation

See also routes 83, 114, 223, H10, H18, H19, H11

Photo Gallery | Bus route list | Operational details | Service changes | Operators & Garages