Home | Bus routes | Operational details | Service changes | Operators & Garages | Photo gallery
---
Route H10
3 February 2014
The four Harrow Circulars, H9, H10, H18 and H19, are unique within London in being genuinely circular routes, operating, in the case of the H9 and H10, from Harrow to Harrow via Kenton, Wealdstone, North Harrow and South Harrow. This is different from routes such as the 138 and 288 with a loop at one end, otherwise known as "frying pan" routes, and where the loop section is usually only served in one direction.
The H9 and H10 were originally numbered as a single route, H10, with buses running round both ways. To help passengers, especially those waiting for a bus at Northwick Park Station and Northwick Park Hospital, where buses serve nearby stops in both directions, different coloured blinds were used. Unfortunately there was no guarantee that the correct colour would be used, even after the directions were separated operationally, so a separate route number H9 has now (in 2004) been introduced for the anticlockwise direction.
The 1999 tendering exercise in Harrow saw a large fleet of 10.2m Dart SLFs obtained by Sovereign Harrow. Sovereign was taken over by Transdev and merged with the London United operation. The LU class code for such buses was DPS, but as LU already had DPSs in the same numerical series the Sovereign buses were numbered SDP instead, the S in this instance standing for Sovereign rather than short (there were apparently some technical differences from LU-specified DPSs as well).
As DPSs became surplus to requirements in LU land some, which were newer than the SDPs, were transferred over to Sovereign. Upon contract renewal in 2011 the remainder of the SDPs were replaced by new Enviro200Darts, which are mixed with the DPSs across all routes. I don't have an up-to-date DPS picture but here is DE72 (YX11 GDE) at Harrow Bus Station.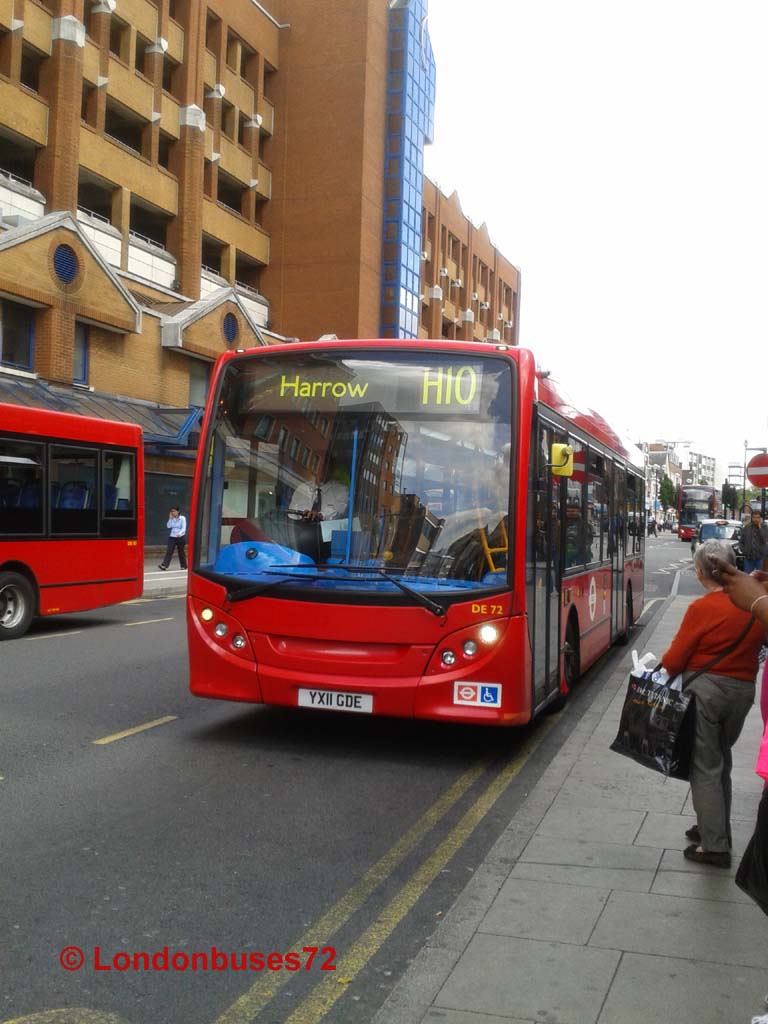 Photo © LondonBuses72.
It is impossible to tell whether the bus is just starting or finishing its trip, as the blind display is simply "Harrow" throughout the journey! The use of DDA compliant blinds means no via points can practicably be displayed, compounding the problem. There are many train services that operate on a circular basis and the practice is to change the destination during the course of the journey, generally showing the last station where catching that train from that point makes sense. With powerblinds and GPS, similar ought to be possible on the buses.
The route has got through several numbers over the years. It started off as the 230, operating between Northwick Park station (not Harrow itself) and North Harrow via Kenton. Later the 230 was extended from North Harrow (which is actually almost due west of Harrow!) to Rayners Lane station where it met up with route 114 which at that time covered the southern leg via South Harrow. It was then renumbered H1, and meanwhile the 114 swapped southern terminals with the 158 (now 258) so that Rayners Lane – Harrow was served by route 158.
This route was in turn replaced by the current circular service, but then numbered 201, and latterly with Harrow Buses using Leyland Nationals. Buses now ran between Northwick Park Hospital and Rayners Lane daily, extended except Sundays to Harrow from both ends. In 1991 it was re-numbered into the Harrow area H1x series as the H10, now running daily throughout. The H10 was operated from the start by Sovereign using Mercedes minibuses, but was upgraded to dual door Dennis Dart operation in 1999.
The route has most of its roads to itself. From Harrow, buses still deviate via Northwick Park Hospital before running to Kenton, then the route is unparalleled through Wealdstone and North Harrow to Eastcote Lane. Even between South Harrow and Harrow the route had a section to itself, as the trunk routes 114 and 140 now divert via Porlock Avenue, though the 395 has recently joined the H9/H10 by the direct routeing. But as well as linking these residential areas to their main town centre the route provides useful links: when in South Harrow once I was asked by someone if there was a bus from there to North Harrow, as that would be easier than the Z-shaped journey on the underground necessitating changing at Rayners Lane and Harrow-on-the-Hill – and, indeed, the H10 fulfilled his requirements. However, he had to be careful to catch a bus via Rayners Lane, rather than going into Harrow where he would have had to change anyway!
Navigation
| | | |
| --- | --- | --- |
| | Previous | Next |
| Chronologically | 13 | 82 |
| Numerically | G1 | H12 |
See also routes H9, 138, 288, 114, 258, 140

Photo Gallery | Bus route list | Operational details | Service changes | Operators & Garages