Home | Bus routes | Operational details | Service changes | Operators & Garages | Photo gallery
---
Route 114
4 March 2011
London Sovereign operates route 114, but it is a bit of an odd case. It had been operated by BTS (Borehamwood Travel Services) since 1991; before that, it was operated by Harrow Buses, a low cost operating unit within London Transport. However, BTS was sold to Sovereign in August 1994, although little changed on the 114 for several years, with the existing batch of Leyland Olympians bought new for the new 114 contract continuing in their orange livery. In the summer of 1996 buses received Sovereign fleetnames in place of BTS on their orange livery, and from 1998 the vehicles at last started to be repainted into Sovereign's attractive new blue and cream livery.
However, no sooner had the repaints been completed than most of the Olympians were removed to Yorkshire and replaced by low floor DAF DB250LFs displaced from route 60, latterly operated by Arriva. This was a mid-contract upgrade and a rare case where the option to lease vehicles from London Buses rather than owning or leasing them directly had been taken up. In the case of the 60, new operator Connex preferred to use its own buses, so the DAFs had to find a new home, and the 114 seemed suitable. The red and black livery carried by these was subsequently adopted for other buses at Edgware garage.
Major reliability problems with the DAFs, and the fact that there were not quite enough to go round, meant that when a new contract was awarded with commencement in September 2004, new vehicles were specified. London Sovereign had just been sold to Transdev with management being taken over by sister company London United, which had been experimenting with different vehicle options and specified East Lancs bodywork for the first time, on Volvo B7TL chassis. Here VLE29 (PA04 CYP) runs westbound along Victoria Road in leafy South Ruislip on Tuesday 19 October 2010. The roundabout in the background is the junction with Field End Road.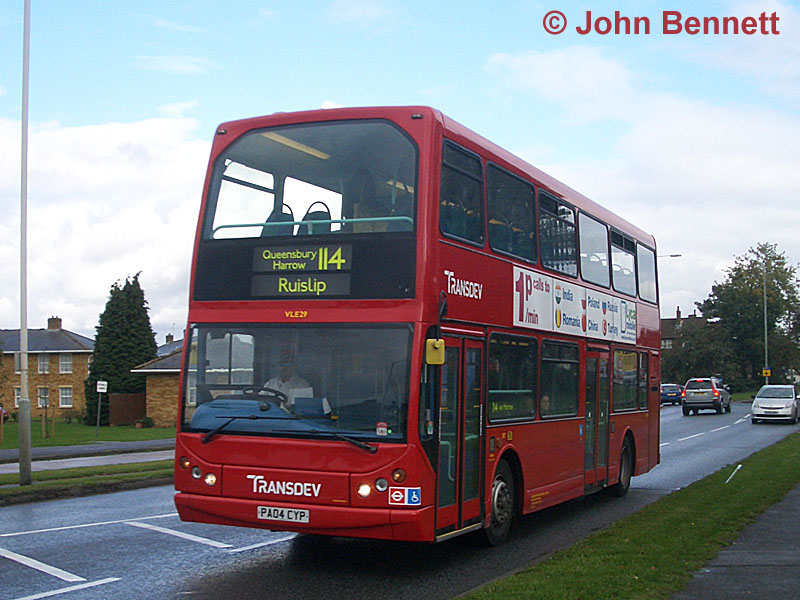 Photo © John Bennett.
Although 19 VLEs were ordered for the 114 only 13 were delivered to Edgware, the other 6 being diverted to Shepherd's Bush for a frequency increase on the 148. This is because the 6 buses ordered for the 148 were Scanias, a new type for LU/LS, and rather than introduce a third chassis to Shepherd's Bush garage they were delivered to Edgware for the 114, although in the event the Scania became the standard double deck bus type for Transdev in London so Shepherd's Bush got some anyway. Further SLEs were delivered to Edgware for the 13 OPO conversion, and are somewhat mixed with the original six, and so we see SLE25 (YN55 NHY) at Ruislip Station on Thursday 2 July 2009. This was one of the first Transdev buses painted in allover red. The driver didn't seem to take a break – usually buses turn into the station driveway, offload passengers on the left hand side then, after a break, drive round a roundabout to pick up passengers on the right hand side of the road – but this one went straight to the pick up stop.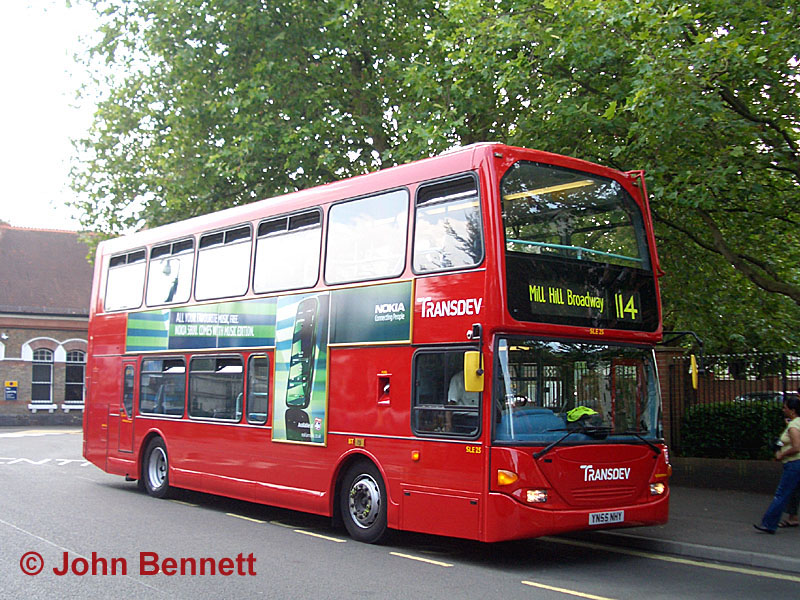 Photo © John Bennett.
Edgware tends to mix its buses across routes, and another type is the SP class, again a Scania chassis, but this time with Scania's own bodywork, which is generally found to be rather better built. Sovereign has just the one batch for the 183, delivered in 2009, and SP78 (YT59 RYC) pulls away from Harrow Bus Station for Mill Hill Broadway on 31 October that year.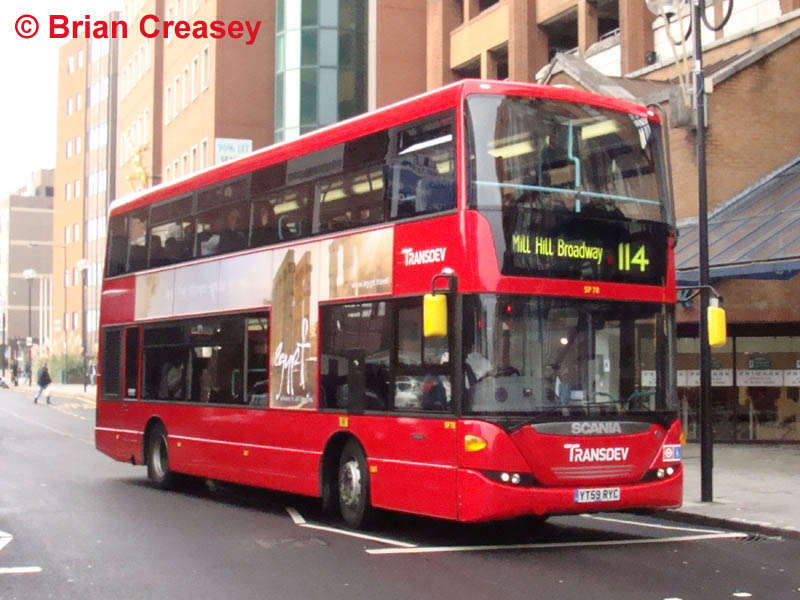 Photo © Brian Creasey.
The final class is from the other double deck route at Edgware garage, the 292. These are older Plaxton President bodied Volvo B7TLs. The 183 had used similar vehicles prior to the arrival of the SPs. VLP18 (PJ53OUN) looks freshly painted as it stands on 8 April 2010 at Mill Hill Broadway station, a rather unwelcoming environment underneath the M1 motorway.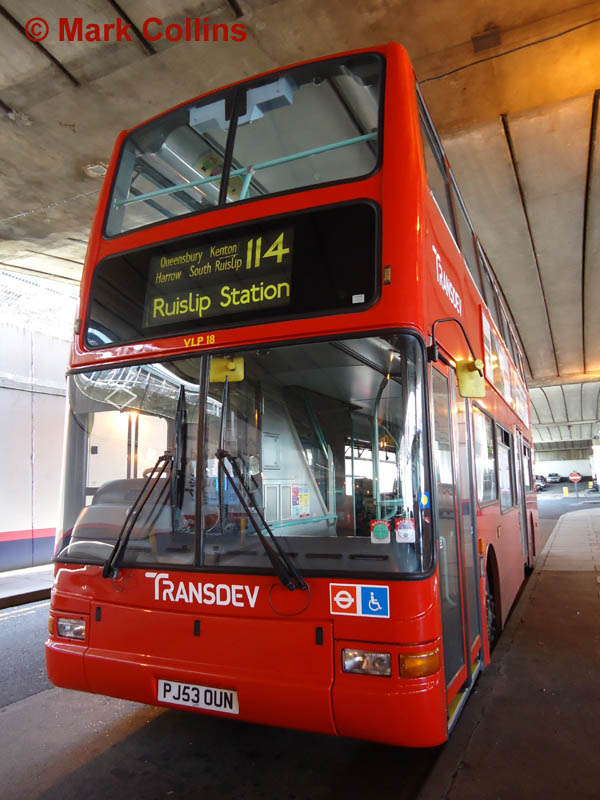 Photo © Mark Collins.

The 114 is an old route, but it has changed almost beyond recognition. The oldest reference I can find is in 1933, when it ran from Edgware to Rayners Lane via present day routes 340 and H10. Thus the only common sections with the present route are about a mile each in Harrow itself and South Harrow. It was surprisingly frequent, every 10 minutes throughout with a bus every 5 minutes between Eastcote Lane and Harrow Weald – all running at all times. The first alteration was actually the short diversion between Harrow and South Harrow via Porlock Avenue instead of the direct route, which occurred in 1957.

As might be expected, the remainder of the transition to the present route occurred in two stages. The 114 swapped eastern ends with the 158 (previously Watford to Ruislip Lido) in 1966, and was curtailed back to Harrow Weald, new route 286 replacing it between Harrow and Edgware. The 114 then swapped eastern ends with the rather lengthy 140 (Heathrow to Mill Hill) in 1984, so that the 114 now ran between Ruislip and Mill Hill and the 140 between Heathrow and Harrow Weald. Incidentally, the 140 was later extended over the 286 to Edgware, but subsequently cut back to Edgware again with the creation of the 340.

With the introduction of the H13 in 1986, the Ruislip – Ruislip Lido section of the 114 was reduced to Sundays only, continuing until 1996, when the routeing was standardised and a twelve minute end-to-end service introduced instead of the previous short workings between Mill Hill and Harrow. The frequency has since increased again, and is now every 10 minutes Monday to Saturday daytimes, 12 evenings and Sundays.

Navigation

See also routes 60, 148, 13, 183, 292, 340, H10, 140, H13

Photo Gallery | Bus route list | Operational details | Service changes | Operators & Garages