Home | Bus routes | Operational details | Service changes | Operators & Garages | Photo gallery
---
Route P4
4 March 2011
The P4 was one of four experimental minibus routes introduced by London Transport in 1973 under the auspices of the Greater London Council (GLC). (The other three were the B1, C11 and W9, the last two also surviving today.) These all ran along many roads previously unserved by buses, and with the exception of the C11 were notable in that they introduced what is now termed 'Hail & Ride' operation to the streets of London – buses would stop at any safe point on request on sections of route not served by other buses. Demand was not expected to be high, and Ford Transit van conversions with just 16 seats were allocated.
Letter prefixes on routes used to denote the route as a flat fare route, as opposed to routes with different fares depending on the distance travelled. The letter was supposed to stand for a local centre, and Bromley and Cricklewood were easy, but choosing a 'number' for the Brockley Rise to Brixton via Dulwich Village route was perhaps not so easy as it did not serve anywhere with a particularly obvious letter. It was put into the Peckham network, even though it does not go near Peckham. (The W9 has a similar story.)
In 1983, the P4 was extended from the rather odd terminus of Brockley Rise to the altogether more useful objective of Lewisham (perhaps it would have been the L1 had it gone there in the first place!). However, the route was one of the first to be tendered under the new regime following the 1984 LRT act, and was lost to London Country using Leyland Nationals from faraway Dartford garage, starting in 1985. On 27 April 1987, London Country was split up into four sections, and the south east quadrant became Kentish Bus, with a new rhubarb and custard livery.
The level of service provided was still broadly similar to the original timetable, every 30 minutes, but the late evening service had been lost, and the early evening service still did not reach Lewisham. No Sunday service was provided – although that was still quite common at the time. In 1990, installation of speed humps in Court Lane forced a diversion via Dulwich Common and College Road, which remains in place today, although is arguably more useful, if slightly longer, than the original route. The short working early evening service was also withdrawn at this time.
Kentish Bus continued to operate the P4 until 1990, when the route was re-tendered and returned to London Buses. New Dennis Darts were introduced, matched by a major increase in the service, with a bus every 15 minutes and a half hourly evening and Sunday service. Since then, progressively earlier and later journeys have been added, and the Sunday daytime service was increased to every 20 minutes upon contract renewal in May 1997, at which time new low floor Darts were also introduced.
Operation remained at Catford garage, which had by then been privatised and sold to Stagecoach. As more routes were converted to low floor Dart operation an incredible mixture of Darts (including some standard floor ones) became the norm over the next few years, with both Plaxton and Alexander bodywork, single and dual door configurations and three different lengths! Catford garage has since lost many of its single deck routes, so variety is much reduced. A new contract in May 2003 specified new low floor Darts, these being to the longer 10.2m length which had previously been thought impracticable. Similar buses were introduced on the 178 soon afterwards, and 34551 (LX53 LGF), at Lewisham station on 19 January 2011, is in fact a stray member of that batch, not that passengers would notice the difference.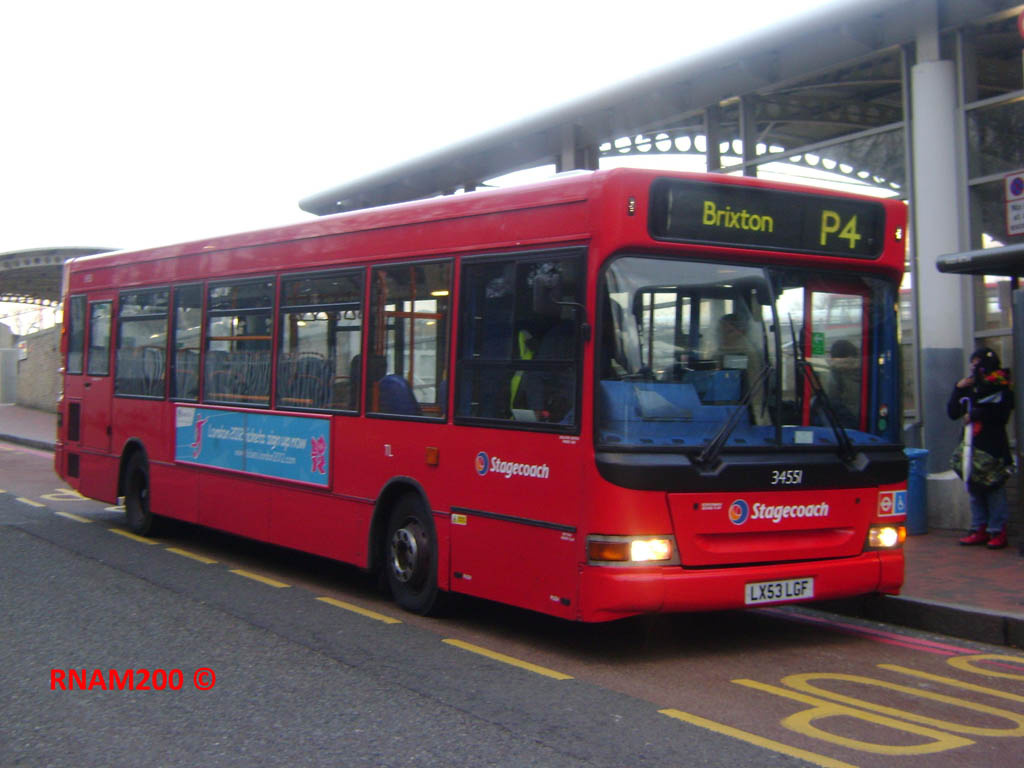 Photo © RNAM200 (Robert Mighton).

There are now no other types of bus of this size at Catford garage, but occasionally smaller buses from 124, 273, 356 and 380 put in appearances, and these are not welcome! The very heavy peak loadings now found on the route were eventually recognised in the 2003 contract, and the daily frequency was also increased, to every 12 minutes. This even includes Sundays, but the route is indeed unusually busy on that day of the week, partly due to the level of leisure activities in the Dulwich area, particularly the park and the famous picture gallery.

Navigation

See also routes C11, W9, 202, 284, 124, 273

Photo Gallery | Bus route list | Operational details | Service changes | Operators & Garages