Home | Bus routes | Operational details | Service changes | Operators & Garages | Photo gallery
---
Route W9
3 February 2014
The W9 is one of the four experimental minibus routes introduced in 1972, the others being the B1, C11 and P4. Initial operation was with Ford Transits, and the W9 was by a large margin the last of the four to be minibus worked, although there was an intervening period of operation with larger BS and then BL class Bristol LHs. Like other letter prefixed routes, a flat fare (15p) was charged.
The original W9 concept was along previously unserved roads in the Winchmore Hill area. Buses ran from Southgate to Enfield via Bourne Hill, Hoppers Road, Winchmore Hill, Wades Hill, Highlands Hospital, Vera Avenue and Old Park Ridings, and indeed this remains the trunk of the route. The Enfield terminus then was in Palace Gardens, which has now become a shopping arcade!
A further deviation via Fox Lane was introduced in 1975. The route was extended from Southgate to Muswell Hill on Mondays to Saturdays in 1982, replacing route 244. The late evening and Sunday service was withdrawn the following year, but a late evening service was restored from 13 July 1985 when the route was one of the first tranche to pass to private operators under the new tendering regime.
The beneficiary in this case was Eastern National, which converted the route back to minibus operation using Mercedes L608Ds. This Essex operator went on to build up quite a substantial operation in London. A Sunday afternoon service was restored between Southgate and Enfield from 1988, no doubt as the route served the Highlands Hospital. (The Highlands Hospital site is now a housing development, but is still served by the W9.) In 1989, slightly larger Mercedes 709Ds were introduced. In 1990, Eastern National split into two, with operations in the Basildon and London areas passing to the new Thamesway company.
In 1991, new route 299 replaced the W9 south of Southgate, but to compensate the route was extended north from Enfield to Chase Farm Hospital via Holtwhite's Hill, which was previously not served (though not far from other buses such as the W8). A full Sunday service was provided.
Thamesway (and Eastern National) were owned by the Badgerline group, which merged with GRT to form First Bus. In July 1998 FirstGroup (as First Bus had by then become) purchased Capital Citybus, a major independent operator in north and east London. Logically, Thamesway's Ponders End depot (operating most of the company's London area routes) was transferred to the control of First Capital, as Capital Citybus became.
Buses had gone from the Eastern National yellow/green to Thamesway yellow/brown, and then to a revised Thamesway livery of yellow and pink. First Capital managed to apply their red and yellow livery to some of the buses before losing the W9 to Metroline in March 2000.
Metroline used a batch of 9.8m Dennis Darts that had been stored since being displaced from route 107 by new low floor Darts – thus ended minibus operation, but in a way it is surprising that the route was not awarded with low floor buses. However the route was subsequently converted to low floor, and once again it was a mix and match of any available buses! The mainstay of the Potters Bar single deck allocation was with Marshall Capital bodied short (9.4m) Dart SLFs, but other variants including longer versions, some with dual doors, and Plaxton bodied examples often appeared on the W9.
However, Metroline had a clearout of its older Dart stock, including all the Capitals, and for a while the mainstay of the W9 allocation was the DSD class of dual door 9.4m Pointer Darts, transferred from the 206 in April 2007 when a new contract began on that route. Interestingly, some of the buses these replaced on the W9 had been earlier cast-offs from the 206!
A further new contract in 2010 specified existing vehicles, but in one of the mysteries of Metroline fleet management new buses were introduced in 2012. These are 9.6m E20D/Enviro200 buses - similar but shorter vehicles could often be seen interloping from the 383 and 384 for a few years previous. Two shots are provided here and DEM1345 (LK62 DDZ) heads out of Enfield on Old Park Avenue on 20 October 2012.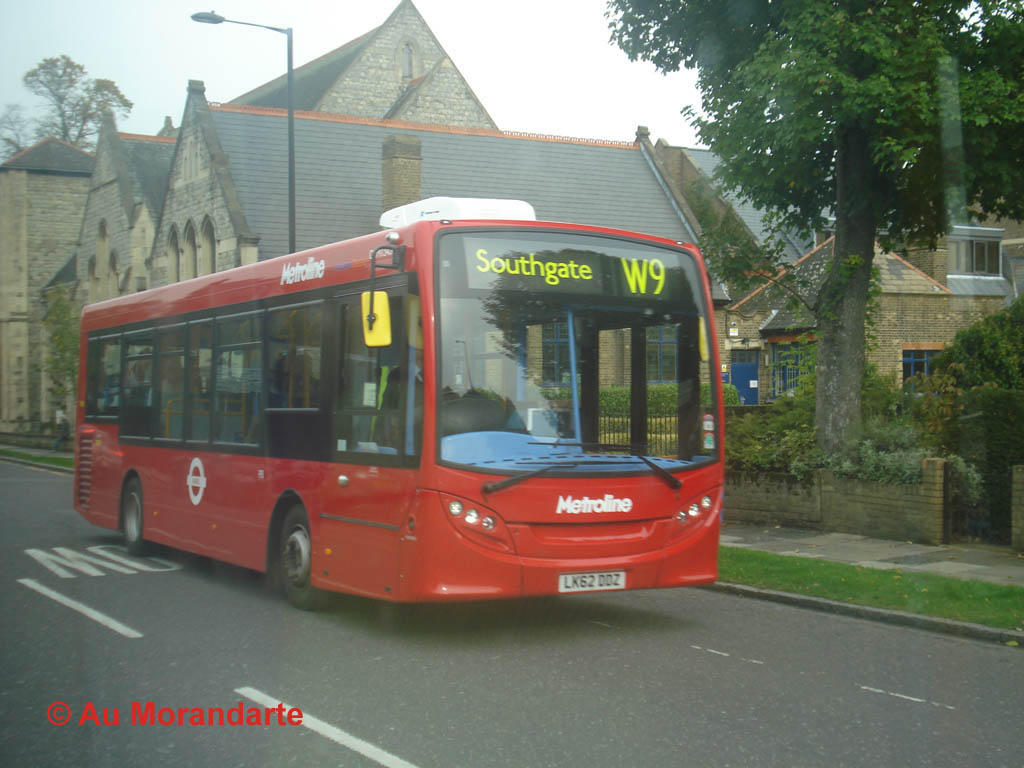 Photo © Au Moran.
Then we have, for a change, a refreshingly advert-less rear view of DEM1341 (LK62 DCF), at Enfield Civic Centre (Silver Street), on the same day. I am not too sure of the significance of the green "London" logo; I have not noticed these before!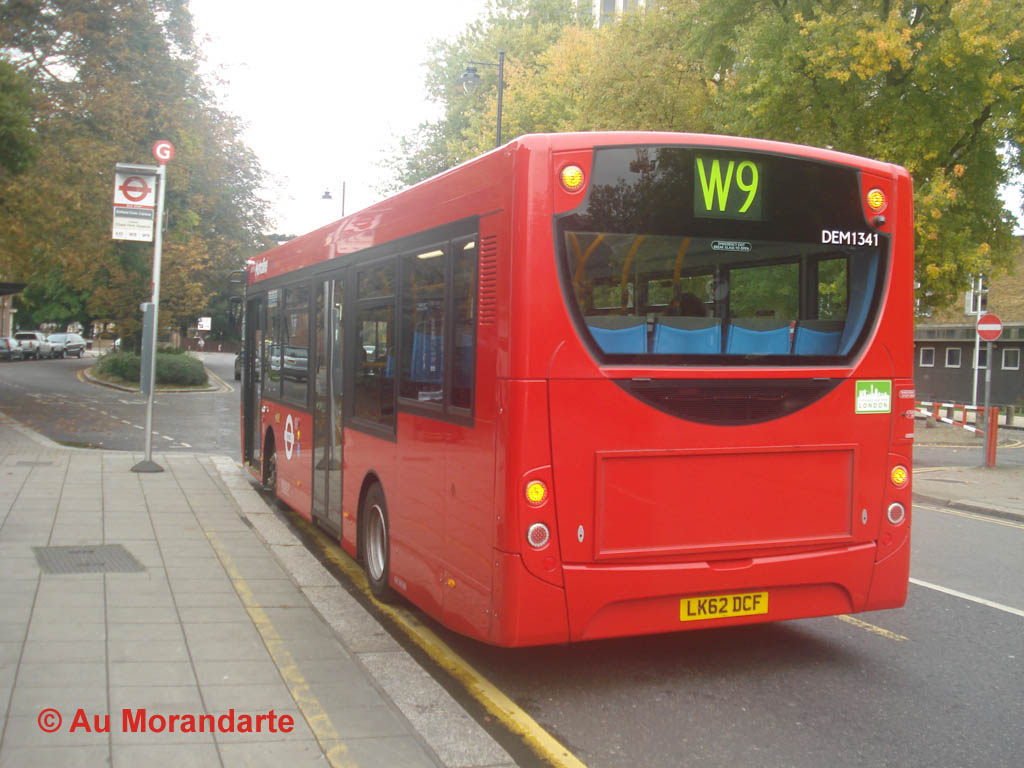 Photo © Au Moran.
Navigation
| | | |
| --- | --- | --- |
| | Previous | Next |
| Chronologically | 90 | 697 |
| Numerically | W3 | W11 |
See also routes C11, P4, 299, W8, 107, 206, 383, 384

Photo Gallery | Bus route list | Operational details | Service changes | Operators & Garages