Home | Bus routes | Operational details | Service changes | Operators & Garages | Photo gallery
---
Route W8
26 May 2009
The W8 was originally part of the Flat Fare system of routes that gave birth to letter prefixes, being in the first instance a direct replacement for the 128 between Chase Farm Hospital and Edmonton Green via Lavender Hill, Enfield and Church Street. The 128 had itself been a renumbering of single deck (LTL class) route 204 on 13 August 1941; in those days the 200-299 block was reserved for single deck routes. The W8, though not in the first tranche of Flat Fare routes, was one of the earlier ones, beginning in 1969.
The only route change since then has been an extension from Edmonton Green to Pickett's Lock Leisure Centre, which began in 1974. Initially there was no service on this extension during Monday to Friday peak hours – no doubt conveniently allowing the buses to be put to other uses during this time of day. However, the evening peak is often a problem in such cases, as leisure travellers are still around, and often on their way home, unlike the morning peak where it is almost exclusively commuters on the buses. An evening peak service had been added by 1976.
London Northern took over from Potters Bar garage in 1987, and buses running to and from the garage from Chase Farm throughout the day on Sundays (for driver change purposes) did so in service, conveniently covering for the 313 which did not run on Sundays. In 1992 the morning peak service finally caught up with the rest of the day by running to Picketts Lock, though to this day a more frequent service is provided at this time, giving a fairly tight schedule.
In 1998, on re-tendering, the route was lost to Capital Citybus, who put some second hand Metrobuses on it until new Tridents could be delivered. The Sunday extension to Potters Bar – which by now was a regular all-day service – was simultaneously withdrawn in favour of an extension of the 313 Sunday service to Potters Bar (it had run between Chingford and Chase Farm until then).
Following further re-tendering the route was awarded to Metroline, which had by then taken over London Northern. Potters Bar is once again in charge, this time using Plaxton President bodied Dennis Tridents that are outwardly very similar to those used by Capital Citybus. However, there was a problem to start with, as it was found they would not fit under the railway bridge at Edmonton Green! Following road lowering operation was commenced. Demonstrating the type is TP461 (LK03 GJY) in Enfield Town, Silver Street, on Monday 12 September 2005.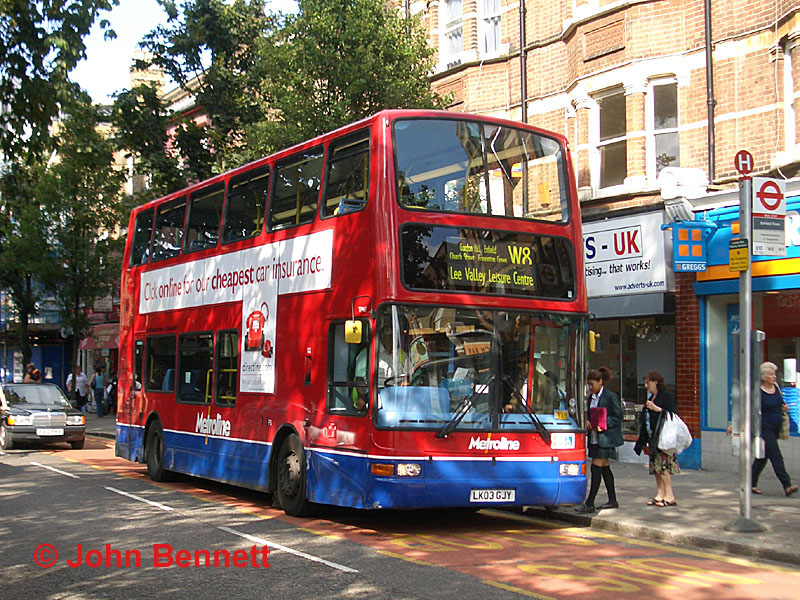 Photo © John Bennett.
Navigation
| | | |
| --- | --- | --- |
| | Previous | Next |
| Chronologically | 32 | 163 |
| Numerically | W3 | W9 |
See also routes 313

Photo Gallery | Bus route list | Operational details | Service changes | Operators & Garages