Home | Bus routes | Operational details | Service changes | Operators & Garages | Photo gallery
---
Route 163
13 July 2009
The route number 163 has had several incarnations in different parts of London. The present route is a relatively recent creation, in July 1987, taking over the Morden – Raynes Park section of route 156 on Mondays to Saturdays, and overlapping with the 156 from Raynes Park as far as Wimbledon. The Morden – Lower Morden section was also served (until the following year) by route 164, which is no doubt how the route number was selected. And that is all the history there is to report, other than a Sunday service being added when the 156 was curtailed at Wimbledon in 1991.
Operation was initially from Merton garage with Leyland Nationals. However, in the Sutton area tendering scheme the route was successfully tendered for by the new SuttonBus low-cost unit (even though it does not go anywhere near Sutton!), based at Sutton garage, which took over from 26/11/88. This also saw the route converted to double deck, with Fleetlines. The route was later moved to Sutton's outstation at Colliers Wood, but this was soon merged into the allocation at nearby Merton, where the route has been based ever since, albeit with a little help from Sutton.
Nowadays the route is single deck again, running more frequently than previously with up to 8 buses per hour, and scheduled double deck workings on school days. The main allocation is from Merton, and the previous connection of elderly Dart SLFs has recently been swept away by new Optare bodied Enviro200 bodied Darts. (The design, Esteem, is by East Lancs, which took over Optare and then renamed itself Optare in a "reverse takeover." The design has now been discontinued, and indeed the Rotherham factory had to be re-opened especially to build this order.) Sutton also covers certain evening journeys using buses on their way on/off night duties.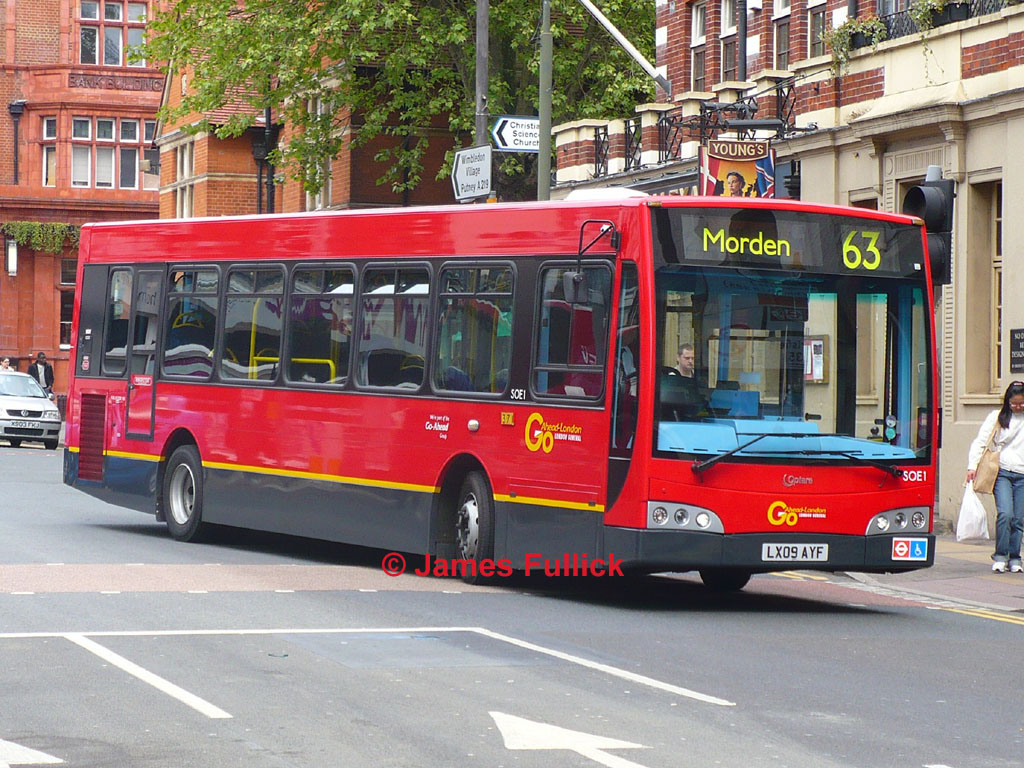 Photo © James Fullick.
Two views are provided here of the unusual chassis/body combination. SOE1 (LX09 AYF) turns out of Worple Road on the commencement of its circuitous trip to Morden: as the crow flies, Morden is little over a mile away, but the bus will actually traverse around 5 miles of roads before arriving there. The route is the main service to the Grand Drive area, linking it to local railheads and Morden, Raynes Park and Wimbledon. It also helps out with the Wimbledon Chase – Wimbledon "round the corner" link, along with the 164.
The second view shows the rear of SOE2 (LX09 AYG), again in Wimbledon, proceeding south in Hartfield Road. Note the high window line, which makes the vehicles look more like high floor buses of days gone by, and will afford passengers seated in the front low floor section a poor view!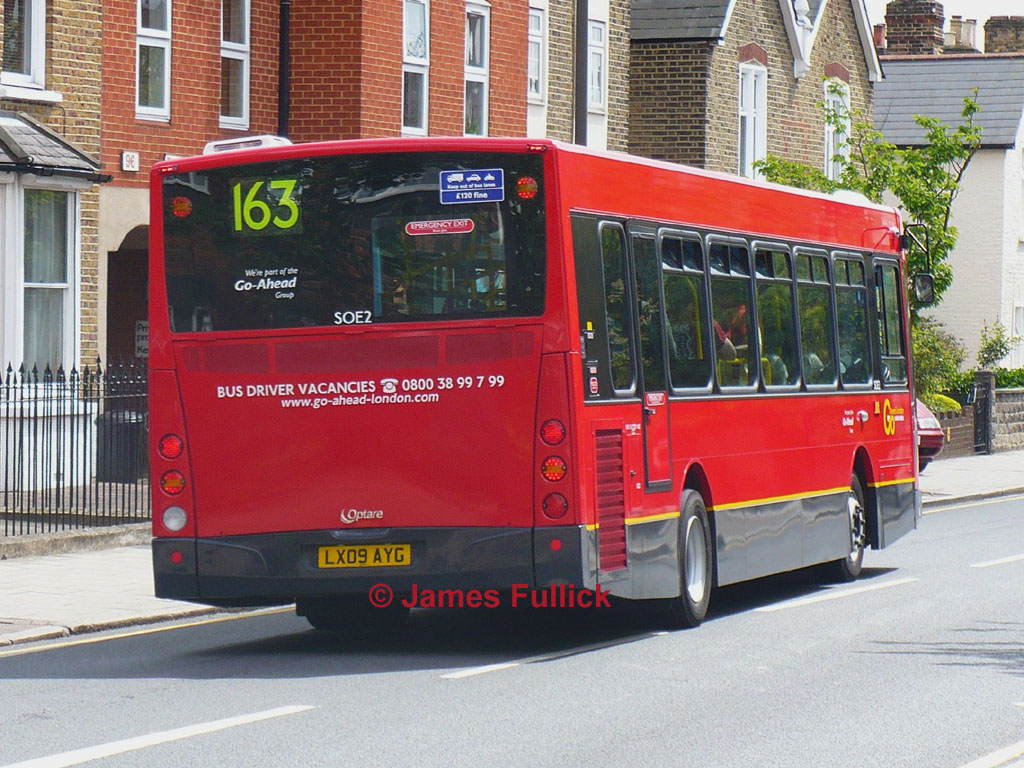 Photo © James Fullick.

Navigation

See also routes 156, 164

Photo Gallery | Bus route list | Operational details | Service changes | Operators & Garages