Home | Bus routes | Operational details | Service changes | Operators & Garages | Photo gallery
---
Route 482
13 July 2009
Although in some respects a "new" service when introduced on 22 March 2008 in connection with the opening of Heathrow's Terminal 5, route 482 actually has its origins in a private contract introduced in 1984. It was funded by the Transport & General Workers' Union for staff at Gate Gourmet, and operations commenced on 15 July 1984.
Nothing further is known about the early history, but the contract passed to Centrewest and became a public service from 15 April 1992, operating as route X767 between Uxbridge and Heathrow Cargo Terminal, with three return journeys daily. From Uxbridge buses ran either via Belmont Road and the A40 Western Avenue (2 journeys) or via Hillingdon Hill, Uxbridge Road and Hayes Grapes (1 journey) to Yeading White Hart, then via Lady Margaret Road, Southall, Harlington Corner and Hatton Cross. One journey operated via Cranford, the other two via North Hyde Road and Harlington. The service was limited stop. However, the X767 only lasted until 1 February 1993, when its sponsor withdrew support. A private staff bus was instead run again, provided by New Bharat Coaches (and later Bharat Travel – the link between the two companies later being broken).
Funding transferred to BAA in June 2001, and the contract was formalised as route 805 (still with Bharat Travel), on the basis that this would allow a whole range of airport workers to use the service, rather than just staff from Gate Gourmet. The route was from Hayes Grapes to the Cargo area via Yeading White Hart, Lady Margaret Road, Southall, Cranford, Harlington Corner, Hatton Cross and Terminal 4, with 4 journeys each way per day timed to suit shift changes. Number 805 was possibly chosen as the route followed the 105 between Southall and Harlington Corner.
Demand for the service increased rapidly and, as part of the Terminal 5 planning agreement, BAA provided funding for a major service enhancement from 2 June 2003. A half hourly service was provided all day between 5am and 10pm – although demand remained concentrated around the shift times. At the same time, the section between Hayes and Yeading was withdrawn, presumably as the 140 provided a much more direct route to Harlington Corner even if that necessitated a further change to reach the points to the south of the airport – a necessity made less onerous by the frequency increase. The route was revised to start at Northolt Station, operating via Mandeville Road, A40 slip roads and Kensington Road to pick up the previous routeing in Lady Margaret Road. At the other end the route was extended to the Terminal 5 site.
A mixed bunch of leased Dart SLFs was used, along with a solitary Volvo B6BLE, and a Transbus Enviro 300 appeared briefly on demonstration duties, the only vehicle of this type ever to run within London to my knowledge. It was rumoured that a batch of new Mercedes Citaros had been ordered, but this must have been overtaken by events as they never materialised.
Since its inception the 805 had been run under a London Service Permit, meaning it was run independently of the main Transport for London network, and TfL tickets were not accepted, the route having its own fares. An approach was made to TfL for it to be absorbed into their network, and it was tendered as route H31, but not awarded. Instead, from 22 November 2003, the route was transferred to a London Local Service Agreement with Bharat Travel, meaning TfL fares were available. At present, the 805 has the distinction of being the last route to gain an LLSA – in contrast, most other LLSAs have been changed either to LSPs or full blown TfL contracts (where appropriate), as TfL was not prepared to provide revenue support without having control over the route, timetable and vehicles. The 805 also had the distinction of being the last LLSA running wholly within London – four LLSAs remained when it was withdrawn, but all were cross-border routes.
Not all was rosy however, and from 27 November 2004 the route was shortened at both ends to run between Southall and Heathrow Cargo area only, and reducing the vehicle requirement to four. The Terminal 5 site was instead served by part of the private contract network operated by Menzies. The basic service pattern on the 805 was still half hourly, but with a few 20 minute intervals around the shift change times. Despite this retrenchment BAA were no longer able to support the route in its entirety, so came to a joint funding agreement with London Buses and the route was incorporated into the TfL network from 25 June 2005. The number was changed to 435, perhaps because such a higher number did not agree with TfL's internal systems. The route was tendered and awarded to Centrewest with 3 double deckers from Greenford garage.
The extra capacity thus provided enabled the extra journeys to be withdrawn. However, one flaw with this plan was that the 4th bus had been used between the extra trips to provide extra layover, which was very much needed given the tight running times, especially bearing in mind the vagaries of Southall traffic. Consequently, the route had to be re-scheduled with an extra bus (and increased running time) from 22 October 2005.
The opening of Terminal 5 in March 2008 led to a review of services. The contract for the 435 was terminated early (along with that for route H50), and the 435 was replaced by route 482. Like the 435, the 482 starts in Southall, but then follows route H32 to Hounslow West and route 203 to Hatton Cross, then picking up the 435 routeing to Terminal 4 and the Cargo area, and continuing to Terminal 5 as the 805 had briefly done. A further frequency increase from 2 to 3 buses per hour was introduced, albeit during Monday to Saturday daytimes only. The new contract was awarded to Transdev (London United) who run it from Hounslow Heath garage, conveniently near Hatton Cross, using Scania OmniCity double deckers built in Poland, now the standard double deck type for the company.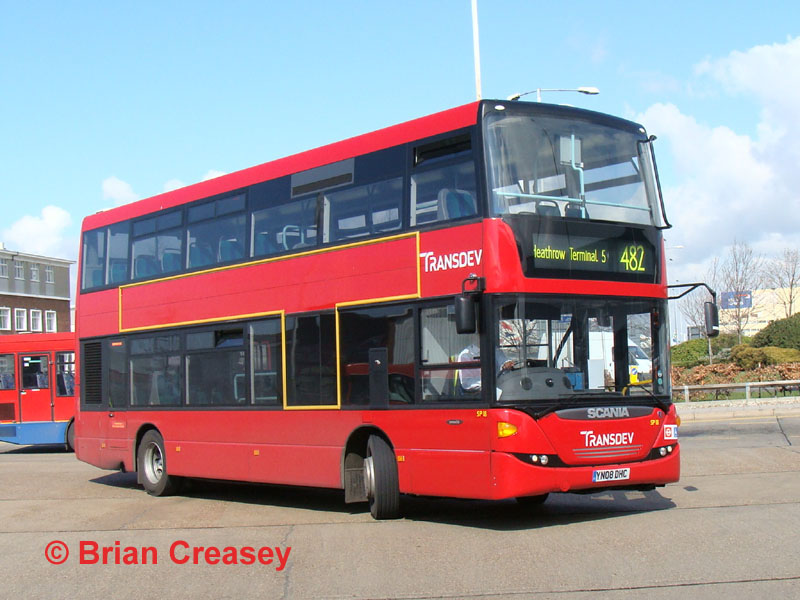 Photo © Brian Creasey.
Two views are provided here. The first photo shows SP18 (YN08 DHC) circling Hatton Cross Bus Station to reach the correct pick-up stop on 26 March 2008, in the first week of operation. In spite of the destination, the bus will have terminated at the cargo area, as Terminal 5 did not open until the following day. There was talk of delaying the service changes until the actual first day, but starting a new route on a Thursday just after Easter would not have been convenient.
The second view is at Terminal 5 itself, and shows SP19 (YN08 DHD) departing for Southall on 9 April 2008. Despite heightened security concerns around that time and the sensitive nature of the location, photographers have encountered little opposition. The bus station itself is somewhat gloomy, being underneath part of the terminal building – such arrangements were quite popular in the 1970s, with bus stations frequently located under multi-storey car parks, but many such buildings have now been demolished and replaced by much more pleasant open-air bus stations. It would appear that, despite their relatively pro-public transport stance, BAA are oblivious to this!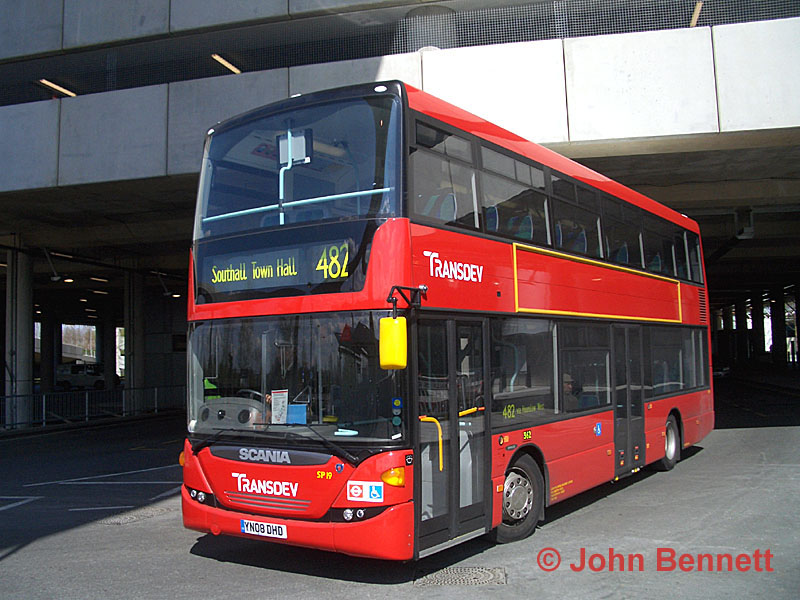 Photo © John Bennett.
Also on the 482 are two experimental hybrid buses. The former and current mayors of London have placed a great deal of emphasis on environmental issues, and hybrid buses are one initiative designed to improve the capital's green credentials. Small numbers of a variety of types have been ordered for trials and placed in service alongside conventional buses, usually in addition to, rather than replacing, the regular vehicles, in case of any technical problems resulting in them being withdrawn at short notice. In the case of the 482 that results in Hounslow Heath garage having 11 vehicles for a peak requirement of 8!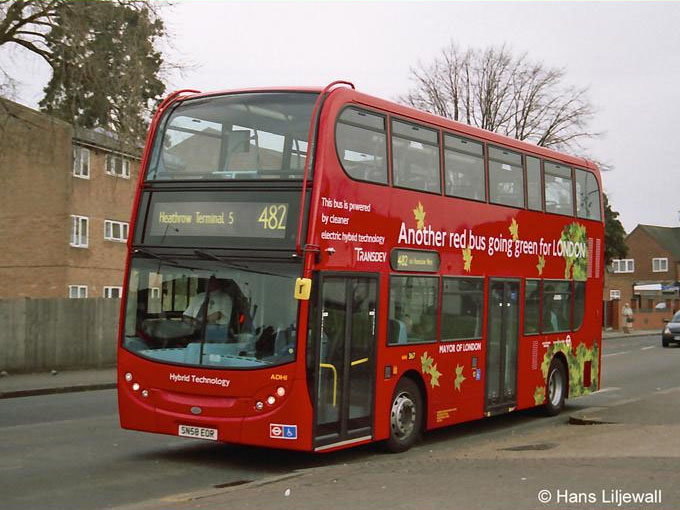 Photo © Hans Liljewall.
Two photographs are provided of the hybrids also – all two of them! They are Alexander Dennis Enviro400Hs, which have, so far, proved by far the most reliable type of hybrid, and are also to be found on routes 16 and 196. Above is ADH1 (SN58 EOR) passing near Hounslow West on 2 April 2009, while the second photo depicts ADH2 (SN58 EOS) on the stand in Avenue Road, Southall, on Thursday 6 March 2009. Note the fans below the rear upper deck window, which are to cool the batteries which are accommodated behind the flap immediately below. A row of seats is lost upstairs to accommodate them.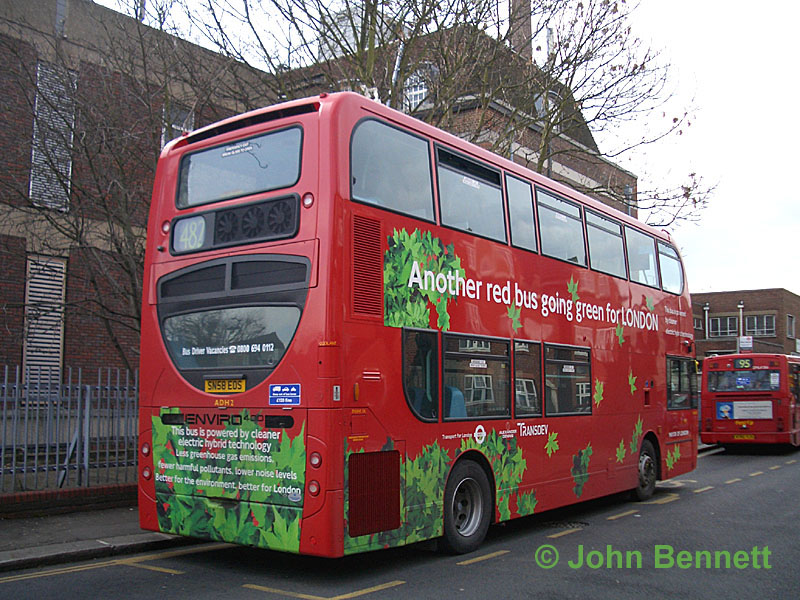 Photo © John Bennett.

Navigation

See also routes 105, 350, H32, 16, 196

Photo Gallery | Bus route list | Operational details | Service changes | Operators & Garages