Home | Bus routes | Operational details | Service changes | Operators & Garages | Photo gallery
---
Route 345
13 July 2009
Once again route 345 is gaining new buses, this time Alexander Dennis Enviro400s (which are based on a Trident chassis with the latest engine technology). London General, its operator, has now built up a sizeable fleet of the type such that fleet numbers are into 3 digits, justifying the single letter class code which keeps the overall length of the fleet number number down to a manageable length! E115 (LX09 FBF) is seen in South Kensington on Sunday 5 July 2009.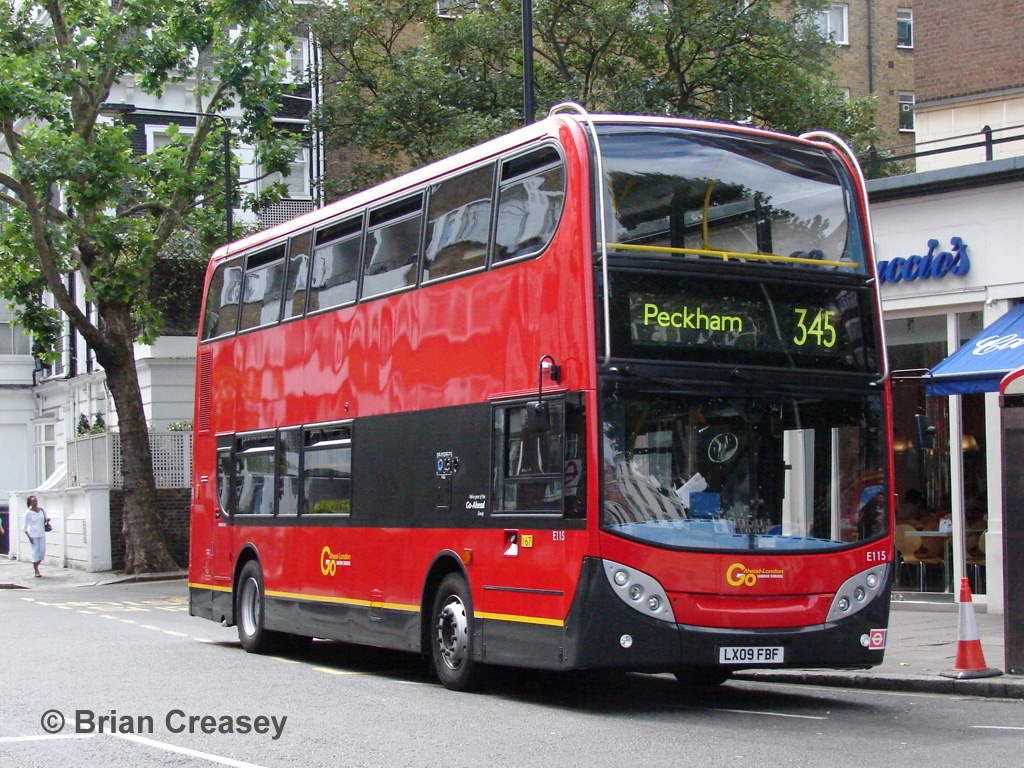 Photo © Brian Creasey.
A fair few older buses linger on. A substantial batch of Plaxton President bodied Tridents were introduced at Stockwell garage, which runs the 345 (of which more later!), during 2002-2003, and although now in process of withdrawal, being non-standard, a few linger on. Examples of Volvo B7TL with similar bodywork are also to be seen, though no photos are available at present. Anyway, the Trident variant is typified by PDL39 (PN03 ULY) at Clapham Junction, opposite the Meyrick Arms pub – a long-standing bus terminal – about to venture into the "tunnel" under the 18 tracks of "Britain's busiest railway station" – on Tuesday 5 April 2005, when the type was very common on the route.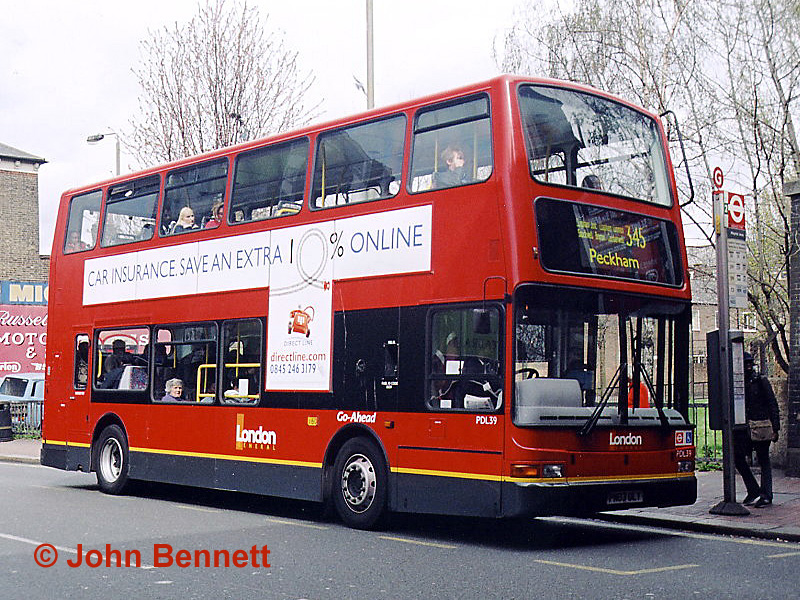 Photo © John Bennett.
Other than the batch of PDLs mentioned above, London Central and London General (the route's operators, both in Go-Ahead ownership), had standardised their double deck orders on Volvo B7TL chassis, taking 790 in total before the chassis ceased to be available for London work in 2006 as a result of concerns about noise levels of their engine cooling fans. They had batches of B7TLs with every bodywork style that was available! The first order for 46 was specified with the popular Alexander ALX400 bodywork, but most subsequent buses had Plaxton President bodies. Sutton garage received East Lancs Myllennium Vykings, but for the 345 a different type again was ordered, Wright Eclipse Geminis, and many more followed. One of the first into service was WVL 8 (LG02 KHE), caught on 30 April 2002 at Stockwell changing driver on a short working to Battersea Bridge Road.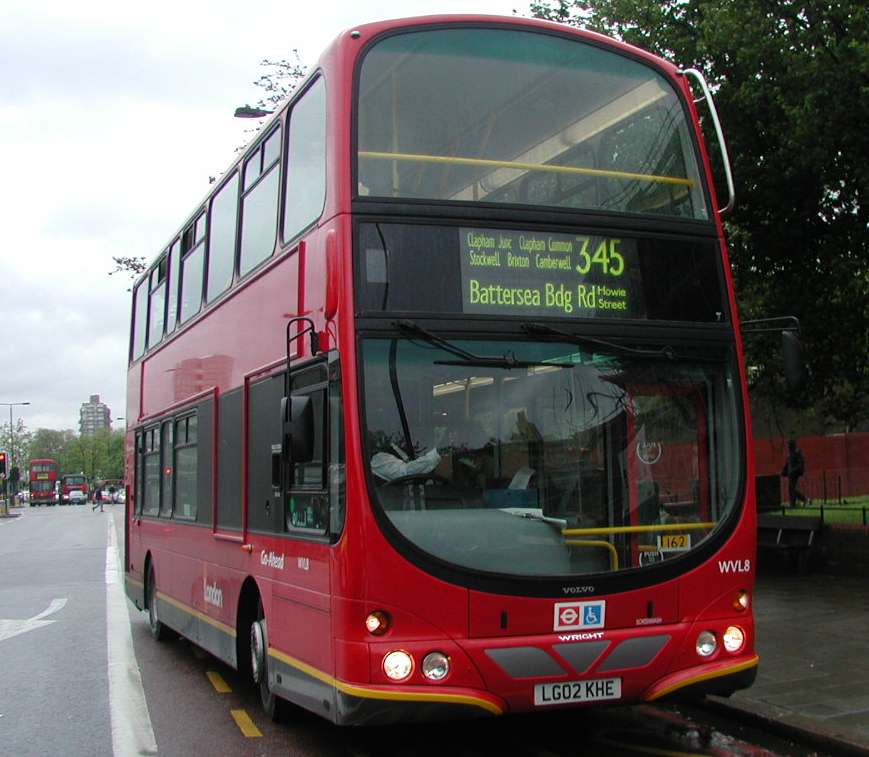 Photo by John Delaney.
From its inception in the mid-1990s as a direct replacement for route 45A, itself the western wing of the long U-shaped 45 service, the route was operated by London Central's Camberwell (Q) garage. However, a small New Cross (NX) allocation was soon added, and this was the precursor to a whole sequence of very frequent allocation changes. The route passes near three of London Central's garages, and the purchase in May 1996 by owner Go-Ahead of neighbour London General brought a fourth at Stockwell (SW). Subsequent tender losses at London General resulted in a small allocation being introduced at Stockwell from May 1999, in place of Camberwell. Peckham (PM) garage also was brought into the fray during a difficult period, contributing just one bus for about five months.
Indeed, all four garages were involved simultaneously for part of that period, which is a very rare feat these days. Routes with so many garages operating used to be a lot more common when there were very long and big routes, a notable example being the 12 which at one time was split between four garages: Shepherds Bush (S), Walworth (WL), Peckham (PM), and Elmers End (ED).
A new operating contract began in September 1997 and was specified on the basis of single deckers running at a higher frequency, which was quite a popular arrangement at the time (popular with the planners that is, the passengers were not so happy). Titans were replaced by 10.2 metre long Dennis Dart SLFs with single door Plaxton Pointer bodywork, which quickly proved to be highly unsuitable for the job both in operational and mechanical terms. The route reverted to double deck when a new contract began in 2002.
That September 1997 timetable may hold a record for the number of different duty schedules fitted to it. 16 different schedules have applied to my knowledge (and there may have been more), with almost monthly changes through 2000 and early 2001! In some cases, however, only one or two of the garages were involved in the change.
Monday to Friday allocations have been as follows:
 #  Date      NX PM  Q SW  Reason for change
 1  24/09/97  13 --  9 --  --
 2  08/11/97  11 -- 11 --  Changes to 21 at NX and introduction of 321 at NX/BX (Bexleyheath).
 3  14/11/98  17 --  5 --  Loss of route 1 at NX.
 4  29/05/99  17 -- --  5  Loss of routes 49 and 337 at SW.
 5  05/02/00   9 -- 13 --  Loss of routes 3 and N3 at Q.
 6  29/04/00   9 --  9  4  Driver shortages at Q (certain Q duties were covered by SW in the
                             preceding weeks).
 7  17/06/00   9 -- -- 13  Loss of routes 200/201 at AL and transfer of route 155 from SW to AL.
 8  01/07/00   9 -- -- 13  Re-scheduling of NX duties, eliminating most daytime dead runs to and
                             from the garage for driver changes.
 9  02/09/00   9 --  5  8  Extension of route 88 at SW.
10  30/09/00   8  1  5  8  Driver shortage at New Cross.
11  28/10/00  --  1  5 16  Loss of route 295 at SW.
12  02/12/00   8  1  8  5  Gain of route 188 at SW; reductions on M1/M2 at NX.
13  24/02/01   7 -- 10  5  New route 486 at NX (replacing M1).
14  17/03/01  -- -- 13  9  Gain of route 225 at NX.
15  16/06/01  -- -- 10 12  ?
16  29/09/01  -- --  3 19  Gain of route C10 at Q.
    02/02/02  -- --  5 19  New timetable to improve reliability.
    27/04/02  -- -- -- 24  New operating contract with increased evening service.
Although there were spare Darts allocated for the 345, their very poor reliability resulted in a large number of substitutions by other types. Again because of the number of garages involved, including two different companies with rather different tastes in vehicles, the 345 has seen quite a variety of different vehicles. Even some of the general types have variations! Of course there is much less variety now, with only one garage involved. The following applies to the period 1997-2002:
LDP class 10.2m Dart SLF/Pointer single door originally purchased for the 345 and 321 in 1997. A programme was instituted to convert them for wheelchair access, but was not quite completed, with the result that they then had a mixture of three interior layouts! Originally B36F, most have now been converted to B35F.
LDP class 10.7m Dart SLF/Pointer dual door, 8 of which were placed on the 345 to replace the single door versions on this busy route, which in turn were moved to the 225 for a new contract commencing on 17 March 2001.
LDP class 10.2m Dart SLF/Pointer dual door intended for the 155 at SW; indeed LDP90 was kept at SW between transfer of the 155 back to Merton and the subsequent transfer of part back to SW, and was thus normally to be found on the 345 for a period.
LDP class 9.4m Dart SLF/Pointer single door intended for the 484 and P5 at Q from mid-2001 onwards.
DRL class 9m Dart/Pointer from NX; these were a mixture of K-LGN batch B34F buses and K-MGT batch B32F buses with modular plastic seats, which started life on routes 295 and 211 respectively. A number were transferred to New Cross for route 278, but with 6 for a PVR of 3 they tended to be used to cover for LDPs on the 321 and 345. Additionally DPL10 from the batch otherwise stationed at Merton for routes 200 and 201 was based at New Cross for a while; this had a B35F layout!
M class MCW Metrobuses: in the last weeks of the first round of SW operation, M837 was transferred to SW from Merton, and pending proper blinds was used on the 345 with a mock-up. For the last few days this was replaced by "native" SW M845, presumably after a defect on M837. The Metrobuses replaced LDP45, which was returned to Q ahead of the rest of the batch, and used on the 484. Later, SW's remaining Ms gained new blindsets, allowing them to work the 345.
T class Leyland Titans from NX, PM and Q: these were the standard 1980s buses in East London, and indeed the normal type on the 345 prior to 1997. A handful lingered on, providing spare cover for other types. Of interest were four with dot matrix destination displays in place of normal blinds; these were officially allocated for the night bus standby duties provided by Camberwell garage, where the need to be able to jet off to anywhere in London would make ordinary blinds far too lengthy. T172, painted into a special pre-war style livery, also put in a few turns during 2001! That was the oldest Titan remaining with London Central (and later re-painted in Queen's Jubilee gold), but tended to be kept to special duties such as the Bluewater Express 710. Peckham's T1018 became its regular bus on the 345, using a special destination board fitted in the blind aperture; that bus was subsequently the last Titan in regular all-day service in London.
L class Leyland Olympians from NX: London Central retained a batch of 15 of these buses at privatisation. Most were sold to Rossendale Transport but 3 went to Ipswich Buses via London Traveller, 1 to Aintree Coachlines of Bootle and one coach-seated example to Holmeswood Coaches of Rufford.
NV class Volvo Olympian/Palatine I from Q, NX and (later) SW. Those at NX were in two batches purchased for routes 171 and 21; the older buses on 171 differ by having forward staircases (the rest have centre stairs) and red seat moquette (the rest have blue/grey). In addition examples of a batch of single door NVs in a special livery for the (now deceased) Docklands Express route D1, with white between the decks, appeared while they were at Q. Finally two of the dual door NVs (58/60) were fitted with individual seats; initially these worked from Q, but were later transferred to the private hire department at NX. SW gained an allocation of NVs for route 133.
SP class DAF DB250/Optare Spectras: 24 of these impressive buses were used by London Central on route 3 at Camberwell, and made occasional forays onto the 345. When the 3 was lost to Connex Bus in February 2000, these buses were sent to Go North East for service in the Newcastle area, where their single door layout would be more usual.
VC class Volvo Citybus/Northern Counties: These were allocated to SW for routes 133 and 196, and were the available for the 345 when needed owing to their three-track number blinds (which can show any number). Some of these had coach seats, and three with coach seats upstairs only (VC4-6) made appearances as well as standard bus-seated examples. The entire batch got re-upholstered from dingy red to blue seat moquette.
AVL class Volvo B7TL/Alexander ALX400 from Q: These buses arrived for route 45 early in 2000 and promptly started to stray to the 345. In fact certain late evening journeys were scheduled for AVL operation, as they worked onto night bus route N12.
PVL class Volvo B7TL/Plaxton President from SW: A large batch of these was delivered in spring 2000 for routes 37 and 77A, followed by a smaller batch to cover the 88 extension and the 188. The first batch had centre stairs, but the second forward stairs! Again there were some journeys actually scheduled for PVL operation as they worked onto a night route, the N44 this time. Later, some London Central PVLs were allocated on a temporary basis, being borrowed from Bexleyheath garage and route 51.
PDL class Dennis Trident/Plaxton President: 13 of these were delivered to SW in 2000, nominally for route 88, although they have been mixed with the PVLs to a certain extent. The PDL fleet at SW was later expanded.
The only vehicles that could conceivably have worked that did not are Routemasters from New Cross or Camberwell; Millennium MD class DAF/East Lancs buses from New Cross; standard floor DW/DEL Darts that were based at Camberwell; and 8.8m mini-Darts at Camberwell for the C10. It is likely that these did not have suitable blinds.

So, all in all, a route with quite a bit of variety! Nowadays only WVLs, PVLs and PDLs are likely to be seen alongside the Es, and the whole allocation has been concentrated at Stockwell garage – which will hopefully reduce the inter-garage feuds that became all too common with the joint allocation.

Navigation

See also routes 45, 12, 21, 321, 1, 49, 337, 3, N3, 200, 201, 155, 484, P5, 88, 295, 188, 486, 278, 171, 133, N12, 37, 87, N44, 225, C10

Photo Gallery | Bus route list | Operational details | Service changes | Operators & Garages