Home | Bus routes | Operational details | Service changes | Operators & Garages | Photo gallery
---
Route 3
6 June 2012
The trunk 3 from Crystal Palace to Oxford Circus is more of a touristy route than might at first be apparent. Crystal Palace itself is maybe not the tourist destination it once was, but it is home to London's main caravan park (though maybe not for much longer if the local authorities have their way), and the 3 provides a handy link into central London for its users. On the way it passes Brixton, centre of black culture, then passes near the Oval Cricket ground, Imperial War Museum and Lambeth Palace before reaching Lambeth Bridge. Not far away lies the Tate Gallery, before buses proceed north through the tourist hot-spots of Westminster, Trafalgar Square and Piccadilly Circus to Oxford Circus.
The route was a surprise award to newcomer Connex Bus from 5 February 2000, its first route which proved to be the first of many. Incumbent London Central was undercut by a large margin, and the bid was rumoured to be a loss leader. Unlike some other upstart operations the Connex Bus operation was fairly successful, though service quality was a bit shaky at times; at least it avoided going bust! Operation was, and remained until the current contract began, run from a base in the Beddington Cross industrial estate, some distance from the route.
The last contract began on 11 February 2012, and in addition to being re-allocated to Battersea garage, somewhat nearer if not exactly near the line of route, a full allocation of hybrid buses was specified. There are fair numbers of hybrids in service in London now, but mostly they are running in small batches alongside conventional buses. Only very recently have we seen whole route conversions. The 3 has E40H/Enviro400H double deckers, and two shots are provided.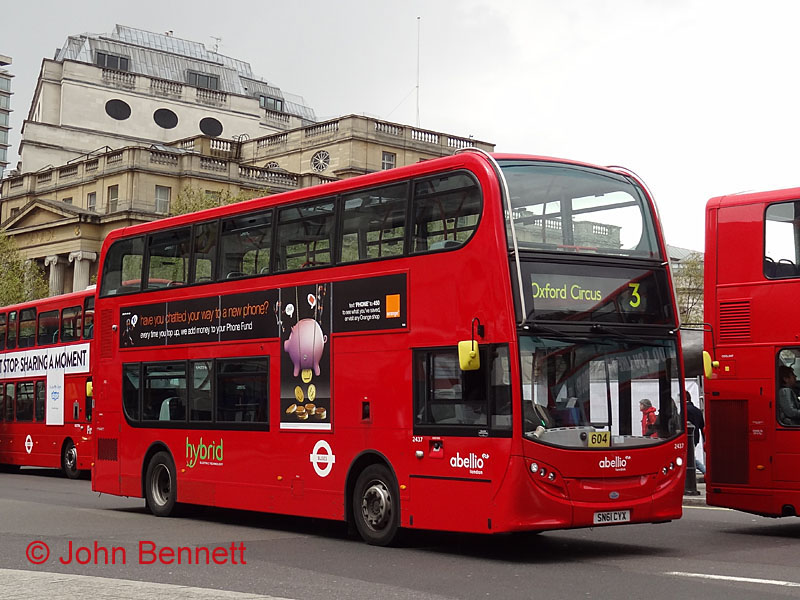 Photo © John Bennett.
The first photo shows Abellio London 2437 (SN61 CYX) at Trafalgar Square on Friday 20 April 2012. Note the modest hybrid branding now employed, in contrast to the special red and green livery carried by the early hybrids. Secondly we have 2418 (SN61 CXX) near Oxford Circus on 11 February 2012.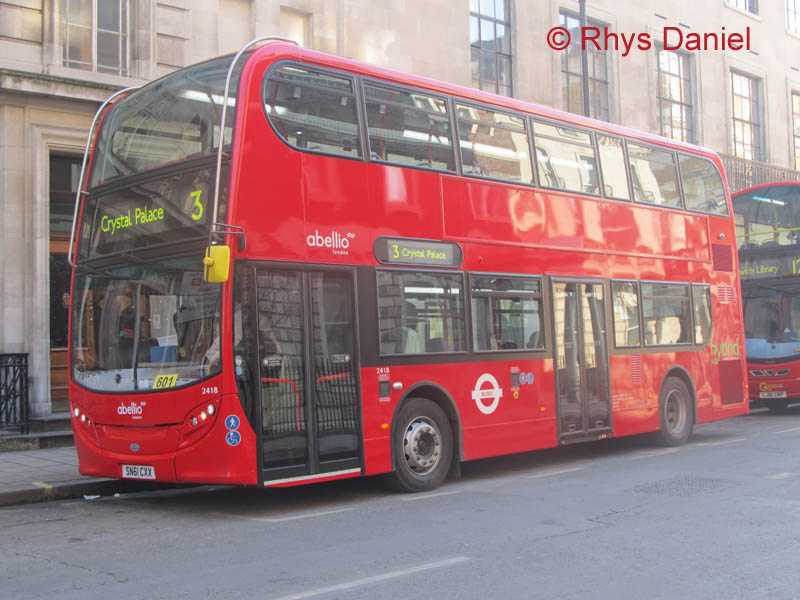 Photo © Rhys Daniel.
In 2000, a batch of new Dennis Tridents with Alexander ALX400 bodywork was obtained. Unusually for London they were specified with the uprated engines, which if nothing else helped with the climb up to Crystal Palace! Until the arrival of the hybrids the 3 continued to be operated by buses of that type, although the original buses were demoted to secondary duties and newer buses took their place. A few Tridents are still around and so I have retained the earlier photo of 9741 (YN51 KUW) in Parliament Street, Westminster on Tuesday 5 January 2010.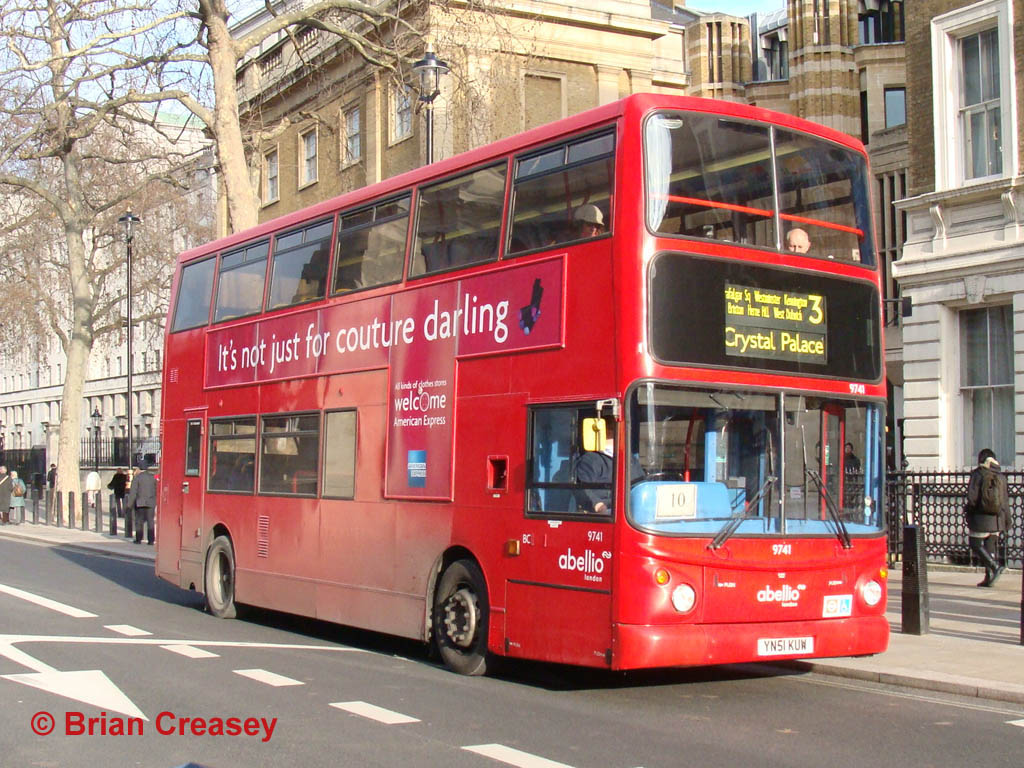 Photo © Brian Creasey.
Standard Trident/Enviro400s can also appear on the route, and 9500 (LJ09 OLP) was at Crystal Palace on 11 February 2012.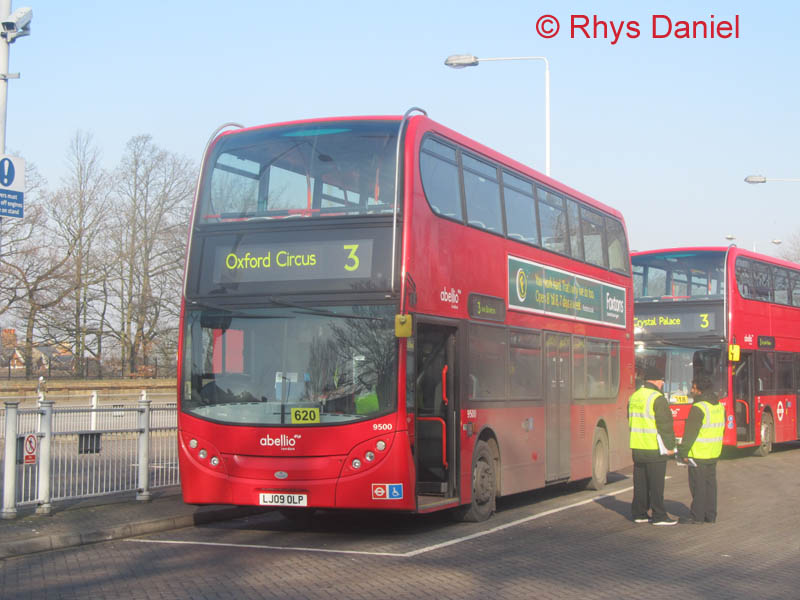 Photo © Rhys Daniel.
The previous operation by London Central was noteworthy as the route used 24 of the batch of 25 Optare Spectras bought by London Transport in 1992. These were specified with single doors, most unusually for a central London route – although of course Routemasters, still the mainstay of the West End then, are single door, or single hole more like! If nothing else, the SPs certainly proved that dual doors are not essential, though clearly they can aid passenger flow in some circumstances. But the Spectras were topped up with dual door Titans, and there was no discernible difference in overall speed between the types.
Navigation
| | | |
| --- | --- | --- |
| | Previous | Next |
| Chronologically | 474 | 309 |
| Numerically | 2 | 5 |
See also routes N3

Photo Gallery | Bus route list | Operational details | Service changes | Operators & Garages