Home | Bus routes | Operational details | Service changes | Operators & Garages | Photo gallery
---
Route 309
6 June 2012
Tower Hamlets, in East London, has perhaps in recent times been luckier than many areas in securing new bus services along previously unserved roads. One of a number of such routes is the 309, introduced late in 1993 between London Chest Hospital and the Aberfeldy Estate in Poplar via Stepney and Bow Common; others include the D3, 376, 339. DRL-class Dennis Darts were used from the outset, although other variants soon joined them, such as DW and DWL types. More recently these were replaced by an equally varied selection of low floor Darts, still operated from Stratford garage.
The Jubilee Line extension in 1999 saw a minor alteration to the routeing in the Poplar area in order for the service to be diverted to the new bus station at Canning Town Station on the JLE. In order that buses could do this without the service to the Aberfeldy Estate having to be sacrificed, a contraflow bus lane was installed in the Abbott Road underpass under the Blackwall Tunnel Northern Approach. This arrangement has the added benefit that buses run through the somewhat isolated St. Leonard's Estate in Poplar, although buses now serve the Aberfeldy estate in the opposite direction to previously! Bizarrely, the underpass has recently been replaced by a surface crossing with traffic lights right in the middle of a 6 lane dual carriageway.
Contract renewal in 2005 saw operation transfer to Firstgroup, whose base was just along the road from Stagecoach's but was called Hackney rather than Stratford. First had quite a few single deckers surplus following a spate of double deck conversions in west London, and so the 309 has used some of those, mainly native First Capital dual door 9.4m Dart/Marshall vehicles.
The latest contract, starting on 3 March 2012, again saw a change of operator, this time to CT Plus (also known as Hackney Community Transport). They operate from Ash Grove garage and have a preference for the Optare Solo for single deck routes. OS21 (YJ12 GVT) comes across the flyover at Canning Town on the first day of CT Plus operation.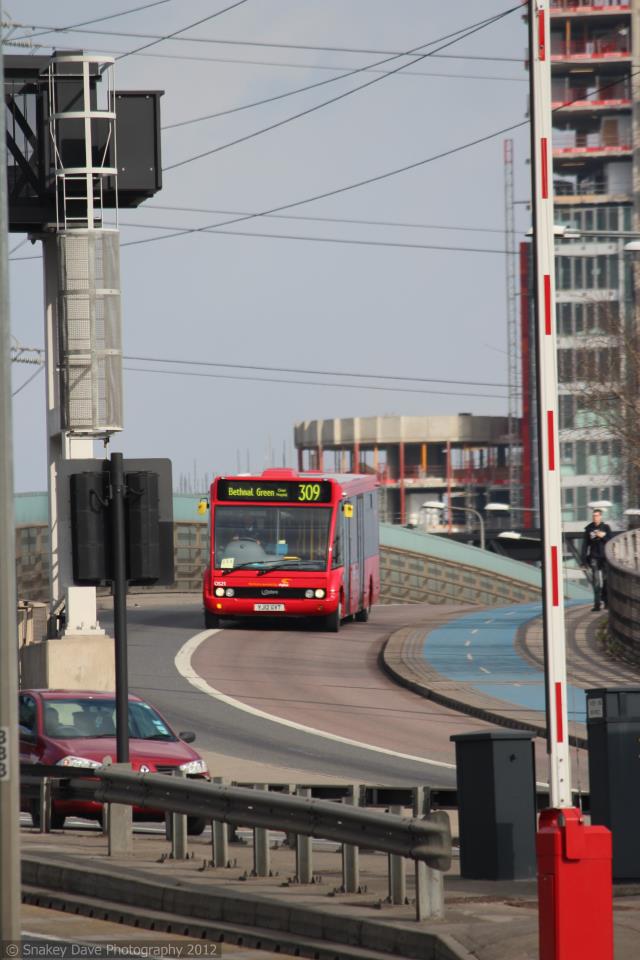 Photo © David McKay.
The 309 contract specifies two-doored vehicles, and this nearside shot of OS23 (YJ12 GVV) clearly shows the effect this has upon the design as it lays over at Canning Town Bus Station on the same day. So far, I believe, these are the only dual door Solos in the country - though I gather some have been exported in left hand drive format. I have previously questioned the need for dual doors on buses of this size (9.6m) – as can be seen there is very little room left for anything between the two.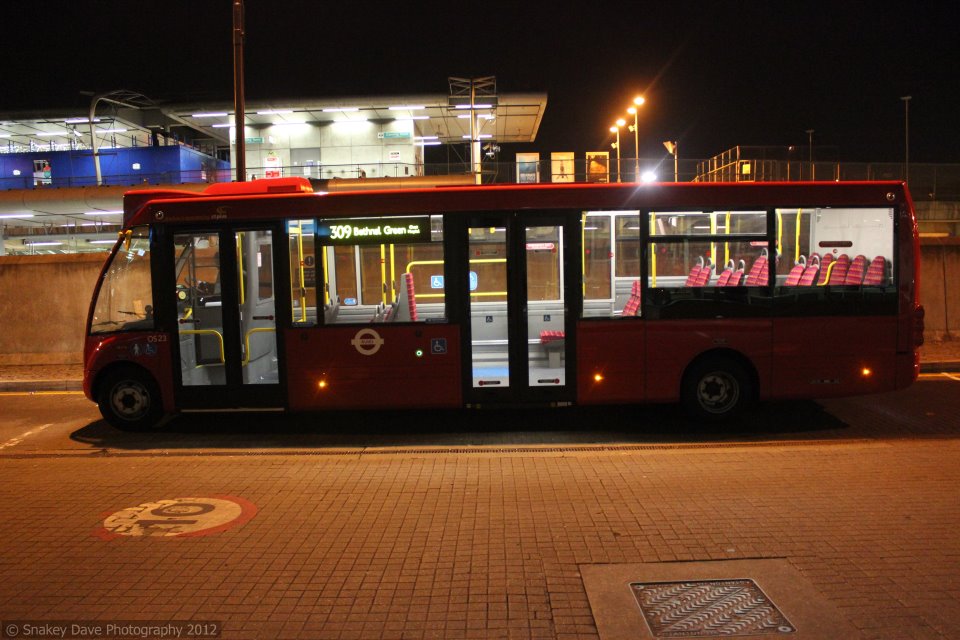 Photo © David McKay.
Navigation
| | | |
| --- | --- | --- |
| | Previous | Next |
| Chronologically | 3 | 455 |
| Numerically | 305 | 313 |
See also routes 308, D3, 376, 339

Photo Gallery | Bus route list | Operational details | Service changes | Operators & Garages