Home | Bus routes | Operational details | Service changes | Operators & Garages | Photo gallery
---
Route 376
17 October 2011
The 376 is not a route you would ride from end to end. It was introduced only in 1999, and is a complicated amalgam of bits of pieces of existing routes and some new territory, and several new links. Route 276 was being shortened to run only as far as the Newham General Hospital in Plaistow, and route 300 was altered to cover the section east of Canning Town. The 376, number no doubt being inspired by the 276 but not actually having much to do with it, then came in to replace some bits of the 300, but, primarily, to provide new links to the Hospital.
It is the Beckton end that replaces route 300, which ran along the section between Winsor Park Estate and West Beckton via Strait Road. However, the 300 started from Winsor Park and ran via West Beckton before doubling back along Tollgate Road to East Beckton and the Asda there, whereas the 376 starts from Asda and hence provides a much more direct route from Winsor Park. The 300 still covers West Beckton – Asda. From West Beckton the 376 runs directly to the Hospital, then covering the new access road before looping round Upton Park to East Ham, providing links for the local community.
The result is a C shaped route; from end to end it is only about 1·5 miles by the direct route. There is not much ground the 376 has to itself: as mentioned, just Winsor Park, Strait Road (serving little more than the District Park), and the Hospital access road. Otherwise, although the route uses roads already served by other routes, it rarely duplicates another route for more than a mile. Although running daily, it is not the most frequent of routes, running every 15 minutes during the day on Mondays to Saturdays.
If one might deduce from the foregoing that the route is not heavily patronised, one would be quite wrong, as the following picture demonstrates! From the start, a batch of 8 short (9.4m) dual door Darts was allocated to Upton Park garage for the 376, which passes it. In time these were replaced by slightly larger 10.2m Darts, but the latest new contract has seen a further upgrade to 10.8m vehicles, which appears to be readily justified. There was some doubt as to whether this could be achieved, but in the end buses were altered to serve Winsor Park estate as a clockwise loop in both directions to get round the problem (or round the corner, perhaps I should say).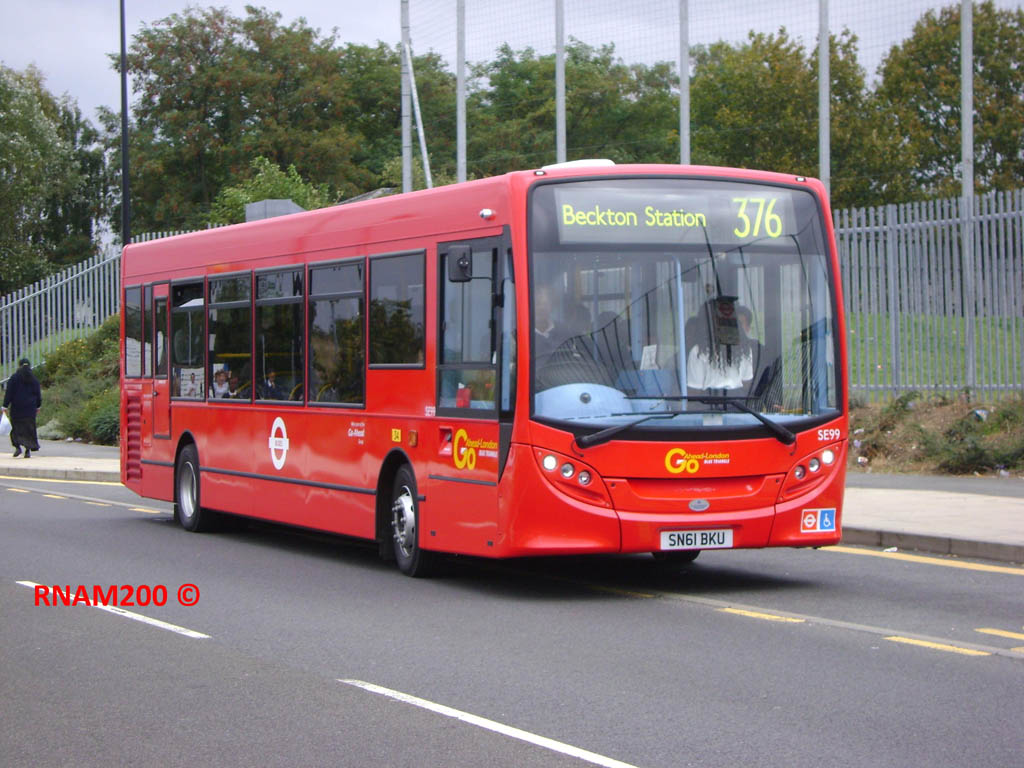 Photo © RNAM200 (Robert Mighton).

Anyhow the new buses are 10.8m Enviro200Darts, amogst the first Go-Ahead London buses to succomb to overall red, the company having held out with its grey skirt and other relief until the very last hurrah. Go-Ahead London seem not minded to distinguish lengths, and so the class is still SE, and SE99 (SN61 BKU) passes the grounds of Newham Hospital on 20 September 2011, the first week of Go-Ahead operation. The loss of this route and the 276 by Stagecoach London, and some other routes earlier in the year, has precipitated the closure of Upton Park garage, once the largest garage in London, though latterly holding a more modest allocation of just over 100 vehicles. The destination of Beckton Station reflects the move of the bus station at East Beckton round the corner, where it is now roughly opposite the DLR station rather than off Tollgate Road.

Navigation

See also routes 276, 300

Photo Gallery | Bus route list | Operational details | Service changes | Operators & Garages