Home | Bus routes | Operational details | Service changes | Operators & Garages | Photo gallery
---
Route 337
17 October 2011
The 337 was formed as the middle section of the 37 when that route was split in 1991. The basic route between Peckham and Hounslow had remained virtually unchanged for as far as my records go back, and indeed the three parts still serve almost exactly the same roads.
The 337 would probably still have run through from Clapham Junction to Hounslow were it not for the low bridge in St. John's Road; the old 37 used some back streets to avoid it, but this arrangement was no longer thought suitable due to increasing numbers of residents' cars parked, so the Richmond-Hounslow section thus became a single deck route H37. Thus the 337, as well as the H37, are fairly short by trunk route standards, the 337 taking around 45 minutes.
Despite this, the previous operator, London General, had difficulty providing a reliable service, and when the contract passed to London United in 1999 London Transport Buses decided to revise the frequency from every 10 minutes to every 12 to give buses more stand time. One of the problems of the route is that it runs for much of its length along the infamous South Circular Road, including Wandsworth's notorious gyratory system.
Neither operator had a very conveniently sited garage; London General operated from Stockwell, from where the 37 had been operated. London United ran from Fulwell to start with, but (ironically!) soon moved the allocation to Hounslow, after route 140 was lost to Metroline. This meant that buses traced out part of the H37 route when working to and from the depot, though not the full route due to the aforementioned low bridge.
Retendering for a new contract from May 2004 was a nail-biting time for London United, and unsurprisingly the route was lost. The successful tenderer was a surprise, however – Arriva's Original Tour operation! Of course, the route was not operated using open top Routemasters or anything romantic like that, but by standard Arriva London issue Volvo B7TLs with Alexander bodywork, a longer and updated version of the vehicles London United had used. And the Original Tour fleet is based at Wandsworth garage, which is quite convenient for the route; publicity referred to "Arriva Wandsworth" (which, strictly speaking, does not exist), to avoid confusion.
Re-tendering again in 2011, after a successful contract term, resulted in the route being won back by London General, and once again runs from Stockwell garage. New Trident/Enviro400 double deckers were bought, and E151 (SN11 BTY) passes along Upper Richmond Road in Sheen on 21 July 2011. The previous photograph of an Arriva VLA was taken nearby, as the photographer's roots are in this area and he visits regularly!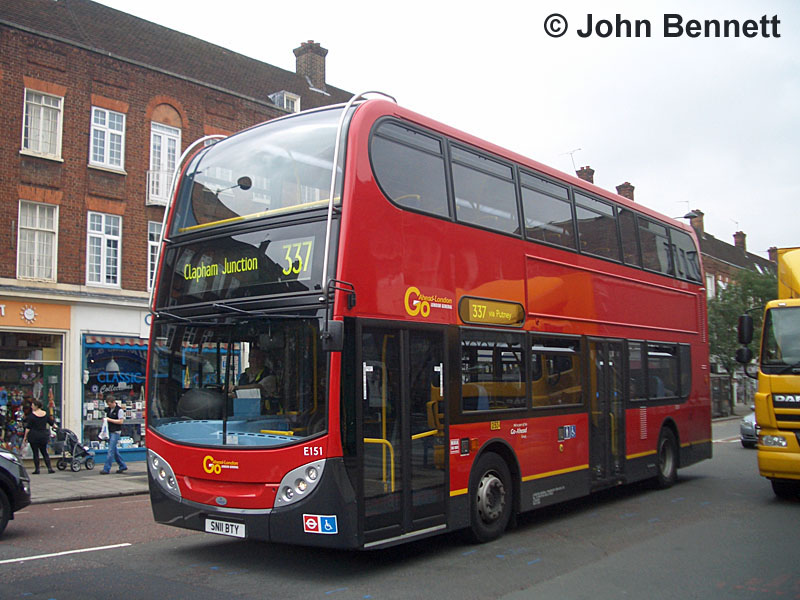 Photo © John Bennett.
A second photograph has been supplied, and so we have sister vehicle E157 (SN11 BUJ) setting down passengers in St. John's Road near Clapham Junction station on 1 September 2011, with a similar Abellio-operated bus behind on the 35.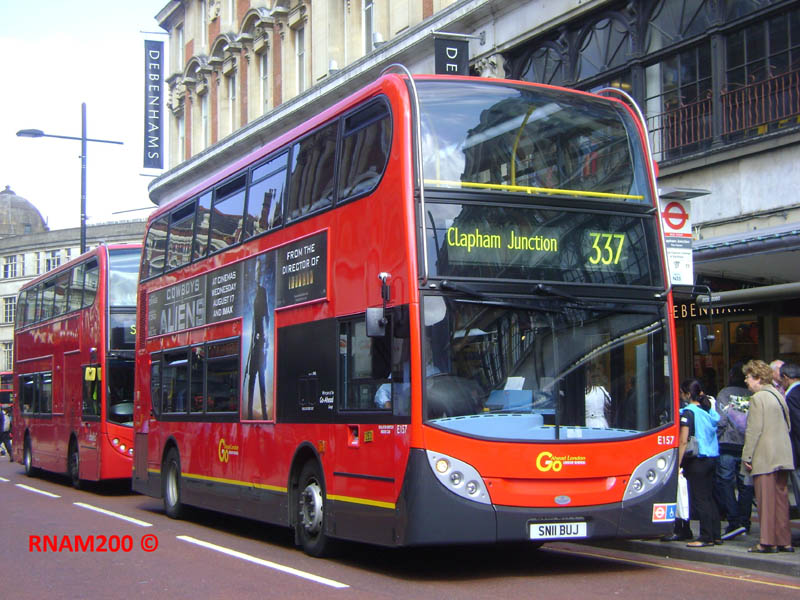 Photo © RNAM200 (Robert Mighton).

Navigation

See also routes 37, H37, 140

Photo Gallery | Bus route list | Operational details | Service changes | Operators & Garages