Home | Bus routes | Operational details | Service changes | Operators & Garages | Photo gallery
---
Route H37
6 July 2011
After a period when full size (12m) single deckers were tried in London during the 1990s, they seemed to fall out of favour, London Transport and Transport for London being content with Dart sized buses averaging around 10m in length, with a very small number of exceptions. However there is now a growing realisation that the extra capacity and comfort provided by such vehicles is beneficial, so they have been specified on some routes where they can be accommodated.
The first route to upgrade from Darts to 12m vehicles in the latest initiative is the H37, though the 203 will follow soon, and no doubt other routes will follow with time. London United ordered Optare Tempos – a type which does already exist in London, but only in a shorter hybrid format (on routes 276 and E8). Late deliveries meant, however, that a further batch for route 203 was cancelled; that route will get Citaros instead. But OT2 (YJ11 EHH) was seen negotiating the Blenheim Centre in Hounslow, where the route terminates, on 13 April 2011.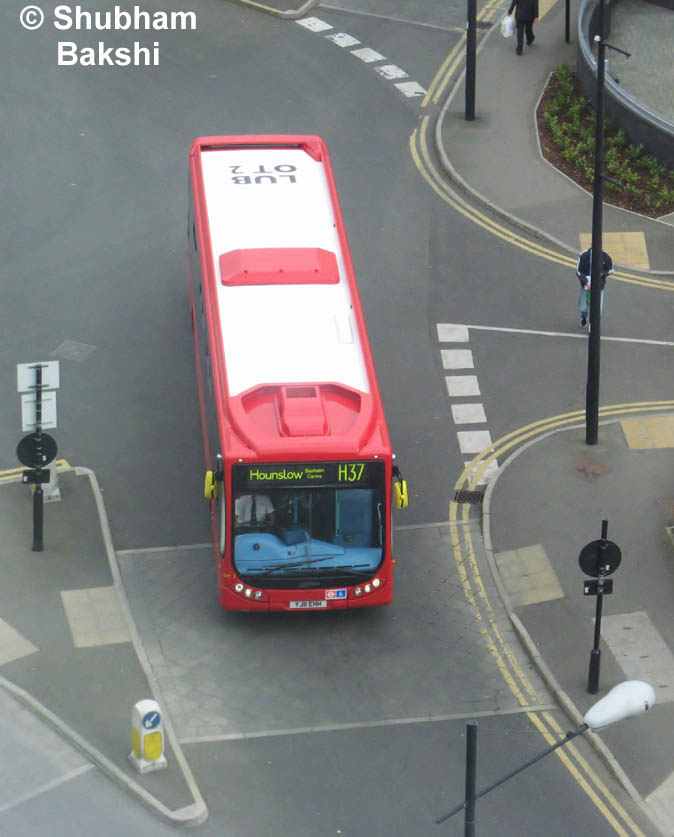 Photo © Shubham Bakshi.
The H37 is unusually frequent for a single deck route, running every 6 minutes during the day on Mondays to Saturdays and every 8 minutes on Sundays. It does provide a convenient tube-style service as a result, but this is more out of necessity, since the route passes under a low bridge and cannot accommodate double deckers. The bridge in question is St. John's Road in Isleworth under the Hounslow loop railway, and I have very kindly been sent a picture of an unidentified Dart just passing under this bridge on 6 March 2011 to illustrate the issue!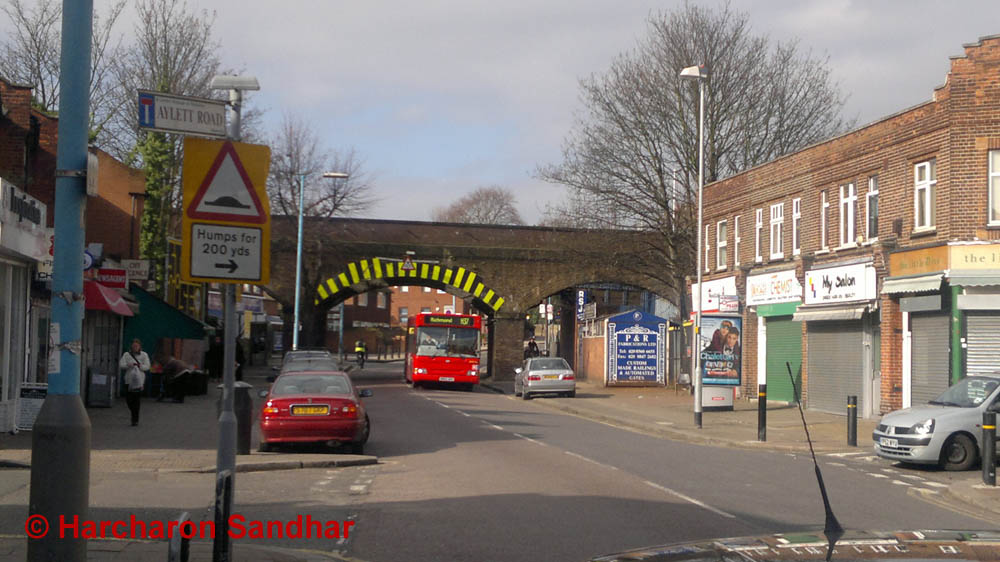 Photo © Harcharon Sandhar.

Vehicles of this type but at 10.8m length had operated the route since 1999, but are being phased out at Hounslow garage, being replaced by a mixture of double deckers, 12m single deckers and 10.8m Enviro200Darts, the one remaining Dart route (110) being due to transfer to Fulwell garage in September.

The H37 was created on 25 May 1991. Notwithstanding the earlier remarks about the St. John's Road bridge, it replaced the western end of double deck trunk route 37 which previously ran between Peckham and Hounslow but was curtailed to Putney, new route 337 taking over between Clapham Junction and Richmond and the H37 the final leg to Hounslow Bus Station. The 37 had to use some back streets (Loring Road and Linkfield Road) in Isleworth to get round the low bridge, but this arrangement was becoming increasingly impractical due to parked cars – apparently it was latterly quite common for buses to have to back up a considerable distance if another bus came the other way. Making the Richmond – Hounslow leg single deck solved this problem, and also created a more localised route to save operation of the 37 being shared between garages in different districts of London Buses (Stockwell and Hounslow).

Initially short Dennis Darts were used, but capacity problems soon became apparent and during 1996 London United took advantage of its recent acqusition of Westlink to transfer surplus Leyland Nationals to Hounslow to operate the route. Although they would have been considered "large" at the time, at 10.3m long they were much the same size as a standard Dart SLF today! They were refurbished to "Urban Bus" specification, including new engines and gearboxes – actually a similar driveline to the Dart, and they sounded most peculiar to anyone familiar with an original condition National. The buses were also converted to single door upon transfer from their rural duties – quite the reverse of current thinking! Unlike many refurbished Nationals the buses retained their original -R, -S, -T and -V suffix registrations, rather than gaining dateless marks to hide their age – almost 20 years. They served their purpose, but were replaced by 10.8m low floor Dart SLFs in August 1999.

The new H37 was able to serve Richmond station from the outset. The value of this is slightly doubtful since it also serves St. Margaret's on the same line – though far more trains serve Richmond, including the District Line and North London Line as well as faster trains to Waterloo. However, the terminus arrangements at Richmond were never satisfactory, turning at Richmond Circus with only brief hesitation time between trips, so a proposal surfaced in about 2005 to extend the route to "Pools on the Park," a swimming pool off Twickenham Road (the A316). There was also a proposal to extend the route from Hounslow Bus Station, at the eastern end of Hounslow town centre, further west to the new Blenheim shopping centre, which in the event happened first, from 3 February 2007. In the event route 490 was re-routed to Pools on the Park instead, and the H37 was extended to Manor Circus, where the 490 had previously terminated, from 27 June 2009. These extensions required an extra bus each, taking the total to 15, quite impressive for a route that is only 4.5 miles long!

Navigation

See also routes 203, 276, E8, 37, 337, 490

Photo Gallery | Bus route list | Operational details | Service changes | Operators & Garages