Home | Bus routes | Operational details | Service changes | Operators & Garages | Photo gallery
---
Route H32
26 May 2009
The H32 is one of the shortest routes to Hounslow, and is also one of the busiest, one of relatively few double deck routes in the area. This route was originally conceived in 1993 as a frequent midibus replacement for the southern end of rather less frequent route 232 between Hounslow and Southall via Vicarage Farm Road and Convent Way, the north end of the 232 being handed over to route 120. However, double deckers had to return before long to cope with loadings.
Contract renewal in March 2009 called for new double deckers, and Transdev ordered more of the Polish-built Scania OnniCity product. The first three were ordered somewhat earlier to allow for increases on school routes and have been in service for several months, but the rest of the allocation for route H32 has now joined them. SP40 (YP58 ACO) is one of the initial batch and was photographed at Hounslow West on Tuesday 14 April 2009.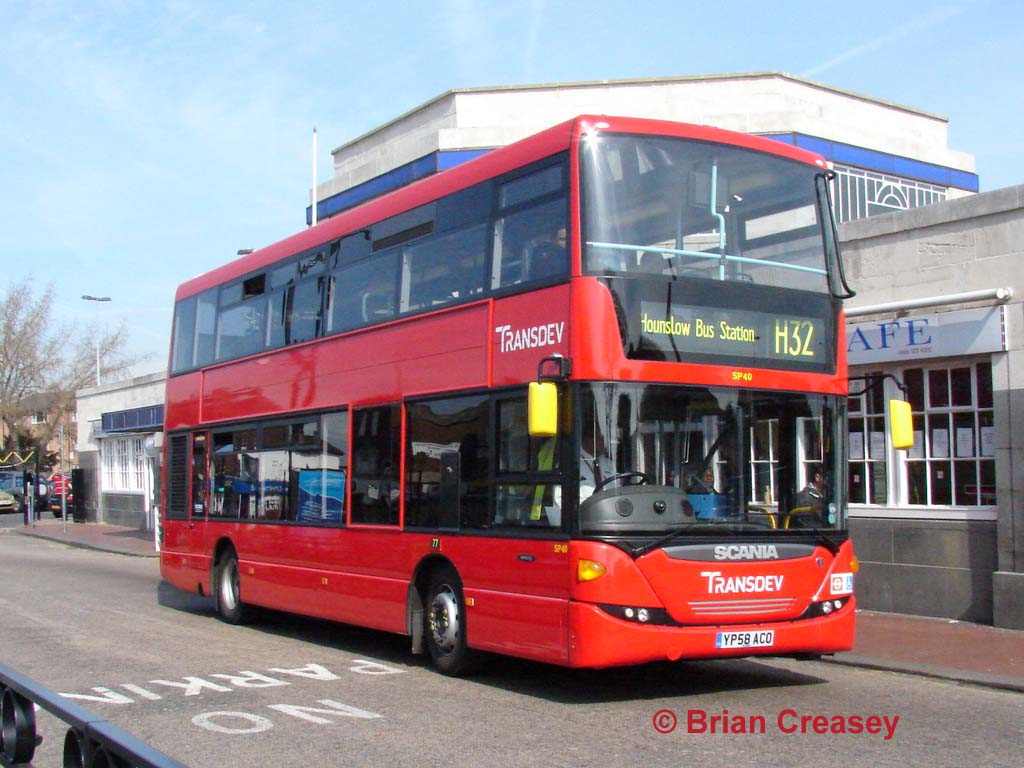 Photo © Brian Creasey.
The same type is also used on route 482, which began in March 2008 for the opening of Heathrow's Terminal 5, and runs parallel with the H32 from Southall to Hounslow West. As a result of this route's introduction the H32 had a minor frequency reduction in peak hours from every 9 minutes to every 10 – the 482 maintains capacity on paper, albeit at irregular intervals!
A large batch of Volvo B7TLs was delivered to Hounslow garage in 2000 for the H32 and other routes, with a mixture of Alexander and Plaxton bodywork. These still appear from time to time, partly because the H32 is linked operationally with school route 697, with several duties working straight from one route to the other. One of the Alexander bodied variants was caught at the same time and location as SP40, and is VA102 (W138 EON).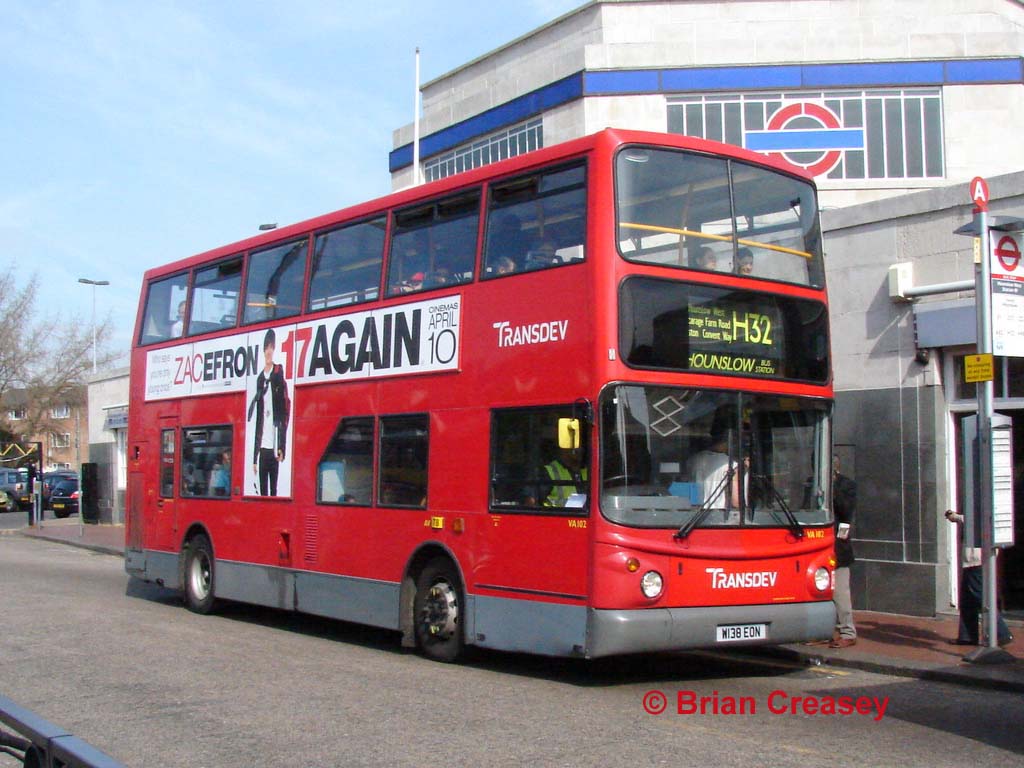 Photo © Brian Creasey.

The ALX400 design was quite groundbreaking when new, being a move away from flat fronted designs that had prevailed for quite a few years, though not to extent of the classic domed Routemaster or raked-back RT designs. But they already look a bit dated compared with the sleek SPs; compare for instance the VA's large headlights with the SP's funky design. Also of note is the centre staircase position on the VA, widely criticised for its negative effect on lower deck seating capacity and fairly soon dropped once officialdom caught up with popular wisdom!

Navigation

See also routes 120, 482, 697

Photo Gallery | Bus route list | Operational details | Service changes | Operators & Garages