Home | Bus routes | Operational details | Service changes | Operators & Garages | Photo gallery
---
Route 273
26 May 2009
Route 273 first came into existence in 1989, running between Grove Park and Lewisham via the Horn Park, Hither Green and Manor Park areas. Initially running daily, the Sunday service was soon withdrawn, and the route was withdrawn again completely in 1991 as funding dried up.
Following a lengthy local campaign, operations re-commenced in 1995. Fortunately, the route number had not been re-used elsewhere in the meantime! The route structure was slightly different: buses did not serve Grove Park, and instead ran in a loop in the Horn Park area, running one way via Horncastle Road, Woodyates Road, Guibal Road, Winn Road, Jevington Way, Senlac Road, Guibal Road, Winn Road and Burnt Ash Hill. At Lewisham, the terminus was at Lewisham Tesco, rather than Lewisham Bus Station as previously (the Tesco did not exist the first time the route ran!). There was no late evening, early Saturday morning or Sunday service.
The route was, however, fairly quickly changed so that Grove Park was served again. The Horncastle Road/Burnt Ash Hill loop remained, but buses then ran in both directions via Winn Raod, Jevington Way, Senlac road, Exford Road, Burnt Ash Hill, Marvels Lane, Luffman Road and Le May Avenue. Passengers wanting the "wrong" side of the loop could travel via Grove Park, though not many did so.
Major change took place in March 2001. Route 162 was simplified in Chislehurst to eliminate the "double run" working via the town centre; to achieve this, the section between Chislehurst and Petts Wood was deleted and transferred to route 273. To get from Grove Park to Petts Wood the 273 was diverted via Cooper's Lane, Baring Road, Chinbrook Road, Marvels Lane and Dunkery Road and then direct. This provided useful local links. It will be noted that this finished off the through facility at Grove Park for Horn Park passengers, but the one-way working remains nonetheless, though there are proposals to adopt the same routeing in both directions. A further curiosity is that Le May Avenue is still served, but only towards Lewisham, because there is no right turn from Chinbrook Road to Baring Road.
The extended service was initially introduced under Stagecoach Selkent's existing contract, and surprisingly some new low floor Darts were obtained for the purpose, though these were unable to be used owing to being too wide for a width restriction in Manor Park. However, in due time the route was tendered and awarded to First Centrewest, which had a garage in St. Mary Cray. A full evening and sunday service was introduced at this time. Following expiry of that contract, the route was awarded back to Selkent again, which picked up where it had left off with operation from Catford garage with some of the first Enviro200Darts, with Alexander Dennis's own bodywork.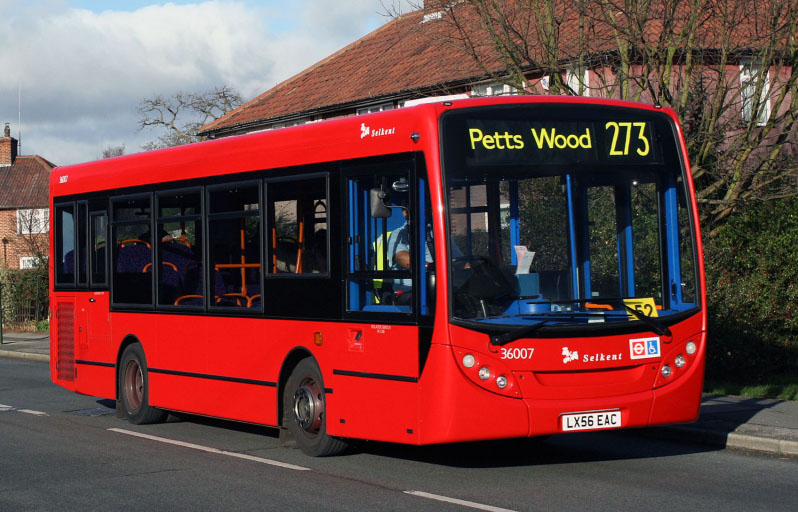 Photo © David Heath
Several views are provided. The first is of 36007 (LX56 EAC) at an unidentified location, probably in Horn Park. The second view is at the Lewisham Tesco – the store had this little bus stand built outside the entrance, initially for Mobility Buses, and now the 273 also. Self-evidently, only single deck buses can go there! To get to the stand buses have to drive through the store car park, a relatively unusual arrangement. The vehicle in question is 36022 (LX58 CCD), which is from a later batch ordered for route 356.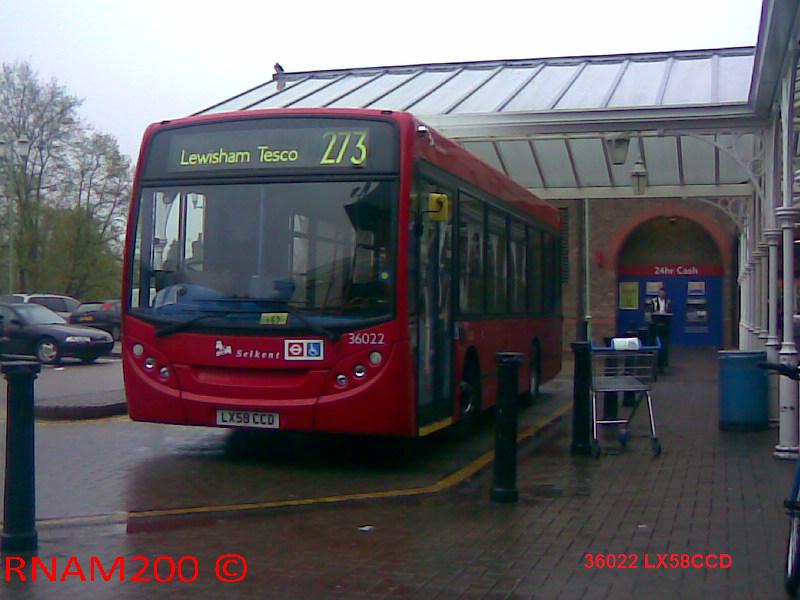 Photo © RNAM200.
The final view is at the other end, Petts Wood, where 36002 (LX56 DZV) takes stand time on 24 January 2007.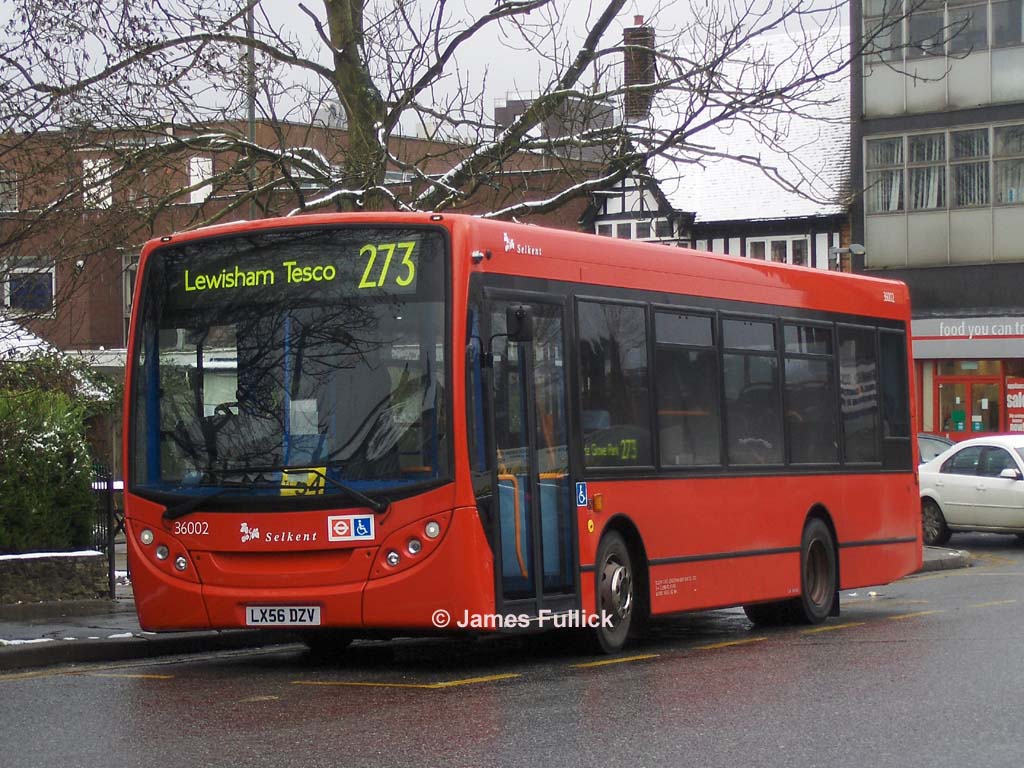 Photo © James Fullick.

Navigation

See also routes 162, 356

Photo Gallery | Bus route list | Operational details | Service changes | Operators & Garages