Home | Bus routes | Operational details | Service changes | Operators & Garages | Photo gallery
---
Route 487
26 May 2009
The 487 was formed by taking over most of route 187; this initially left the 187 as quite a short route. The 187 was previously operated by Metroline, but both routes went out to tender and were won by London Traveller with a start date of 4 September 1999. These were its first mainstream London Transport Buses contracts, the company having previously concentrated on schools routes, as well as private hire contracts.
Thus the 487 runs from Willesden Junction to South Harrow, albeit stopping short of the obvious major objective of Harrow itself, and contributing to the general difficulty in getting to Harrow from south-east. There is a short overlap with the 187 between Harlesden and Park Royal, before buses run along the A40 to Hanger Lane and then the full length of Whitton Avenue.
Management difficulties at Metropolitan Omnibus (the legal name which London Traveller later adopted also as its trading name) prompted their sell-out to Thorpes, but Thorpes continued to have difficulties and surrendered the routes early. Both were won by First Centrewest from 6 March 2004, who drafted in Dart SLFs made spare from the 28/31/328 routes. These cramped B22D vehicles were however designed for that intensive operation, and offer a substantial reduction in seating capacity compared with London Traveller's unusual Volvo B6/East Lancs. Operation was initially from Alperton, but later moved to the modern Willesden Junction base.
A new contract starting in March 2009 called for new buses, and new 10.2m Enviro200Darts were introduced. Willesden Junction garage has now almost been standardised on this type – apart from the artic 18, the only route with a different type is the PR2, with smaller and older Darts, so "stray workings" should be uncommon! DML44046 (YX58 FPD) passing along Northolt Road, South Harrow; this is actually from an earlier batch, rather than that intended for the 187/487, but as all the buses are pretty much identical there is not much harm in mixing them!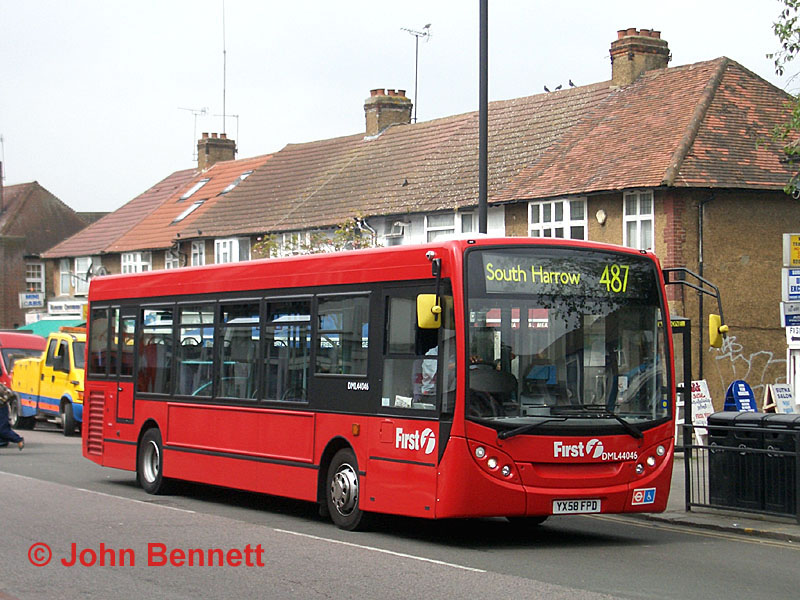 Photo © John Bennett.

Navigation

See also routes 187, 28, 31, 328

Photo Gallery | Bus route list | Operational details | Service changes | Operators & Garages