Home | Bus routes | Operational details | Service changes | Operators & Garages | Photo gallery
---
Route 28
28 January 2006
The 28 and 31 routes in West London have attracted quite a bit of controversy in recent years. The story begins in 1988; the 28 and 31 were among the last crew operated routes outside the central area, and the rather radical decision was taken to convert them to minibus operation. 70 Mercedes-Benz 811D vehicles with Alexander 28-seat bodywork were ordered, and operations commenced with the 28 on 4 March 1989 at Westbourne Park, the 31 following a few weeks later.
The routes quickly became notorious for poor reliability and severe overcrowding as the romantic vision of a bus every 2-3 minutes proved impossible to deliver. Over the years various attempts were made to improve matters, although with limited success. First came the introduction of the DW class of Dennis Darts, phased in during 1991, providing improved comfort but slightly less seats.
Further changes took place in the spring of 1999. A batch of new low floor Darts was phased in. This time the vehicles were significantly larger, at 9.3m long and 2.4m wide compared to 8.4m/8.5m long and 2.3m wide on the previous vehicles, but most of the extra space went on an additional exit door and the actual seating capacity fell again to 23, and later modifications to the layout saw this reduce to 22.
Perhaps more significantly the established routeings were altered. The 28 had run between Wandsworth and Golders Green with the 31 from Chelsea to Camden Town, running in parallel between Kensington and Kilburn. In order to reduce route lengths the Golders Green and Chelsea legs were replaced by a new route 328, which also had the side effect of providing extra capacity on the short remaining overlap between Notting Hill Gate and Westbourne Park.
Eventually it was realised that high frequency minibus operation just wasn't going to work and it was decided to convert all three routes back to double deck operation at long last, the opportunity being taken upon contract renewal on 1 May 2004. The majority of the allocation is comprised of new Wright Eclipse Gemini bodied Volvo B7TLs, and what is now VNW32373 (LK04 HZC) in Firstís rather cumbersome new fleet numbering system was seen on the stand at Wandsworth on Tuesday 5 April 2005. Behind is TNA32951, which had been roped in as a result of a breakdown; these Alexander bodied Tridents for the 23 would not normally be used on the 28 and are presumably not equipped with a full set of destinations, hence the "EXTRA" display.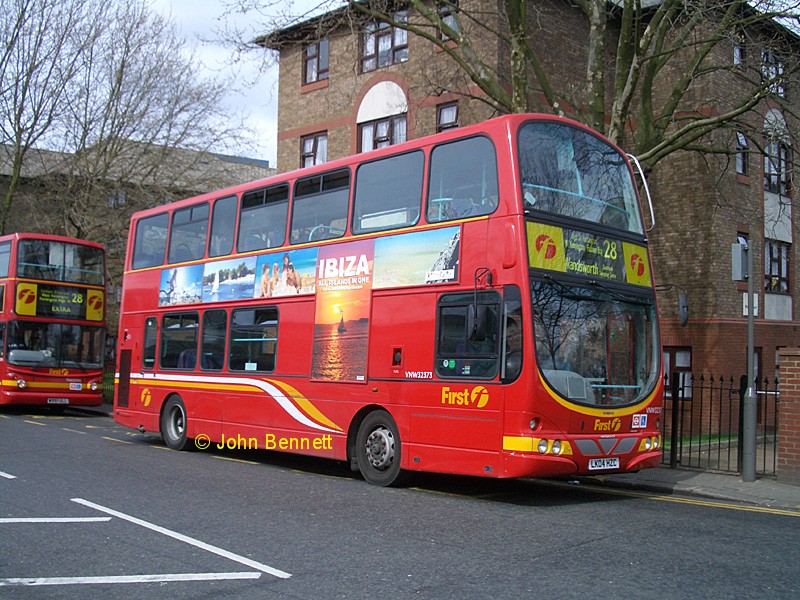 Photo © John Bennett.
However, the last ten buses for the new double deck allocation were made up of existing fleet Tridents spare off another route. Thus, seen at the other end of the route, we have TN 33037 (LN51 DWA) on route 28 on Tuesday 14 June 2005 outside 'The Elephant & Castle' in Elgin Avenue, Maida Hill, about to start off for Wandsworth. The Gemini behind is on route 31.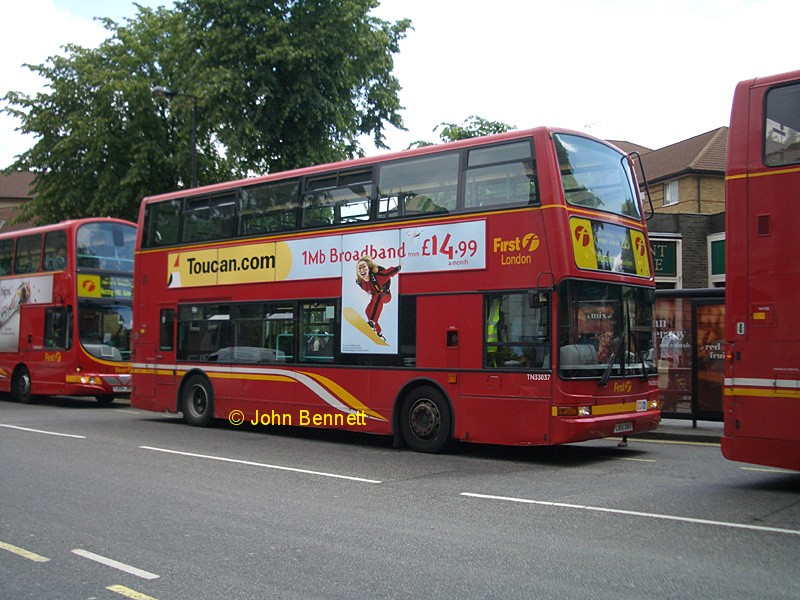 Photo © John Bennett.
The 28 is shortly to be extended beyond this point to Kensal Rise, via Harrow Road and Chamberlayne Road, creating new links and thus at last providing some passenger benefit that wouldn't have been possible before the routes were split. The 31 is also proposed to receive such an innovative extension, from Notting Hill Gate to Shepherd's Bush, in connection with the westwards extension of the central London congestion charging zone.
Navigation
| | | |
| --- | --- | --- |
| | Previous | Next |
| Chronologically | 614 | 214 |
| Numerically | 27 | 32 |
See also routes 31, 328

Photo Gallery | Bus route list | Operational details | Service changes | Operators & Garages