Home | Bus routes | Operational details | Service changes | Operators & Garages | Photo gallery
---
Route 614
2 January 2006
There are very few commercial local bus services left in London (none wholly within London, apart from sightseeing tours etc.), and most of those that remain are operated under London Service Permits which means they are not part of the London Bus network, with higher fares, passes not valid etc. One that seems to buck the trend however is the 614, which is going from strength to strength. Although it is a cross-border route and can build its customer base on longer-distance travellers to places such at Hatfield, it does have quite a substantial London section providing some unique "round the corner" links. In particular it provides a direct service between Barnet and Edgware – that the main hospital in the area, in Barnet, was so difficult to get to from the west had always seemed rather an anomaly!
Like most Uno routes the 614 started off as a feeder service for the University of Hertfordshire campuses, although all-day operation came at quite an early stage. Full Monday to Friday operation (i.e. not just term-times) commenced with the 2001-2002 timetable; even now the tradition of an annual timetable change in the summer (usually after the August bank holiday) has been maintained. A regular hourly service is now provided although the projection of a couple of peak journeys through to Harrow has ceased. The main Monday to Friday daytime service is now half hourly and, unusually for Uno, a Saturday service was added in 2005.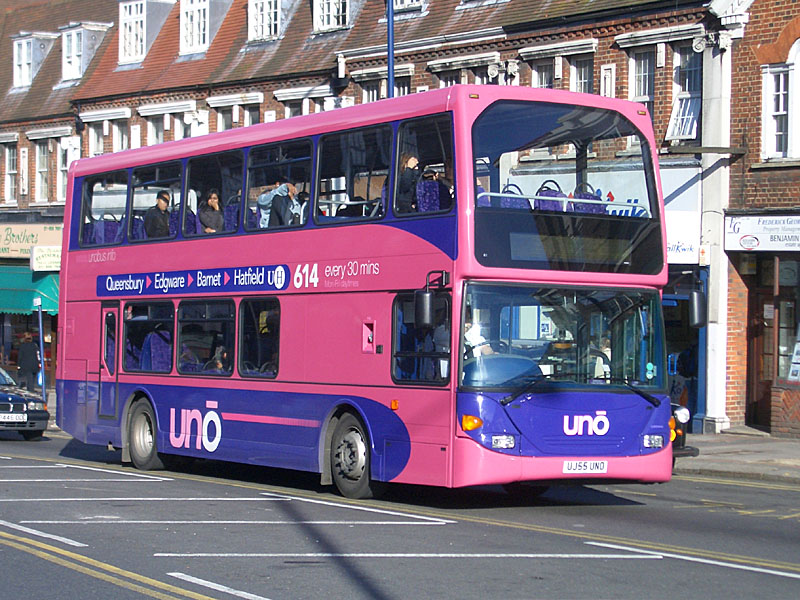 Photo © John Bennett.
Loadings on the 614 evidently justify double deckers, in what had previously been an all-single deck fleet. The first vehicles appeared in 2003 with two DAFS, one bodied by each of the two least common makes Optare and East Lancs. The PVR increase in 2005 necessitated additional vehicles however, and in September 2005 three Scania N94UD/East Lancs OmniDekka arrived, painted in a rather controversial pink and purple livery that replaced the previous white and black.
Although not unique in London two features are of note: they are single door; combined with the layout of the Scania, this enables no less than 80 passengers to be seated – it is quite a few years since the last buses with that number of seats were delivered for use in London.
Secondly, they are fitted with LED destination displays – although now more-or-less standard outside London, TfL has persisted with traditional roller blinds, which it says are clearer. The font may be clearer, but they are virtually unreadable at night owing to the poor blind back-lighting arrangements in most modern buses. One quirk however is that as the LEDs flicker on taking a photograph it can appear that the display is completely blank – as with 204 (UJ55 UNO) above, taken in Station Road, Edgware, on its way to Queensbury on Thursday 20th October 2005; I had a second picture of the same bus a few seconds later where the display was just as bright as on 203 (UH55 UNO), which was taken at the launch at the Uno garage.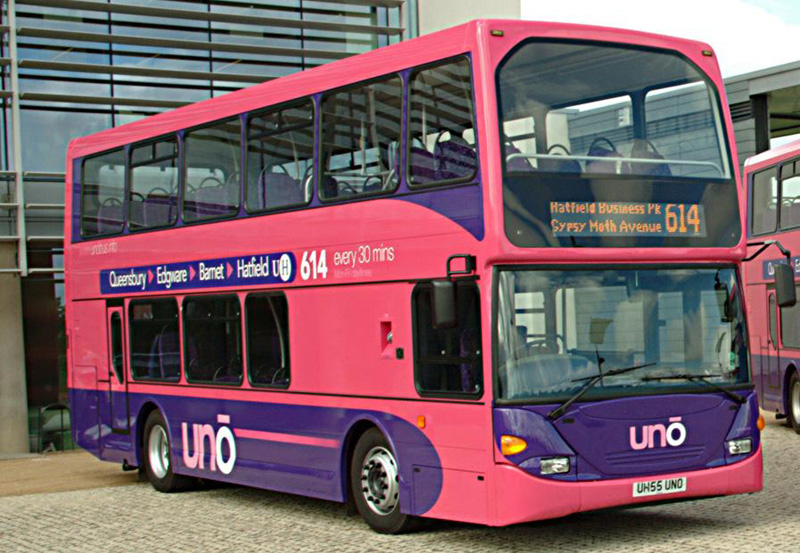 Photo © Daniel Piggott.
Navigation
Photo Gallery | Bus route list | Operational details | Service changes | Operators & Garages