Home | Bus routes | Operational details | Service changes | Operators & Garages | Photo gallery
---
Route 463
2 January 2006
The 463 is a fairly strange route, combining a brisk straight run from Wallington through Woodcote Green and Woodcote Grove with a busy local service around The Mount in Coulsdon. Both areas have proved very difficult to serve effectively, on account of their remote nature, and the diverse needs of the few members of local population who actually want to use buses. The present arrangements are a reasonable compromise, although a major disadvantage is the lack of a direct link into Croydon, which is still a painfully long journey by bus despite being only 10 minutes away by car.
The Mount generates a reasonable level of patronage. The area has had many different services over the years, no doubt as different operators have tried their hand and found the services to be nonviable. The first to try seems to have been London Transport, with Saturday shopping hours route 263 running just from The Mount itself to the shops at Coulsdon, a journey of about 4 minutes! This ceased after 1964, but was kept up by Banstead Coaches. Their service, though unnumbered, was broadly similar to the 263, but now ran Mondays to Saturdays except late evenings and served the area more effectively by way of a one-way loop via St. Andrew's Road, Lyndhurst Road, Winifred Road, Whitethorn Avenue, The Mount and Grove Lane. This is the established loop which is still in use today.
Banstead Coaches gave up in 1980, but soon another company, Tandridge Taxis, stepped in to resume the service. They soon extended the route across Coulsdon to Coulsdon Woods Estate, then renaming Tandridge Transport Services before disappearing again in 1983. The next operator was Guards of Caterham, running just from The Mount to Coulsdon again. The operator changed again in 1987, but this time was taken up by a proper bus company, East Surrey Buses of Godstone, which has more recently been taken over by Metrobus and expanded rapidly.
East Surrey applied a route number once again, but since 263 had by this time been re-used for a route in North London, the service now became the 363. In 1990, East Surrey started a second route into London, the 301 which provided 6 journeys a day on Mondays to Fridays between Merstham and Croydon in competition with London & Country. Certain journeys ran via Clockhouse Farm, providing a direct link into central Croydon for the first time.
Soon the 301 was diverted to Wallington instead of Merstham, providing the first regular service along Woodcote Grove Road and Smitham Bottom Lane (there had previously been a Wednesday and Saturday only Hospital route, the 472). As well as providing a service to this hilly area, it linked the Clockhouse Farm estate to both Croydon and Wallington. From Croydon, buses ran via Purley to Coulsdon, then via Clockhouse Farm before running via Woodcote to Wallington.
However, East Surrey, despite giving the service a good shot, gave up, and from October 1996 the route passed to London & Country, who operated it from Merstham garage. The 363 was abandoned – the route number now conflicting with yet another new route in North London!
The 301 adopted the 363's loop working, and retained the general level of service by way of a rather complicated timetable. Towards Wallington there was an hourly service, with extras running from Coulsdon to Clockhouse Farm to provide a 30 minute service. In the other direction however, buses ran in two overlapping sections from Wallington via Clockhouse Farm to Coulsdon and from Clockhouse Farm via Coulsdon to Croydon. Each ran hourly, thereby providing a 30 minute service between Clockhouse Farm and Coulsdon. However, the Croydon service only ran during shopping hours, the buses being concentrated on the Coulsdon – Wallington section during peak hours and at school times. There was still no evening or Sunday service.
The arrangement of having a through service in one direction and not the other was purely for operational convenience, but it actually worked quite well from a passenger's perspective too. It is uphill (quite steeply) from the main Brighton Road to Woodcote Grove, so passengers from Croydon would be grateful for a bus to take them up, but when going into Croydon it would be no great hardship to walk down the hill to the main road, where there is a much more frequent service anyway!
London & Country lasted for just over a year, when London Transport took over with new route 463, recalling the historic 263 and 363 numbers, and the route was awarded to Epsom Buses. In LT's drive for simplification, the shoppers' service to Croydon was abandoned in favour of more buses to Wallington, but still without an evening or Sunday service. Buses thus ran half hourly, but from the October (1998) a new timetable was issued, with all buses running 15 minutes later than originally! This was to fit in better with the start and finish times at local schools. An unfortunate development during 2001 was the introduction of fixed bus stops along Smitham Bottom Lane, but these are very sparse indeed, with one gap of nearly a mile from Bramley Avenue to Hillcroft Avenue, apparently to "improve safety."
Epsom Buses purchased two new Dennis Dart SLFs to 10.2m length to work the service. However, a route enhancement in 2001 saw the vehicle requirement increase to 4, with an improved daytime frequency, more stand time at the ends to improve reliability and a new evening service (but still no Sunday service). Shorter 8.8m long Darts were drafted in from other routes, together with a few hires for a short while. Around the same time, Epsom Buses scrapped its traditional image in favour of London red, in anticipation that London Buses would soon be insisting on red liveries for its contractors anyway. The new livery also came with a new name — Quality Line!
A further increase in vehicle requirement from 2 March 2002 was caused by a lengthy extension from Wallington to Eastfields. This replaced route S5 as far as Mitcham Common, with a much improved service, and then via some previously unserved roads to terminate by Eastfields level crossing. Contract renewal in April 2004 unusually resulted in no changes to the timetable, although a batch of new Optare Solos was phased in. Typical is OP 20 (YN53 ZXA) laying over at the Coulsdon terminus in October.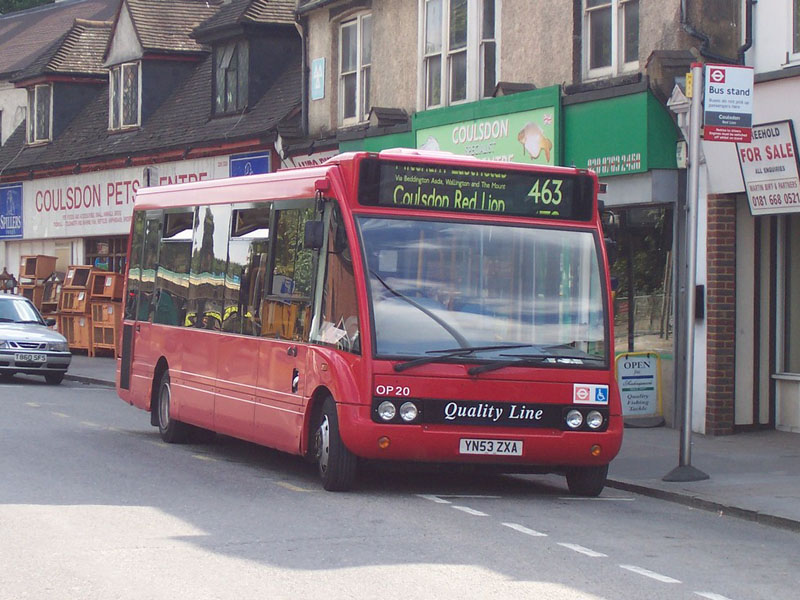 Photo © Russell Baldock.
Navigation
Photo Gallery | Bus route list | Operational details | Service changes | Operators & Garages