Home | Bus routes | Operational details | Service changes | Operators & Garages | Photo gallery
---
Route 455
6 June 2012
Route 455 has its origins in shoppers' routes 254 and 255 started in 1989 to link Beddington Asda with Wallington (254), Roundshaw (255) and Waddon/West Croydon (both). Both routes ran on Mondays to Fridays from 0900 to 1600 no doubt using a peak spreadover bus or two from another route. The two routes were soon amalgamated under the 255 number, running from West Croydon via Waddon, Beddington Asda as far as Hilliers Lane, then in a one way loop via Wallington Green, Wallington, Roundshaw and Plough Lane and back to West Croydon. I seem to recall an hourly service with Leyland Olympians.
Meanwhile new route 450 started at the end of 1993, taking over the Old Lodge Lane to Purley section of route 412 and then running via Pampisford Road to Croydon and on to Crystal Palace via other previously unserved areas. In 1996 the 450 was extended at the north end, resulting in a desire to shorten it at the south end, and meanwhile there was extensive development of superstores in the Purley Way/Beddington area, so the decision was taken to fuse these into a new route 455. The route was from Old Lodge Lane via the existing 450 to West Croydon then as the 255 to Waddon, then via the new Valley Park area and back to Beddington Asda, then via Plough Lane and Roundshaw to Wallington (Shotfield).
Operation was initially by South London, although the route was soon put out to tender and awarded to LondonLinks from their Beddington Farm base – the 455 is the only route to pass the garage, so was a natural fit! Coincidentally South London and LondonLinks subsequently came under common ownership within the Arriva group.
As of 3 March 2012 the contract was re-awarded to Abellio London, whose Beddington Cross garage is just around the corner from the Arriva garage. Indeed, the loss of the 455 and some other routes prompted the closure operationally of Arriva's Beddington garage a few weeks later. Abellio use some Caetano Nimbus bodied Dart SLFs, the company having gathered up quite a sizeable fleet of the type, some new and some secondhand. 8493 (KX03 HZY), which is in the second category, pauses at West Croydon Bus Station, about half way along its very circuitous journey from Kenley to Wallington, on 14 April 2012.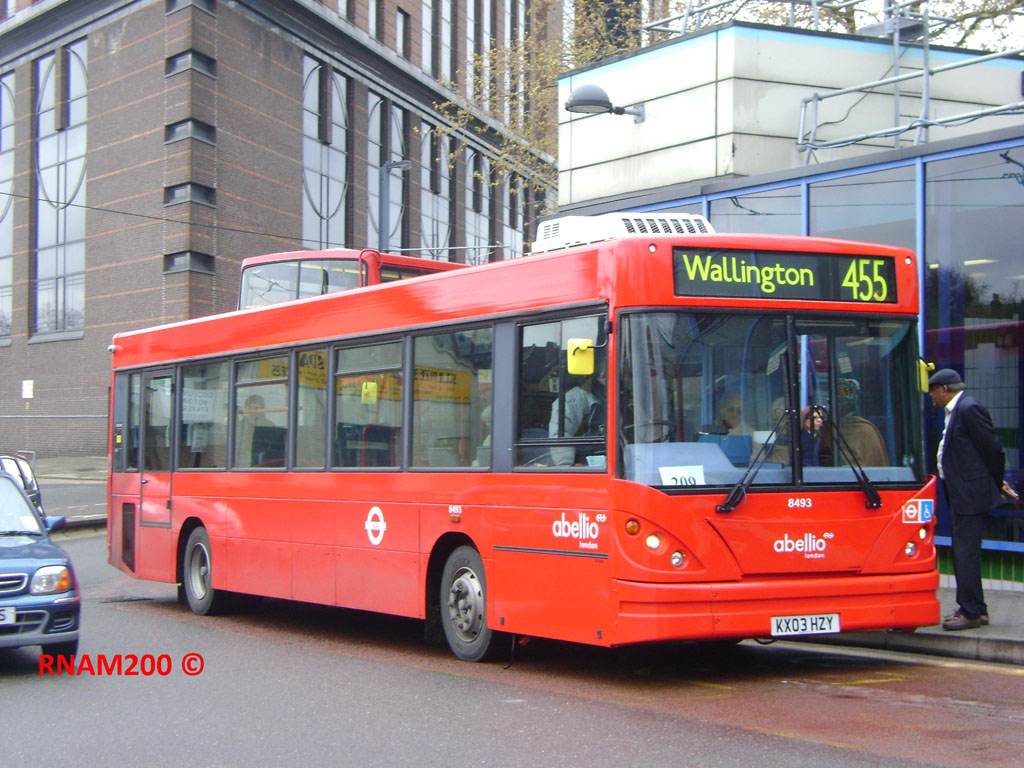 Photo © RNAM200 (Robert Mighton).

Old Lodge Lane was first served by the unusual 203 from September 1935 – a two bus operation using one man operated small GF class Gilford single deckers, and later first generation Dennis Darts, from South Croydon (TC) garage. This only lasted until 1938, when the two legs of the 203 were replaced by extending the 234 and its new offshoot the 234A, the Old Lodge Lane – Purley link becoming part of the latter. The 12A took over in 1982, being localised as the 412 in 1990, and then as noted this section was replaced by the 450 in 1993 and the 455 in 1996.

Navigation

See also routes 450, 127, 412

Photo Gallery | Bus route list | Operational details | Service changes | Operators & Garages