Home | Bus routes | Operational details | Service changes | Operators & Garages | Photo gallery
---
Route 464
24 April 2009
Possibly one of Londonís most scenic bus routes is the 464. Incepted as a Tramlink feeder service, though starting well before Tramlink itself, the route connects Biggin Hill to New Addington for onward connections to Croydon. The number reflects the fact that those onward connections were originally by route 64; it is unfortunate that the route did not penetrate as far as Addington Village where more direct connections into Croydon by routes 130 or 353 would have been available. (The 464 does connect with the 130, but the time taken by the latter to visit Fieldway is comparable to the time saved by missing out Selsdon.) This has, of course, now been cured since Tramlink started, taking just 20 minutes from New Addington!
The route partially replaced Metrobusís commercial route 356, which had run from Tatsfield and Biggin Hill directly into Croydon via Coney Hall and West Wickham. In fact this route was considerably quicker than the 464/64 combination for getting into Croydon, but not that many people used the through facility. But the section between Tatsfield and Biggin Hill is quite useful in itself, and is now the major bus route to Tatsfield. Tatsfield is also linked from the south to Oxted and Warlingham by route 411, but this is a much more sketchy service than the 464ís quite impressive (for a country area route) daily half hourly service.
The only downfall is that it is not now a Tramlink feeder route after all, having retained its 464 route number and not offering the through fares available on the T-prefixed routes. How much through traffic to Croydon there is is doubtful, but the route has proved a popular local link, particularly with school children, such that an extra journey had to be added at school times a few years ago!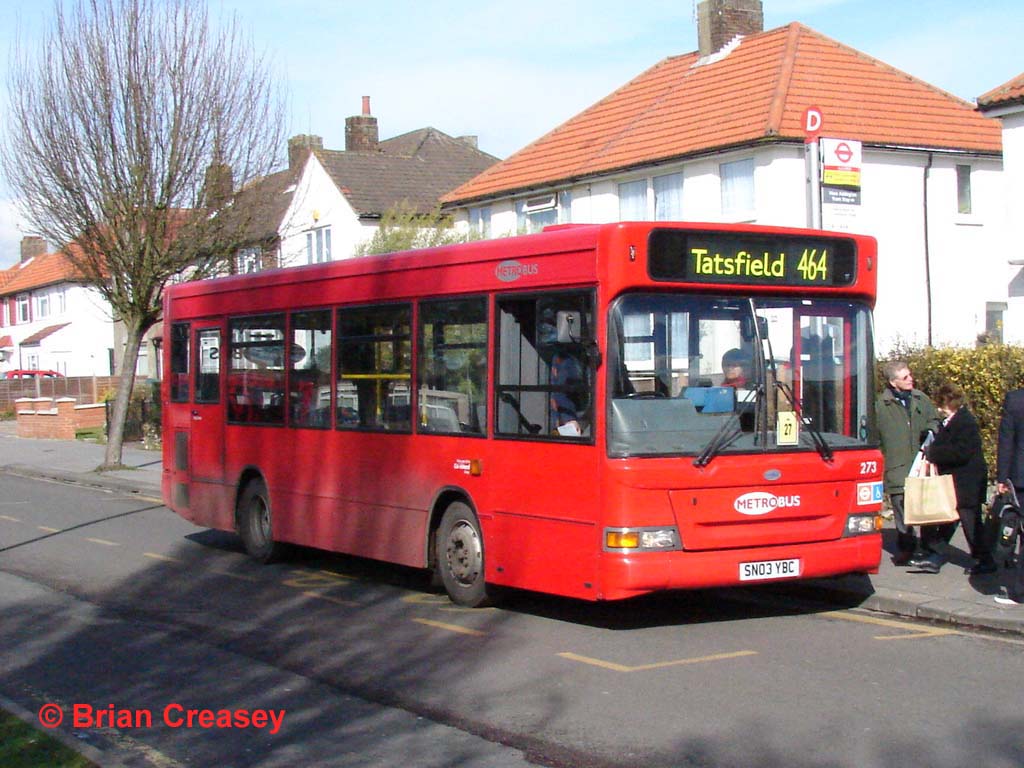 Photo © Brian Creasey.

In this view, 273 (SN03 YBC) loads up passengers in New Addington by the tram stop on Wednesday 4 March. The initial section is through the back of New Addington, using the full length of Homestead Way, much of which was not served prior to the coming of Tramlink. But buses quickly get out into the countryside, cutting across Biggin Hill Valley along quite narrow and twisty hills before running back up to Main Road and past Biggin Hill airport. Buses then follow the old 356 route, reaching as far as Lebanon Gardens in Biggin Hill before plunging down Stock Hill back into the Valley. They then run along Ricketts Hill Road (not much of a hill really, when compared to Jewels, Salt Box and Stock Hills!) to the picturesque village of Tatsfield.

Because of the narrow roads at both ends of the route Ė especially Jewels Hill and Salt Box Hill Ė the timetable has been carefully designed so that the 2 buses meet as far away from these sections as possible, and driversí duty cards carry an instruction not to proceed into either of the narrow sections before they have seen the other bus! Passing other cars can be quite entertaining in some places, let alone two 2.4m wide buses.

Interestingly a direct link between Biggin Hill and New Addington is not a new idea. During the 1960s, the Orpington Rural Transport Association developed a minibus route to connect Biggin Hill and Orpington via Berrys Green, the precursor to present day route R8. An ambitious plan was hatched to extend the route from Biggin Hill, and it was originally to have bifurcated there with branches to both Tatsfield and New Addington. Slow progress on development of the south end of the Valley meant that only the New Addington route ever saw the light of day, and even that didnít last long. But it is ironic that the 464 now combines both these legs! The ORTA route actually ran through the north end of the valley, descending via Stock Hill and then serving Oaklands Lane before climbing Jewels Hill to Arnhem Drive (rather than Homestead Way) and New Addington. For further information see John Wylde's book "Wylde's Advantures in Busland" and his website.

Navigation

See also routes Line 3, 64, 130, R8

Photo Gallery | Bus route list | Operational details | Service changes | Operators & Garages