Home | Bus routes | Operational details | Service changes | Operators & Garages | Photo gallery
---
Route 468
20 April 2006
The 468 is one of London's longer routes, plying between Elephant & Castle and South Croydon. The number reflects the fact that it parallels the 68 for a substantial part of its length, and it was once the southern section of that route. When the 68 was split in 1994, the number chosen for the southern section was 68A, but LT's systematic elimination of suffix letters saw this altered when a new contract started in April 1999. Several routes in the Croydon area are numbered in the 4xx series, a legacy from the Country Bus numbering policy, and this therefore fits in neatly enough. However, it is reported that passengers sometimes confuse the number with 466, which runs parallel with the 468 for a short section south of Croydon. This rather calls into question LT's dogmatic insistence that suffix letters cause more confusion than they are worth!
As an aside, the 468 number had previously been used for a route in the Chessington area, which was quietly renumbered to 568 as a Surrey CC route. Later, the 568 was withdrawn, but the 468 number being unavailable, the replacement has had to be numbered 467!
Following a completely uneventful 7 year contract that did not even see any timetable changes, the 468 was put out to tender, along with routes 68, N68 and X68. It must then have come as quite a shock to Arriva to lose the whole lot to London Central, representing over 50 buses' worth of work. London Central has surprisingly been able to accommodate all the routes at its Camberwell garage with minimal effect on other routes, and a large batch of new Wright Eclipse Gemini bodied Volvo B7TLs was obtained. Until recently all the WVL class buses were London General based, but a few moved into Camberwell a few months ago, perhaps to give drivers there plenty of time for type training prior to their mass introduction on the 68 group.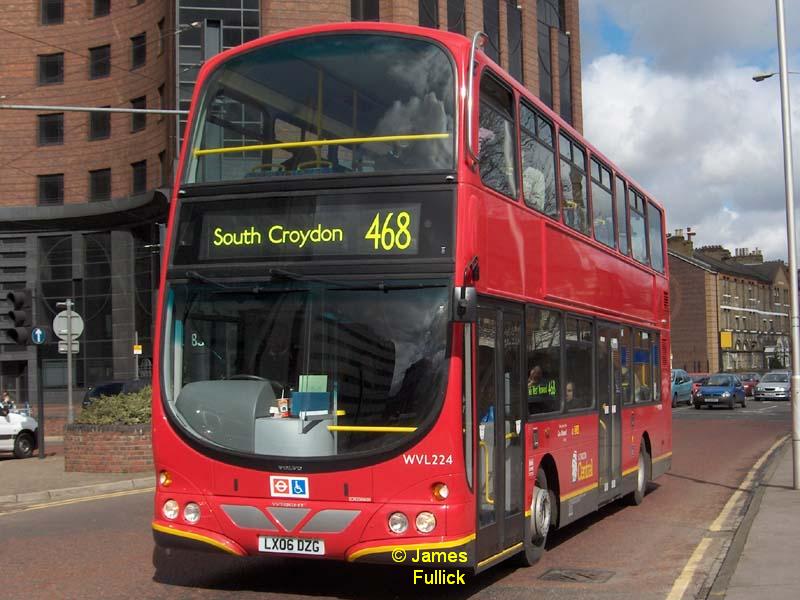 Photo © James Fullick.

Anyhow, WVL224 (LX06 DZG) is seen at West Croydon on the first day, 1 April 2006 – also the first day of '06' registrations – nearing the end of its southbound journey. The destination display of "South Croydon" is exceedingly unhelpful – there are at least three places that this could refer to, and to make matters worse the loss of the route by Arriva resulted in the terminus being cut back from South Croydon Bus Garage to South Croydon Swan & Sugar Loaf, so surely in this case it is especially important to be precise about the destination – but no, TfL know best, and qualifiers are now only allowed where a bus on a particular route could terminate in different places. Of course this is the same TfL that doesn't bother telling its customers when routes are being changed – a little more joined-up thinking is required here methinks.

Navigation

See also routes 68, X68, N68, 466, 467

Photo Gallery | Bus route list | Operational details | Service changes | Operators & Garages