Home | Bus routes | Operational details | Service changes | Operators & Garages | Photo gallery
---
Route 403
20 May 2006
For many years London Transport was spilt into two divisions covering the central and country areas, the latter consequently having an unusual polo-shaped operating area. Broadly speaking, the Central Division covered what is now Greater London, although it was not always clear cut as routes were operated by whichever division had the most convenient garage, and there were a few garages on the "wrong" side of the border.
One Country route which, at least in more recent years, had an important role in the central area was the 403. The trunk of the route ran from Wallington to Chelsham via Croydon, after which the 403 itself ran to Tonbridge (!) via Westerham and Sevenoaks, while the 403A ran to Warlingham Park Hospital and the 403B to Farleigh. This trunk section was also covered at various times by routes 408 and 470, which ran from Warlingham to Wallington Green and then on via Sutton, Epsom and Leatherhead to Guildford (408) or Dorking (470). During the 1950s and 1960s there were also express journeys on the 403 between Chelsham garage and West Croydon. Thus a number of relatively infrequent routes combined to provide the sole service through a substantial chunk of what is now South London.
Rationalisation began in the early 1970s with the 403, 408 and 470 revised to operate to Warlingham Park Hospital via Farleigh on the way, while the country end of the 403 became the 403A (later 483 and briefly Kentish Bus 23), terminating at West Croydon, and soon the 403 and 470 were cut back to West Croydon also. Part of the 403 service was diverted to Cheam when the 470 was withdrawn. The 403 was finally absorbed into the London network in 1987, now operated by the South West division of London Country. The tender was lost to South London with Olympians from South Croydon garage in November 1991, and cut back to operate between Warlingham Park and West Croydon. The Wallington journeys were replaced by route 407 with the Cheam service being replaced by a beefed up 408.
In November 1994 the operation was won back by London & Country (as LCSW had become) using new East Lancs bodied Volvo Olympians from their new Beddington Farm base. Operation has remained there ever since although there have been several changes in management control of that garage and its routes and it is now part of the Arriva London fleet. The Olympians recently gave way to new low floor double deckers and DW 101 (LJ54 BGF) is seen starting the journey from West Croydon Bus Station. Warlingham Sainsbury's (on the site of the old Chelsham garage that used to run the 403) has been the terminus since December 2000, the section to the former hospital now being covered by Surrey contracted routes.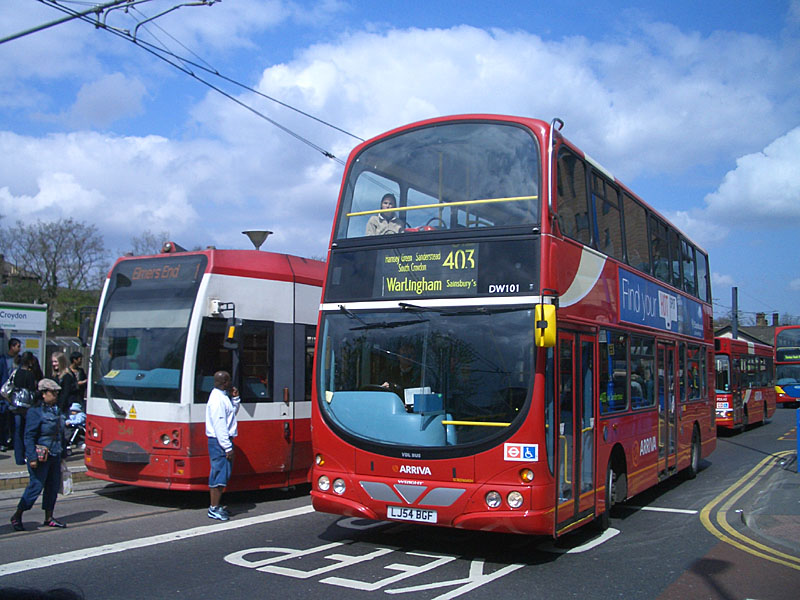 Photo © John Bennett.

West Croydon as depicted here is typically rather busy, with passengers obviously having just disembarked from Tram 2541 (on route to Elmers End on line 1) taking their lives in their hands to get to the shops or make onward connections, as the case may be! Although the sky in the picture belongs to an oil painting, the photographer assures me that no photographic tricks were employed! Note also the VDL BUS badge located on the "smile" of this Wright Pulsar Gemini bodied DB250LF.

Navigation

See also routes 470, 407

Photo Gallery | Bus route list | Operational details | Service changes | Operators & Garages