Home | Bus routes | Operational details | Service changes | Operators & Garages | Photo gallery
---
Route 214
8 March 2006
The short but busy 214 route links City Road with Camden Town and Parliament Hill. It started out in replacement for a 615 trolleybus that ran from Moorgate to Parliament Hill Fields, and the route has remained unchanged since, apart from a short extension at each end. Single deck operation is highly unusual for this type of route, but the section between Parliament Hill Fields and Highgate village is unsuitable for double deckers due to trees.
Having got through various batches of cascaded Darts, firstly high floor Darts with unusual Northern Counties bodies, and then low floor versions in a variety of lengths with several types of bodywork, with a mixture of single and dual doors, a batch of standard 10.2m Dart/Pointers was at last obtained for the contract renewal in August 2005. Even then, the buses were not delivered in time, and because some of the older low floor Darts were not fitted with wheelchair ramps, similar vehicles had to be loaned from London United for a few weeks; and now that the buses have all arrived, they are being freely mixed with similar vehicles on route 46 and 274!
Indeed DLD 124 is one of the earlier models, viewed here from a most unusual angle. The white roof is intended to reflect sunlight in the summer months in order to reduce interior temperatures. The location is the stand in Highgate village, a location dogged by problems with parked cars.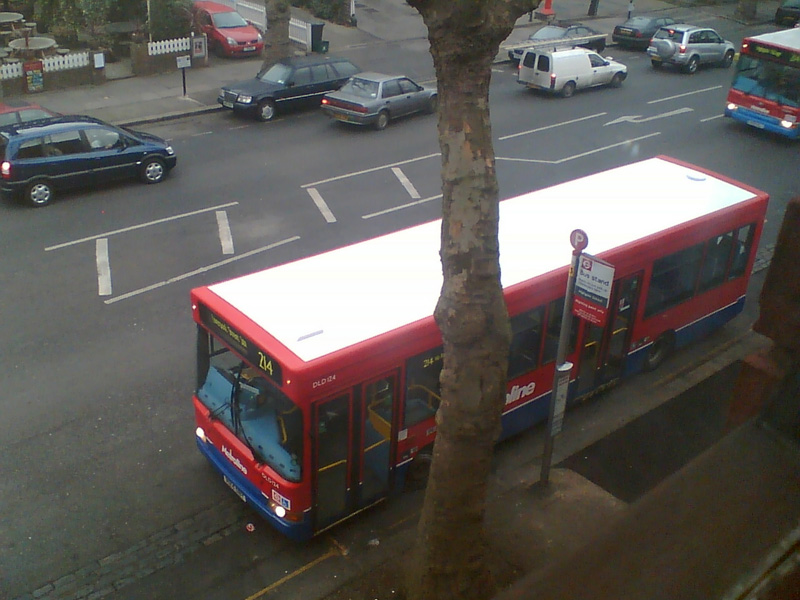 Photo © Robert Sanderson.

Although visually very similar I am told there are some differences with the newest buses. The exit doors are now of the favoured plug design, which open more quickly and take up less space. A problem with the old folding design was people standing too close to the doors and getting knocked over when they opened, or getting fingers/hands/arms trapped between the doors and other objects. The also have Comfort DelGro logos and are incorporate the latest thinking on destination blind layout.

The 214 is also quite unusual in actually being a longer route than when first introduced – Indeed the terminals of Parliament Hill Fields and Moorgate date right back to tram days, tram 15 having been replaced by the 615 in July 1938, and both the extensions are fairly recent. The first change was on 7 October 1989 when the Monday to Friday service was extended to London Bridge, with 'Northern Line' being added to blinds: at the time the route was operated by Chalk Farm garage with Titans (and Metrobuses before that), with occasional Leyland National appearances. The weekend service was extended from Moorgate to Liverpool Street in 1992, to serve the markets there, but the route was lost to Thamesway under competitive tendering from 15 August that year when the whole service was diverted to Liverpool Street. Just over a year later the new Darts were delivered, enabling the extension to Highgate Village over previously unserved roads.

Navigation

See also routes C2, 46, 274

Photo Gallery | Bus route list | Operational details | Service changes | Operators & Garages