Home | Bus routes | Operational details | Service changes | Operators & Garages | Photo gallery
---
Route 46
30 October 2013
The 46 is a very odd route, in that both its termini are in the former Zone 1, but yet the middle part of the route stretches out well into North London, as far as Hampstead. This is a result of progressive extensions over the years, of which more later. Unusually for a route serving central London, it is single deck, and even more surprisingly, when low floor buses first arrived, single door 10.2m Dart SLFs were the choice, and the route was one of the last to use this combination; these were later replaced by dual door versions, but have now been replaced by the more up-to-date Enviro200 variant.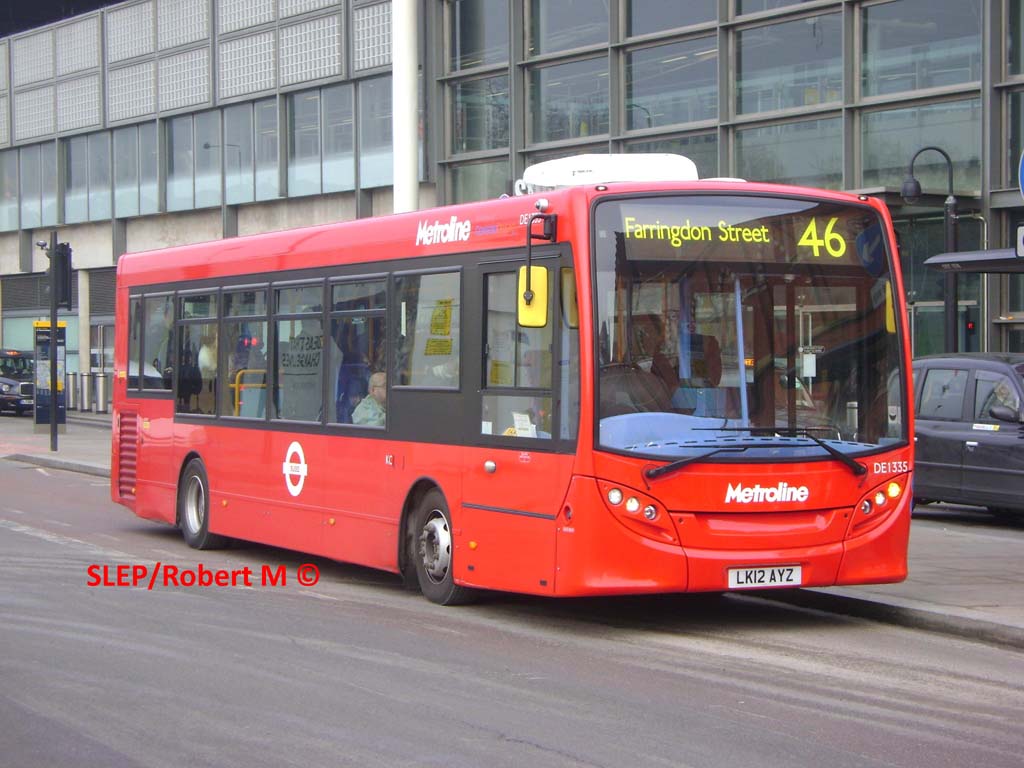 Photo © RNAM200 (Robert Mighton).
As usual these days, I have more than one photo to offer. DE1335 (LK12 AYZ) was seen at St. Pancras International station on 16 January 2013. Much is made of the iconic Barlow train shed with its single-span roof, just to the right of this picture, but in fact most of the station occupies this modern extension, which is more functional than beautiful. Only part of the long Eurostar platforms actually reach into the Barlow train shed; the rest is now a shopping mall!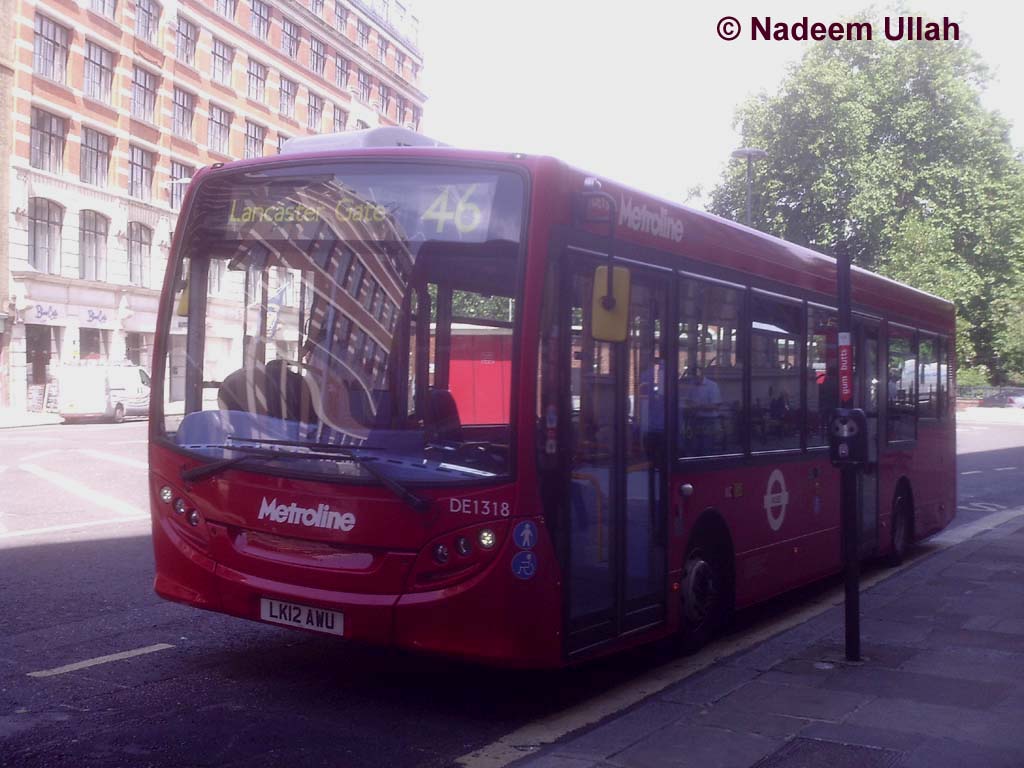 Photo © Nadeem Ullah.
Secondly, DE1318 (LK12 AWU) pauses at St. Bartholomew's Hospital, West Smithfield, on 7 August 2013, the route having been extended here on 16 February 2013 as a result of the closure of its previous terminal, Stonecutter Street in Farringdon, to traffic. The latter road was described as a "rat run," which seems a bit inappropriate when it was classified as an A road! Still, no doubt the extension is a useful one in its own right, St. Bart's having previously only been served by route 56 which heads off in a more easterly direction.
The 46 started out as a renumbering of the northern section of the 45. That number had run all the way from Hampstead Heath to South Kensington via Kentish Town, St. Pancras, Blackfriars, Camberwell, Brixton and Clapham Junction, coincidentally playing a not dissimilar trick of doubling back into zone 1 to the present day routeing on the 46, but in south London! (Incidentally, this took double deck buses under the arched bridge in Prince of Wales Road, now infamous following two de-roofings of buses on route 24, operating with different companies before and after a contract change!) The route has now been split 3 ways, the South Kensington end having become the 345.
The initial routeing, from 8 January 1972, was simply a replacement of the 45 between Hampstead Heath South End Green and Farringdon Stonecutter Street. The overlap with the 45 between King's Cross and Farringdon did not run during evenings or Saturday afternoons, when offices were closed. A Sunday service was introduced (between Hampstead Heath and King's Cross) in June the same year, when the route was converted to one person operation. Operation was from Chalk Farm garage, initially with Routemasters, then Fleetlines, then short spells with both Metrobuses and Titans.
The first extension came in the September 1982 service changes, which were designed to reduce costs. From Hampstead Heath buses ran daily to Swiss Cottage via Belsize Park (268 routeing) and on on Mondays to Saturdays to Kensal Rise via Warwick Avenue and Queens Park, replacing route 187 (except that the 187 used Ordnance Hill rather than Finchley Road and ran via Englands Lane (C11 route) rather than Belsize Avenue).
In 1984, the section between Warwick Avenue and Kensal Rise was reduced to Monday to Friday peak hours only, and later in the year, following completion of roadworks, the route was diverted via Fitzjohn's Avenue rather than Belsize Park, giving this road a bus service for the first time, and allowing the route to serve Hampstead village more effectively. The Sunday service was withdrawn again in October 1986, but the service to Kensal Rise was expanded to Mondays to Saturdays except late evenings and Saturday early evenings in 1990, and then from 16 November 1991 an evening service was added over this section. From the same date the route was converted to single deck, and has been ever since, initially with StarRider minibuses, and then larger DRL class Darts. The allocation moved to Holloway on closure of Chalk Farm in 1993.
The changes of 1982 were partially reversed in the spring of 2000. The earlier split of route 187 in two made it quite a short route, and meant it was in a good position to reclaim part of the 46, which, it was felt, was too long and unweildy. Thus the overlap between the two routes was altered from Kensal Rise – Queens Park to Warwick Avenue – Swiss Cottage. This new terminus was, however, temptingly close to Paddington, a destination which, if reached, would open up a whole range of new travel possibilities from a substantial area of north London. This was duly achieved on 27 Janaury 2007, following completion of the reconstruction of Bishop's Bridge, with the actual terminus being Lancaster Gate, a more practical terminus than Paddington itself.
Whilst the extension is no doubt very useful, it does make the 46 rather a long route once again, although not as long as when it ran to Kensal Rise. Following the latest extension to St. Bart's, end to end running time now varies up to 1˝ hours, with the typical daytime timings being 1 hour 18 minutes. (In fact, at the time of writing a temporary timetable was in operation, increasing the running times by a further 10 minutes or so!) The route fields an impressive 18 buses, now based at the new King's Cross outstation of Holloway. Buses run every 10 minutes during the day on Mondays to Saturdays, and every 15 minutes at most other times.
Navigation
| | | |
| --- | --- | --- |
| | Previous | Next |
| Chronologically | 92 | 379 |
| Numerically | 45 | 47 |
See also routes 45, 345, 24, 187, C11, 56

Photo Gallery | Bus route list | Operational details | Service changes | Operators & Garages