Home | Bus routes | Operational details | Service changes | Operators & Garages | Photo gallery
---
Route 92
30 October 2013
The 92 was one of many routes converted from double deck to single deck operation in November 1998, when new Marshall bodied Dart SLFs replaced ex-London Buslines Olympians with a modest frequency increase. A local advises that, unusually for such cases, overcrowding was not a serious problem, aided no doubt by the operation of an additional Metrobus-worked journey at school times. Nonetheless the 2003 contract resulted in double deck operation being restored, and perhaps the wait was worth it, as First broke with their traditional bodywork (Plaxton/Transbus President) to order the high quality Wright Eclipse Gemini.
Having said that, the time came for more new buses in September 2012, and this time the Alexander Dennis product was selected. Since then, First closed down its London operations and sold Greenford garage along with some others to Metroline. One advantage of TfL's standard all-red livery is that no repainting is required when buses change operators, only to change over the fleet names and lettering. The buses on the 92 were amogst the first to be treated and I was quickly sent several contributions, so here are a couple.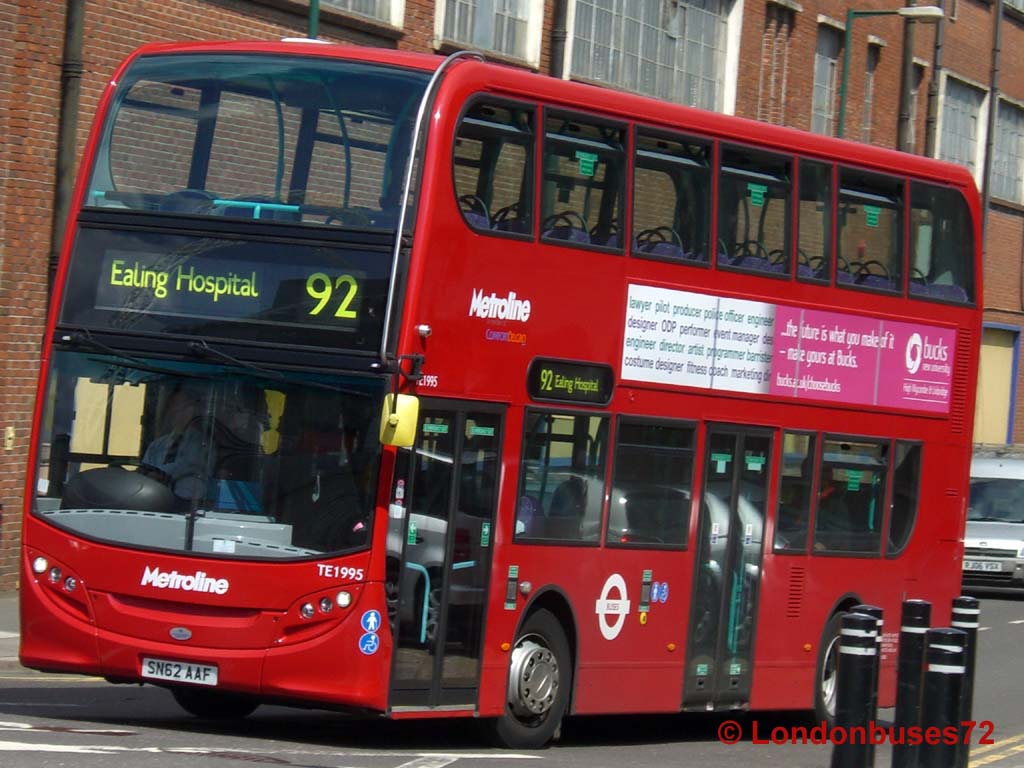 Photo © LondonBuses72.
First we have a view of TE1995 (SN62 AAF) at Wembley Stadium on 25 June 2013, just 3 days after the change of operator, just turning the corner from South Way into First Way. The First Group interior decor is perhaps the only obvious clue to its original ownership. Secondly, TE1997 (SN62 AAO) in Greenford Road (between the Windmill Lane and Greenford Depot bus stops) on Thursday 27 June 2013. This had been First's DN33772 - First's rather cumbersome fleet numbering system will not be missed!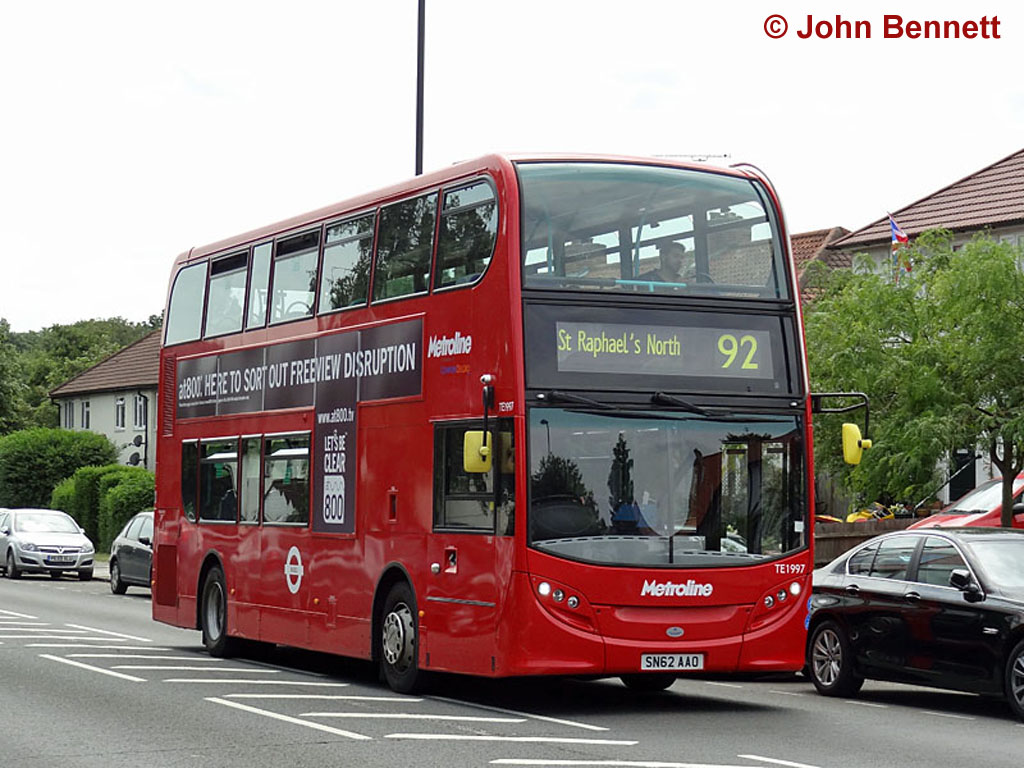 Photo © John Bennett.
As mentioned briefly on the route 18 page, the 92 was a renumbering of route 18C on 14 June 1944. This route had developed from the 18 group of routes to the point where it had nearly nothing in common with its parent – just a short section between Wembley and Sudbury. The route then was very similar to now, but with buses terminating in the old Southall (HW) garage (more-or-less opposite Ealing Hospital) rather than in the Hospital grounds where it now terminates. At the Wembley end, buses ran just as far as the Empire Pool (near Wembley Park station), a terminus that remained in use until quite recently.
However, the Monday to Friday rush hours and lunchtimes service was numbered 92A and ran via South Way to Wembley Trading Estate instead of the Empire Pool. The 92A also ran, alongside the 92, for much of the day on Saturdays, and there were several revisions to the precise times of operation of both routes. However, reshaping of the area resulted in abandonment of Empire Pool terminus and extension of the 92 from there via Wembley Trading Estate to the new Tesco at Brent Park, near Neasden.
Navigation
| | | |
| --- | --- | --- |
| | Previous | Next |
| Chronologically | N29 | 46 |
| Numerically | 90 | 96 |
See also routes 18

Photo Gallery | Bus route list | Operational details | Service changes | Operators & Garages