Home | Bus routes | Operational details | Service changes | Operators & Garages | Photo gallery
---
Route 96
26 May 2009
It is interesting to contrast the fortunes of the two large shopping centres built on opposite sides of the Thames near Fiddler's Reach, particularly in terms of local transport provision. Lakeside, near Grays on the north side, opened in 1990 with a large but bleak bus station right on the edge of the site, and gained a couple of half hourly local services and a once a week shoppers express from Romford. Public transport was evidently not a priority, although a new station was eventually opened on the nearby railway line. In fairness, things have improved since then, with several TfL services and a much enhanced local bus service now provided by Ensign.
Bluewater, on the south side near Dartford, was by contrast immediately served by a large number of local bus routes and the extension of three London Transport routes from Dartford, plus a frequent feeder service to the nearest rail station. The bus station is much more passenger friendly, and has its own entrance that takes you into the heart of the shopping centre. The centre has more recently benefited from a high quality service using dedicated bus only roads, known as Fastrack (route B) and funded by Kent Count Council. There are now around 60 departures an hour all told, which compares favourably with Lakeside's dozen or so. Bluewater's closer proximity to the suburbs of London undoubtedly helps, but a more enlightened management approach is fundamental.
On the TfL front, routes 428 and 492 provide a more local function, but the 96 provides an intensive service from Bexleyheath and Woolwich and was an immediate success. The 96 extension was actually introduced commercially by Stagecoach Selkent when the contract was let on net cost terms – an arrangement in which the operator keeps the revenue, and can therefore take commercial risks. This one clearly paid off even though the service level seemed excessive.
The section from Woolwich to Dartford via Welling and Bexleyheath is well established. Prior to being motor bus 96 it was trolleybus 696 over the same route until 1959, and before that it was tram route 96 (interestingly continuing to Horns Cross) until 24 November 1935. So the extension to Bluewater from 13 March 1999 was the first major route change for a long time. Buses run non-stop, originally via Horns Cross, although as a result of persistent problems with stone throwing in the Stone(!) area buses normally now run via Watling Street, which is roughly the same distance.
The extension was introduced before the centre opened to the public, running initially for the benefit of staff. Initially buses only ran during appropriate times, continuing to terminate at Dartford in the early mornings and evenings. Buses ran every 10 minutes on Mondays to Saturdays, and the Sunday service was improved to every 12 minutes. The route was an early recipient of Dennis Trident low floor double deckers, although Olympians continued to appear from time to time until they were withdrawn.
Since then the route has been increased to a basic 8 minute frequency on Mondays to Saturdays, although Sundays remains every 12 minutes. In a typical bout of TfL standardisation all journeys now run to or from Bluewater, even when the centre is closed and there are no other buses to connect with. The route requires 21 buses (22 on Saturdays), although this includes enough for buses to run empty between Woolwich and Plumstead garage, rather than changing drivers outside the garage where there is a high risk of assault.
We seem to be suffering from OmniCity overload in this update, as Selkent has received its first batch and introduced them to the 96. Seen in Woolwich on 6 May 2009 is 15059 (LX09 AED) – this bus had been on route 53 earlier in the day.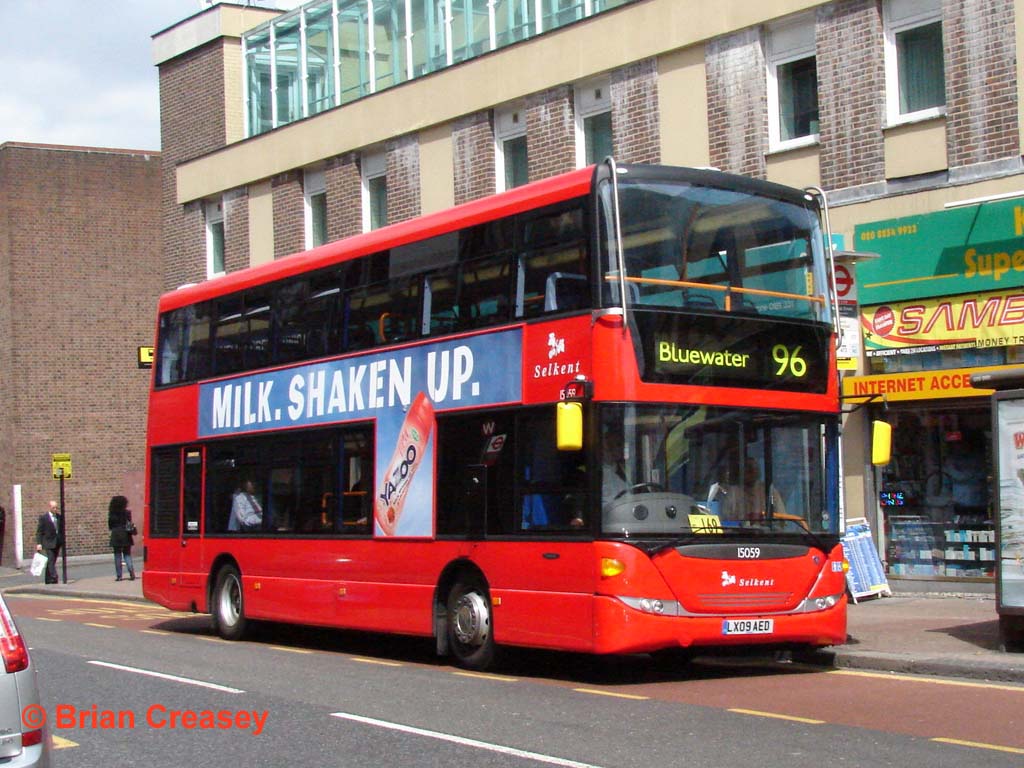 Photo © Brian Creasey.
Plumstead still has a substantial allocation of Tridents for other routes, which may appear on the 96 from time to time, so I have updated the previous photo of this type. Coincidentally the location and angle is much the same, but the bus is in latest all-red livery. It is one of a number borrowed from other garages pending delivery of the new Scanias and the garage's iBus fitment programme, which unfortunately coincided. West Ham's 17742 (LY52 ZFA) is seen at Bluewater Bus Station on 8 February 2009. Staff here are not sympathetic to people taking photographs for some reason, but you can do it if you get in before anyone notices! The view also illustrates the location of Bluewater, inside a chalk pit. The B255 Clements Way link road is atop the cliff.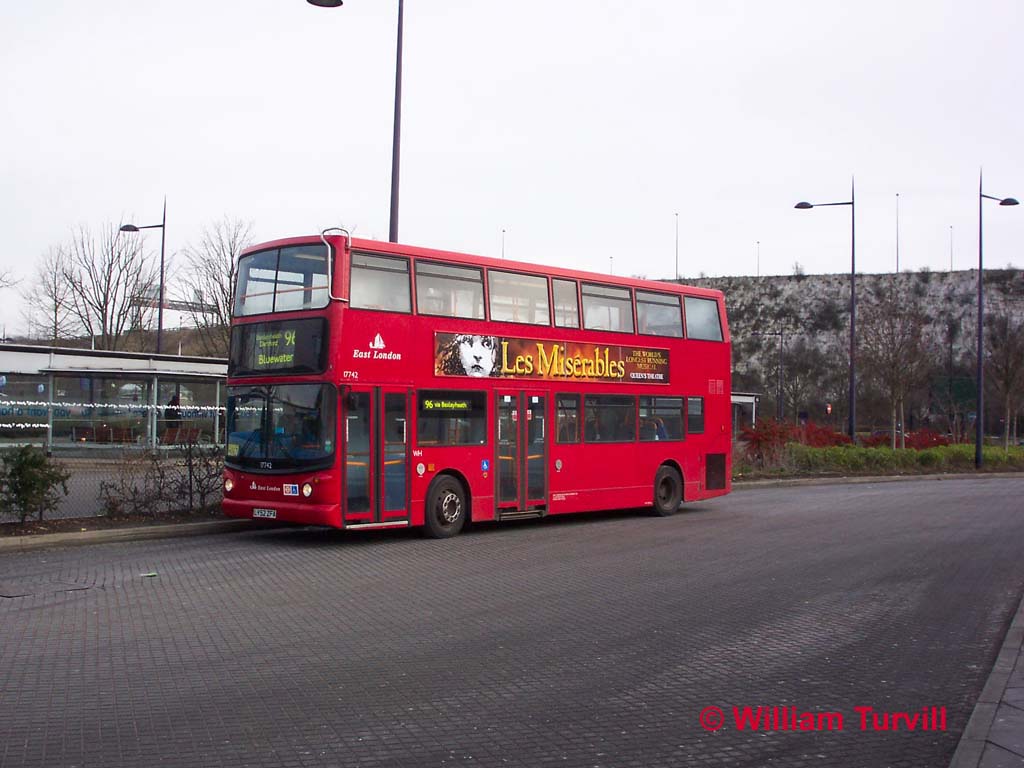 Photo © William Turvill.
As mentioned earlier there are two other red London buses that run between Dartford and Bluewater; firstly the 428, from Erith to Bluewater, running express between Dartford, stopping at Darenth Valley Hospital, then Bluewater. The second service is the 492 that runs between Sidcup and Bluewater, that calls at all stops between Dartford and Bluewater and runs via Stone and Horn's Cross.
The 96 route starts at Beresford Street in Woolwich, running through the shopping areas and past Woolwich Arsenal station to Plumstead Station then through Plumstead High Street and (following the 422) to East Wickham, then Welling Corner joining many other routes into Bexleyheath (89, 486, B16). At Welling route 96 buses may pass buses on route B15, also heading to Bexleyheath, but in the opposite direction! There are a number of the local secondary schools on this section of route, which at one time necessitated an extra journey in the timetable. The 96 then continues on to Crayford where the 428 and the 492 join it. The 492 leaves to take a more local route via Chastilion Road. Then through Crayford and past Dartford Grammar school, where the 492 rejoins then descends into Dartford town centre into Home Gardens for the Station. The route then goes fast via East Hill and Watling Street arriving at the Bluewater shopping complex. There was some controversy over whether the TfL routes would be allowed to use the new Fastrack busway, but Kent Council declined on the basis that the TfL buses would lower the image of the service! The journey time from Dartford is however quite quick at 10-12 minutes for nearly 4 miles.
Thanks to Jordan Young for some of the text and other background information for this article.
Navigation
| | | |
| --- | --- | --- |
| | Previous | Next |
| Chronologically | 487 | 32 |
| Numerically | 92 | 97 |
See also routes 428, 492

Photo Gallery | Bus route list | Operational details | Service changes | Operators & Garages