Home | Bus routes | Operational details | Service changes | Operators & Garages | Photo gallery
---
Route 97
12 August 2009
The 97 indirectly took over the northern section of route 69 in 1981, thus operating between Leyton and Walthamstow, doubling with the 69 over the busiest section, and on to Chingford. The same arrangement had been tried briefly in the mid 1970s, with route number 269 operating Leyton - Chingford on Mondays to Fridays only, the 69 running through at weekends. Oddly the 97 was withdrawn again on 06/06/1987, buses effectively running as a new section of the 69 once again! Then on 19 November 1988 the 97 re-started again, probably because passengers got confused about the short working journeys. Before the 69 motor bus, the service south of Walthamstow was the 669 trolleybus and the current 97 route was almost entirely covered by the 38. The Chingford Terminus was then a little further out, at the 'Royal Forest Hotel' on the edge of Epping Forest, rather than at the rail/bus station.
The overlap with the 69 south of Walthamstow also makes the 97, together with the 357, the only routes on the north-south axis to cross Walthamstow, i.e. without terminating, and as such provide the only opportunity to ride right through Walthamstow bus station. It is surprising how few passengers wish to do this, however.
The 97 was one of the large tranche of routes taken on by Capital Citybus when London Forest, a London Buses subsidiary, collapsed late in 1991. An unusual choice of vehicles was the Dennis Dominators, although these were later replaced by low floor double deckers when they became available from route 25.
But from March 2005 the 97 was won by Stagecoach, whose Leyton garage it passes and which operates it, using Tridents formerly deployed on the 58 which was lost to First Capital on the same date. In practice the various batches of Tridents have become somewhat mixed. The latest East London livery is now carried by most of them, and here we see 17431 (LX51 FKE) leaving Walthamstow Central Bus Station on a northbound journey on 1 September 2008.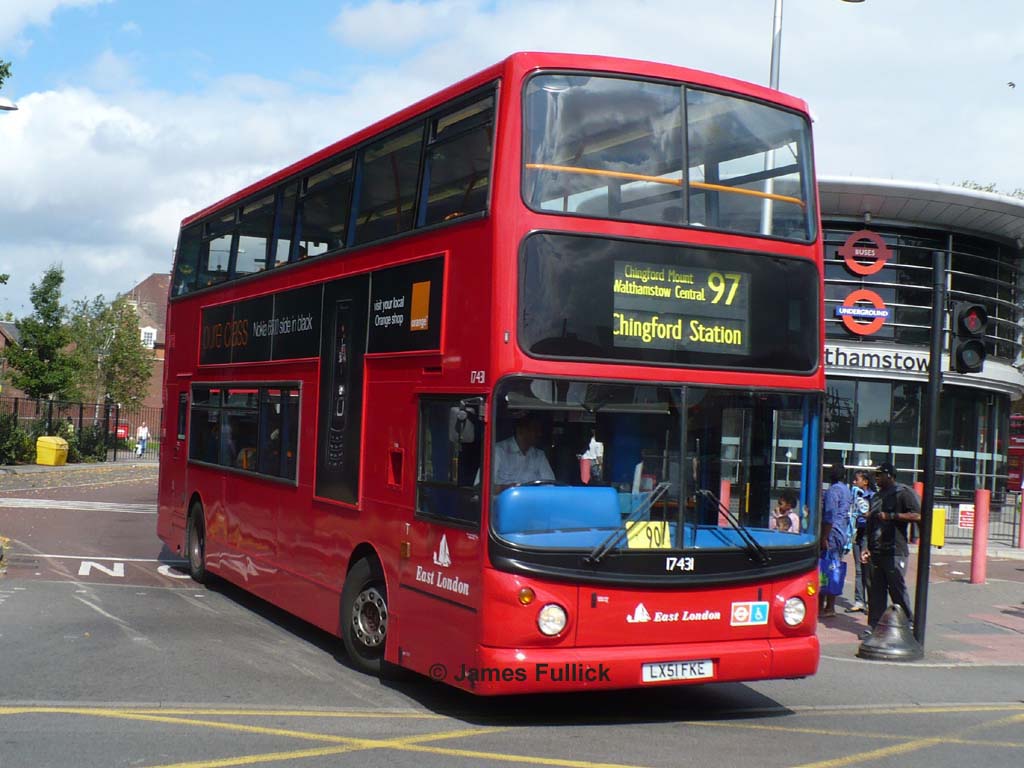 Photo © James Fullick.
Behind can be seen the recently rebuilt Walthamstow Central Bus Station. This re-opened in 2006 in a slightly different configuration – buses still circulate anti-clockwise, but the previous cramped square arrangement has been replaced has been replaced by a long thin island with bus parking to one side. There is also an underpass from the bus station building directly into the Underground station, behind the photographer.
Navigation
| | | |
| --- | --- | --- |
| | Previous | Next |
| Chronologically | 246 | U1 |
| Numerically | 96 | 101 |
See also routes 69, 38, 25, 191, 1, 357, 58

Photo Gallery | Bus route list | Operational details | Service changes | Operators & Garages