Home | Bus routes | Operational details | Service changes | Operators & Garages | Photo gallery
---
Route 357
10 April 2013
The 357 is one result of a drive by London Transport to eliminate route numbers with suffix letters, which has now been achieved – although, strangely, there is no comparable grudge against prefix letters. In this case the route was previously numbered 97A, not illogically as it has a fairly substantial common section with route 97 between Chingford Mount and Leyton Bakers Arms.
The 97A had originated as the replacement for the western wing of the circular flat-fare Walthamstow route W21, linking the Chingford Hatch area into Walthamstow. It also ran via Friday Hill to Chingford, linking this area to Chingford Mount, and had a brief extension to Hackney Central in the 1980s. Capital Citybus, as it was then, took the route over in September 1991 after London Forest, which had originally won the tenders for the Walthamstow area network, collapsed.
The route was soon extended to Whipps Cross, and from 1995 was extended on Sunday afternoons into the Hospital there. Due to a low bridge within the hospital campus, the Sunday service therefore had to be single deck.
From February 2000 a new contract was started, and the opportunity was taken to alter the number, as explained previously. In this case the number chosen probably reflects a previous routeing of the 257, which used to run further north than Walthamstow to Chingford Mount and the Fantaseas Leisure Centre on New Road, in parallel with the 97A. Although this section no longer runs, the 357 does still parallel the 257 on the short section between Whipps Cross and Walthamstow Central.
However, the route was also withdrawn on the section between Friday Hill and Chingford, since the 212 provides an alternative service from this area to Walthamstow. The 212 was increased in frequency at the same time, while direct links from Friday Hill to Chingford Mount were maintained by new route 397 (albeit not during evenings or Sundays).
The new contract also specified low floor double deckers, and unusually these were not brand new ones but short wheelbase Trident/Presidents from a batch originally purchased for routes 25/N25. They were quickly found to be inadequate in capacity on that route, and the opportunity was taken to replace some with longer wheelbase versions, with the short versions coming off onto the 97 and 357 where capacity was not thought to be such an issue.
A new contract which began in 2012 called for new buses, and Volvo B9TLs were specified for the Monday to Saturday service. Just one month later however, Northumberland Park garage, which runs the 357, was sold by First to London General, so we also have an operator change to illustrate! London General renumbered the buses with conventional style of class codes rather than continuing First's slightly eccentric system, but for some reason added or changed the last letter to an N. The B9TL/Wright combination is otherwise known as a WVL in the London General system, but the NP ones are WVN, and WVN50 (BL61 ADV) sets off from Walthamstow Central Bus Station on a northbound journey on a wet 6 July 2012.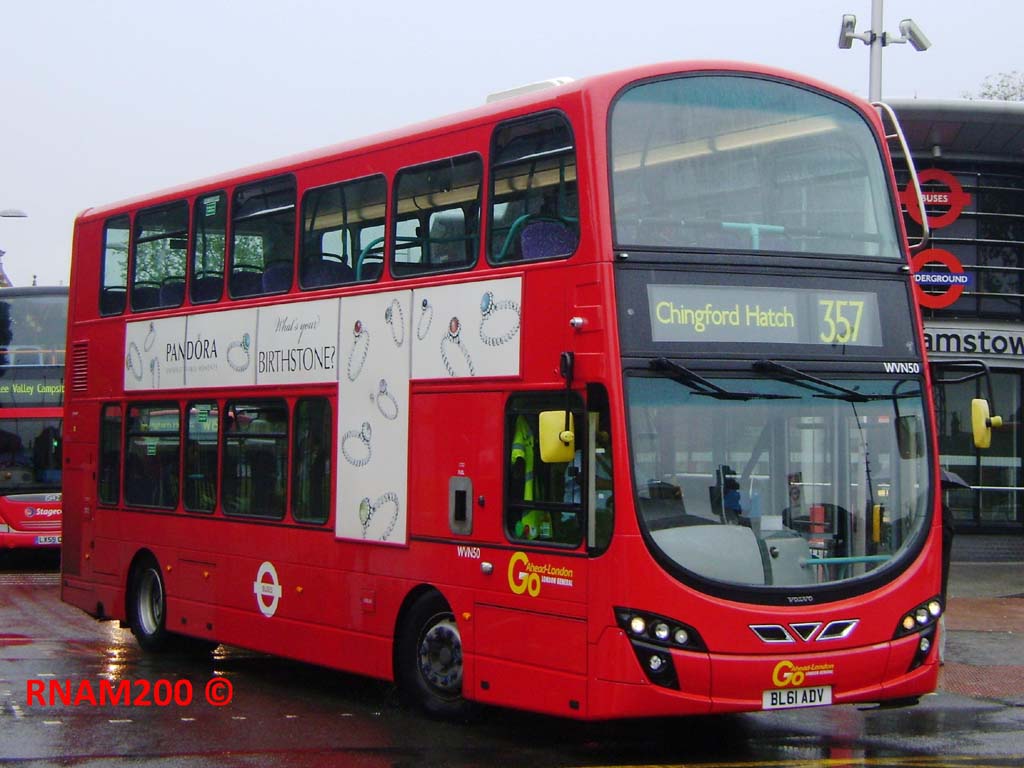 Photo © RNAM200 (Robert Mighton).
Remarkably, the non-standard Sunday extension to Whipps Cross hospital survives (indeed, buses now run there all day), and so therefore does the requirement for single deckers on that day of the week, drawn from other routes which have a lower vehicle requirement on that day. Unfortunately there are no single deckers over 10m length at Northumberland Park garage. E20D/Enviro200 SEN26 (YX61 FYZ) is of the largest size available, at 9.6m, and is drawn from the route W16 allocation. It was also photographed at Walthamstow Central, this time headed for Whipps Cross Hospital on Easter Monday 1 April 2013, when a Sunday service also operated.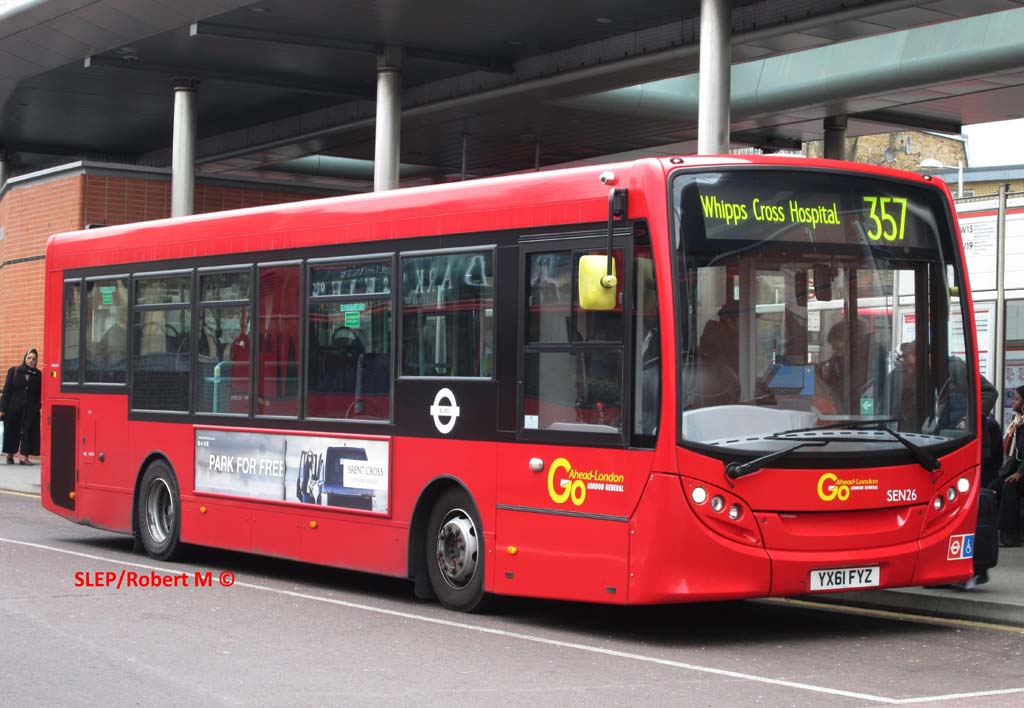 Photo © RNAM200 (Robert Mighton).

Navigation

See also routes 87, 97, 257, 212, 397, 25

Photo Gallery | Bus route list | Operational details | Service changes | Operators & Garages