Home | Bus routes | Operational details | Service changes | Operators & Garages | Photo gallery
---
Route 358
6 May 2014
If ever a route has come a long way from small beginnings, it is the 358. To meet local requests for a direct link from points in the north of the borough of Bromley to the hospitals in the south, Metrobus introduced two return journeys on Mondays to Fridays on a commercial basis commencing on 15 May 1989, using buses spare from the 61 and other routes between the peaks. The original route, numbered 358, was substantially different from today, running from Crystal Palace via Penge, Anerley, Elmers End, Beckenham, Park Langley, Bromley South, Locksbottom and Orpington to Green Street Green, serving Bromley, Farnborough and Orpington Hospitals on route. However, introduction of restrictions on the weak bridge at Elmers End resulted in a diversion via Churchfields Road.
The route was a considerable success, and Metrobus decided to promote it to a basically hourly service during Monday to Friday daytimes from 26 March 1990, albeit with two-hour gaps at certain times. To get around the Elmers End bridge the routeing was altered from Crystal Palace via Anerley Hill instead of Crystal Palace Park Road, then Anerley, Penge, Beckenham (War Memorial), Elmers End, Eden Park and South Eden Park Road to Park Langley and as before, the latter road gaining a bus service for the first time. A mixture of Fleetlines and Lynx was used. Gaps in the timetable were filled from 3 September that year, and a further increase came on 27 April 1991 when a half hourly service was introduced between Crystal Palace and Locksbottom, together with a new hourly Saturday service between the same points, the 358 now using 4 Fleetlines on Mondays to Fridays.
A major upgrade to the route occurred from 21 November 1992. The hourly link between Farnborough and Bromley provided by routes 261 (Saturdays) and 361 (Mon-Fri), and also journeys on peak hour route 471 between Green Street Green and Orpington, were withdrawn and replaced by changes to the 358, whose eastern end was modified to what we know today. In order to serve Bromley town centre more effectively, the route was diverted via Market Square and Shortlands Road, instead of Westmoreland Road. Because this took the route under the low bridge at Shortlands, single deckers had to be used, and a batch of 9 Dennis Darts was ordered. Buses ran every 20 minutes during Monday to Saturday daytimes, with a new hourly evening and Sunday service. This represented a substantial increase over all the previous services that were replaced.
The evening and Sunday service (except Sunday evenings) was enhanced to every 30 minutes in April 1994, the Sunday evening service being standardised with Mon-Sat in November 1997, and a much earlier start and a later finish on Mondays to Saturdays were introduced in September 1998.
Due to heavy loadings, every opportunity was taken to increase capacity on the 358 by purchasing new 9.8m Darts, a full complement of 10 eventually being reached, with the original 9m examples being cascaded to other routes. At the start of 1997, ten new Optare Excels were introduced to convert the 358 to low floor operation. A further frequency increase to every 15 minutes followed in September 2000, now with 11 buses plus spares, the deficit being made up with low floor Darts, although an 11th Excel was taken as a demonstrator for 6 months. A new commercial Crawley Town network in the spring of 2001 took over the Excels, with Dart SLFs spare off route 181 being transferred to the 358.
The need for a further increase in frequency on the 358, principally to cope with demand between Farnborough and Bromley, led to the decision to cease commercial operation so that Transport for London could fund further enhancements. After a short term contract from 18 May 2002 in which daytime frequencies were increased, a new five year term was awarded to Metrobus by London Buses commencing 30 August 2003; a further aid to capacity issues was the specification of full size single deckers, and Metrobus ordered Scania Omnicities, represented here by 516 (YN53 RXH), at Bromley South on 26 July 2012.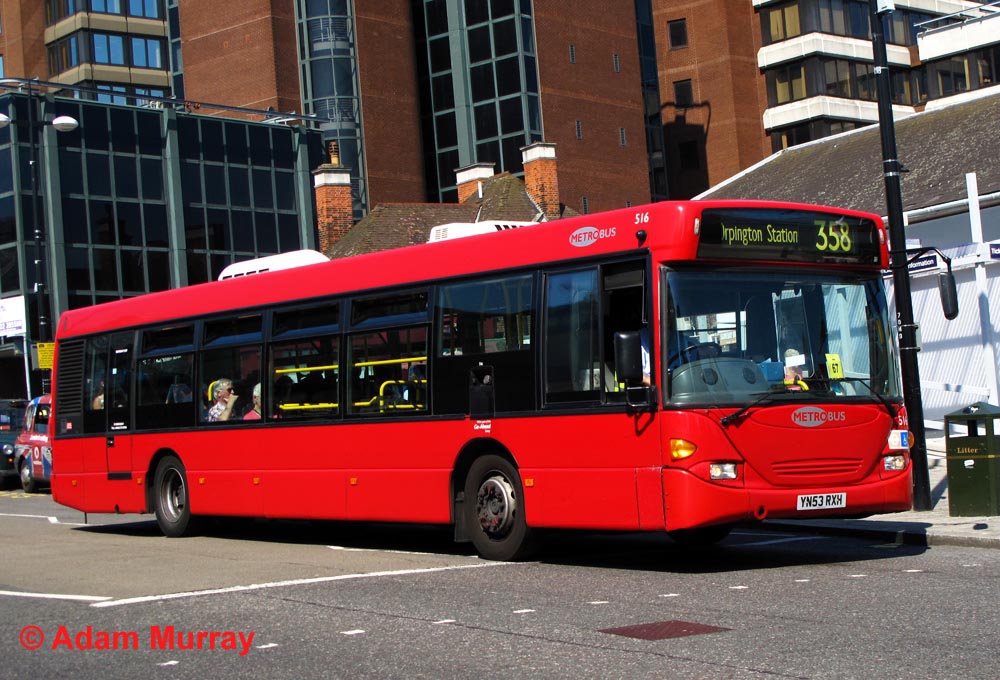 Photo © Adam Murray.
Thus the 358 has progressed from two return journeys on Mondays to Fridays, then an irregular hourly service, via one, two, three and four now to five buses per hour during Monday to Saturday daytimes (and now three buses per hour in the evenings and on Sundays), needing 15 buses. This is quite a major achievement by Metrobus, especially in London where the regulated environment makes commercial operation much more difficult.
It may not perhaps be immediately realised, but the 358 is actually one of the longest routes in the main daytime London bus network, at 15.5 miles (25km). As the crow flies, the terminals are barely half that distance apart, but the routeing taken is very indirect, especially at the outer ends of the route. One idea I have had is to extend route 261 from Locksbottom to Orpington (its original routeing) and cut the 358 back to Locksbottom. As well as balancing out the route lengths rather better, this would provide double deckers to the busy Farnborough section; it would break some of the original links to Orpington Hospital, but that has been downgraded over the years – Princess Royal Hospital (formerly Farnborough Hospital) at Locksbottom is the main hospital for Bromley borough.
Navigation
| | | |
| --- | --- | --- |
| | Previous | Next |
| Chronologically | 10 | 49 |
| Numerically | 357 | 360 |
See also routes 261, 181

Photo Gallery | Bus route list | Operational details | Service changes | Operators & Garages