Home | Bus routes | Operational details | Service changes | Operators & Garages | Photo gallery
---
Route 360
6 June 2012
Several new routes were introduced in readiness for the commencement of the central London congestion charge in February 2003, and of those the 360 is arguably the most unusual. Operations commenced on 25 January 2003 using a batch of cascaded early model Dart SLFs, unusually treated to route branding.
The route is something of a museum route. Starting from the Royal Albert Hall, and also next to Imperial College, it now even runs along Exhibition Road, where several museums are located, to reach South Kensington, and then serves some previously unserved streets to reach Sloane Square. Then the route operates via Pimlico, taking it past Chelsea Barracks and near Tate Britain, to Vauxhall, passing the MI5 building before passing through the less glamorous environs of Black Prince Road. The last museum on route is the Imperial War Museum, before buses arrive at Elephant & Castle.
However the route is more notable for the early use of 6 hybrid diesel-electric buses alongside the Darts. The route was originally awarded with new vehicles rather than cascaded LDPs, and late in 2003 it was announced that the route would act as a testing ground for hybrid vehicles. The principle is that the gearbox is replaced by a large battery and electric circuits; a small diesel engine charges the battery which then drives electric motors, and during braking the motors can regenerate electricity and put it back into the battery. All this results in far lower fuel use, and consequently lower pollution, with the engine normally operating at its optimal speed when not idling. It was intended to order a full compliment of such vehicles based on the new Transbus Enviro 200 (the 200H). However, development halted during financial problems at Transbus and its subsequent reconfiguration as Alexander Dennis, so the deal fell through.
Instead an order for 6 vehicles went to Wrightbus, and the vehicles, branded Electrocity, finally arrived and entered service early in 2006. The chassis is a VDL (DAF) SB120, but obviously the mechanical components are re-configured for the hybrid power train. The buses proved quite troublesome and were frequently off the road, but they have subsequently had a major rebuild with different components and seem much more reliable. Indeed, one more ElectroCity came in 2008 and a further six in 2011, so that there is a full allocation. There is also a solitary hybrid Optare Versa demonstrator dating from 2007, although this is rarely seen!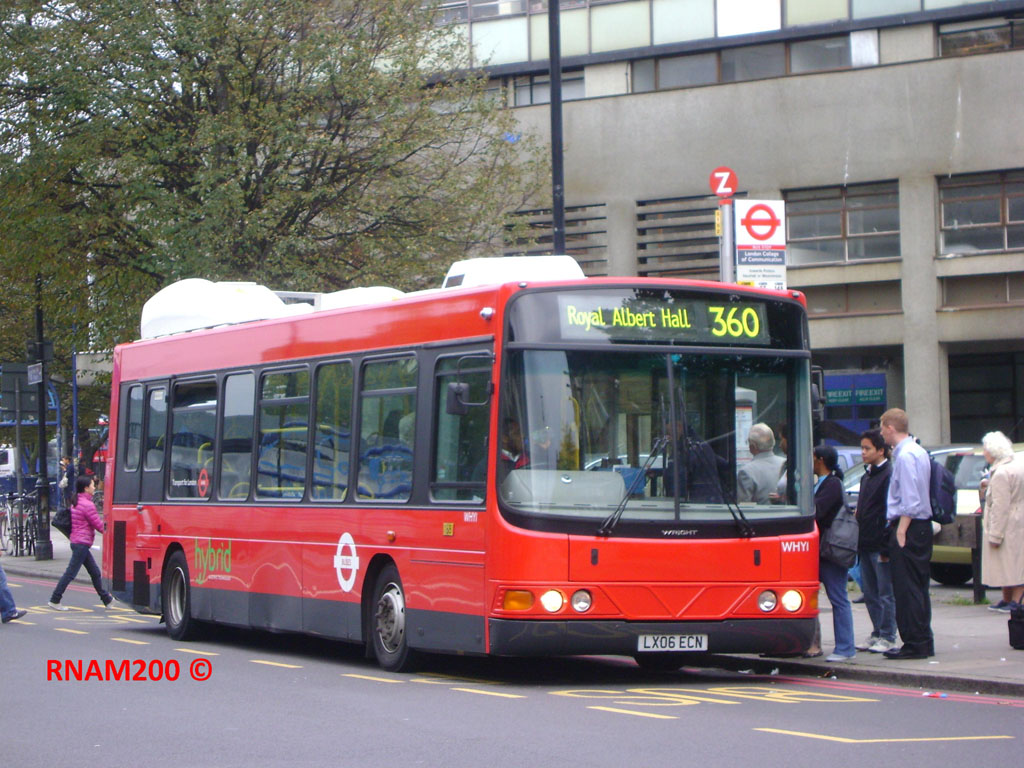 Photo © RNAM200 (Robert Mighton).
WHY1 (LX06 ECN) is one of the original vehicles, and was seen after rebuild and relivery at Elephant & Castle on 13 October 2011. The choice of WHY for the class code is a bit peculiar – it is meant to mean Wright HYbrid, but may well start people asking questions instead, such as why they are there, why they were so late etc. ...!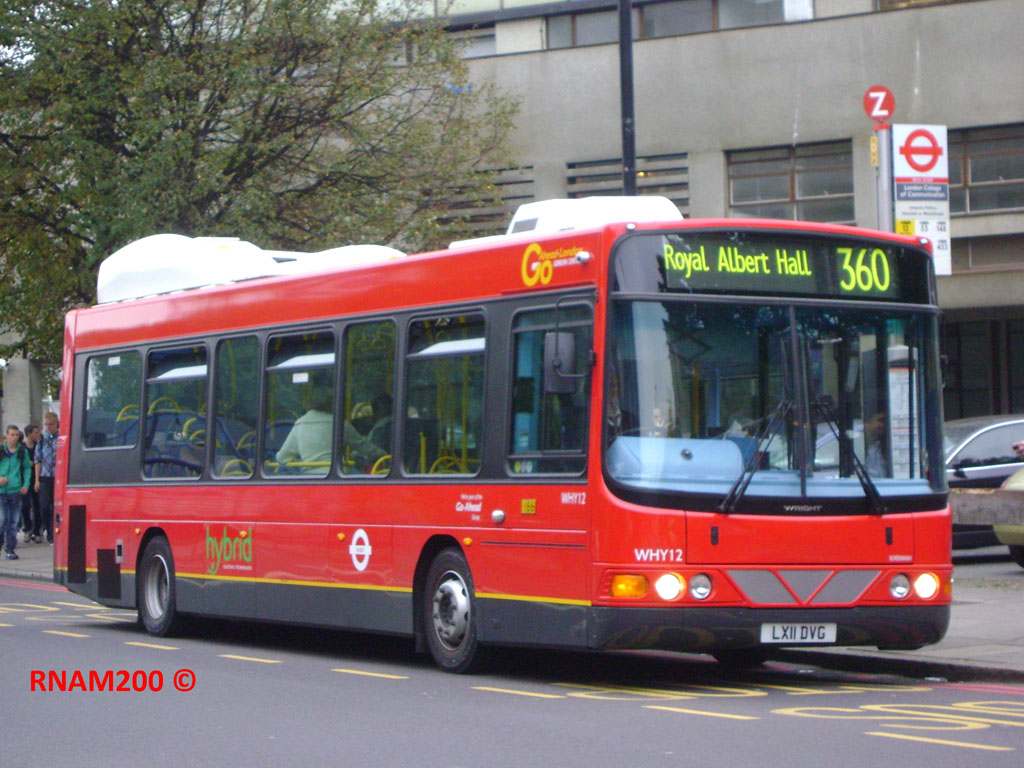 Photo © RNAM200 (Robert Mighton).

Spot the difference! WHY12 (LX11 DVG) from the second batch is seen at the same place on the same day.

Navigation

See also routes 345, 129

Photo Gallery | Bus route list | Operational details | Service changes | Operators & Garages