Home | Bus routes | Operational details | Service changes | Operators & Garages | Photo gallery
---
Route 364
21 November 2007
The latest version of the best-selling Dart class, the Enviro200, is now becoming an increasingly familiar sight around London. The latest route to gain the type is the 364, following a new contract and change of operator on 3 November. The route passed from First Capital to Blue Triangle, which itself was recently sold by founder Roger Wright to the Go Ahead group. The new vehicles have been numbered into the same series as new sister companies London Central and London General, which operate south of the river, and SE27 (SN57 DWP) is seen in Clements Road, Ilford, on 18 November 2007, facing away from its final destination of Dagenham East! These vehicles are unusually to the longer 10.7m length, providing a welcome increase in capacity compared with the previous vehicles used.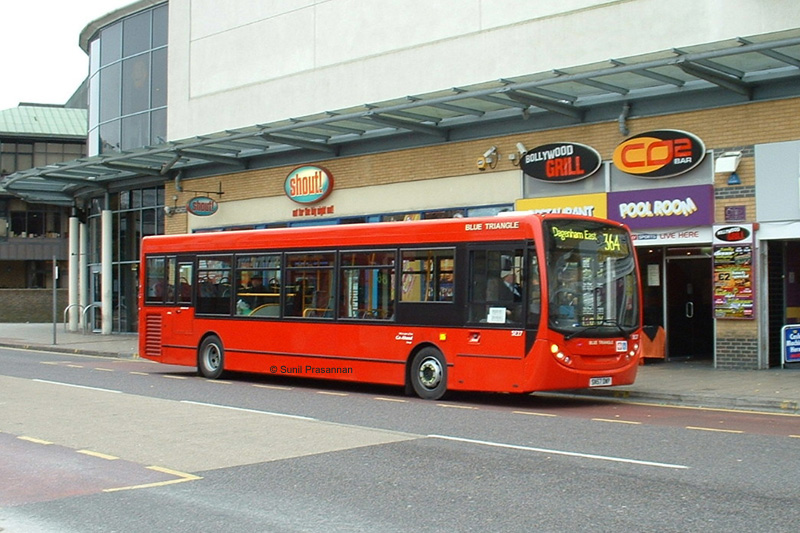 Photo © Sunil Prasannan.
The contract renewal took place a little later than expected, as the previous contract expired after 20 July. The reasons for this are not clear, although Blue Triangle's new vehicles have only just delivered. The previous contract started on 20 July 2002, on which date First won the 364 and 499 from Stagecoach but lost the 369 to Stagecoach. The First routes specified new vehicles, but just as they were ordered, Marshall, First in London's preferred bodybuilder for Darts, went into receivership. After some delay the bodywork order was amended to another smaller manufacturer, namely Caetano with their foursquare Nimbus design. Because the vehicles were late being delivered, older Marshall bodied Darts from elsewhere in the First London fleet had to be used for the first few months.
The 364 was created in the 20 March 1993 Ilford area scheme as a partial replacement for the 148, but serving more of the back streets around Ilford and Goodmayes and also between Becontree Heathway and Dagenham East. (The section of the 148 between Ilford and Leytonstone passed to the 366 and is now covered by the 145.) In 1997 the route became one of Stagecoach's first to go low-floor. A wide range of bodywork styles has thus seen use on the route:
1993-1996: DW class Wright Handybus 8.5m single door
1996-1997: DRL class Plaxton Pointer 9m single door (ex route 247)
1997-2002: SLD class Alexander ALX200 10.2m single door
2002-2003: DML class Marshall Capital 10.2m dual door
2003-2007: DHL class Caetano Nimbus 10.2m dual door
2007-2012?: SE class Alexander Dennis Enviro200 10.7m dual door
Navigation

See also routes 499, 369, 366, 145, 247

Photo Gallery | Bus route list | Operational details | Service changes | Operators & Garages