Home | Bus routes | Operational details | Service changes | Operators & Garages | Photo gallery
---
Route 366
2 April 2013
The 366 was a new minibus route introduced in the Ilford and Barking route scheme of 20 March 1993. It ran between Barking and Ilford via previously uncharted territory in the Sunnyside Road area, before replacing route 148 through to Leytonstone via Redbridge and Wanstead Ė parallelling the 66 on the last section, which may have influenced the choice of route number. To begin with, the route was operated by Docklands Transit, a company set up by Thames Transit of Oxford, itself a part of Harry Blundredís Transit Holdings minibus empire. The routes commenced using almost-new Mercedes 811Ds with bodywork by Carlyle drafted in from Red Admiral of Portsmouth, another Transit Holdings business.
Loadings between Ilford and Leytonstone proved too heavy for the 811Ds, so the route was soon curtailed to Redbridge Station with the more frequent 145 running to Leytonstone in its place. The section of the 145 north of Redbridge to Falmouth Gardens was discontinued due to residentsí objections, though London Transport got its way in the end and extended the 366 there in 1995.
Meanwhile, from the summer of 1994, the 366 gained a southwards extension from Barking to the new Savacentre store at Beckton. This section was already covered by the 87, but the 366 was initially extended in parallel (except late evenings). The 87 did not last long however, the 366 becoming solely responsible for this section within a year.
Transit Holdings sold out to Stagecoach in 1997, and the Docklands Transit operations were quickly absorbed by Stagecoach East Londonís Barking garage. In line with general Stagecoach policy, the minibuses were withdrawn, ultimately being replaced in London by 9.8 metre Darts transferred off route 106, which (oddly) gained more new step entrance Darts, but dual door this time.
A new contract for the 366 commenced in March 2001, and new low floor Darts were specified. A large batch of 10.2 metre vehicles continued the gradual upwards push in lengths of buses on the route, and also supplied a separate exit door and a corresponding reduction in capacity! However, to make up, the main daytime frequency on Mondays to Saturdays was increased from four to five buses an hour. The latest twender renewal in March 2011 called for new buses once again, and they are 10.2m Enviro200Darts. 36289 (LX11 AXG) in Ilford (Clements Road) on 26 June 2011.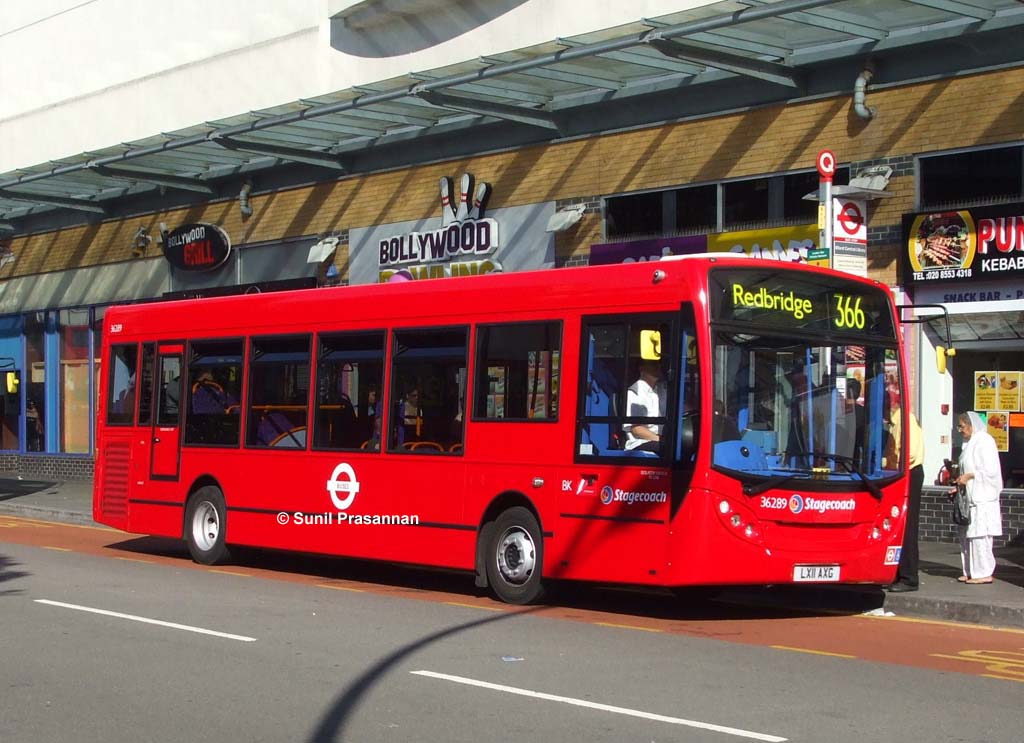 Photo © Sunil Prasannan.

Navigation

See also routes 145, 87

Photo Gallery | Bus route list | Operational details | Service changes | Operators & Garages