Home | Bus routes | Operational details | Service changes | Operators & Garages | Photo gallery
---
Route 145
14 January 2013
Problems with loadings prompted the conversion of route 145 to double deck in 2002. Initially standard 'TA' class long Tridents are used, but Barking garage (which is on the route, though it does not serve Barking town centre) had a wholesale clearout of these in 2011, replacing them on most routes with Enviro400s. 19765 (LX11BEY) demonstrates the new order passing through Ilford town centre on Tuesday 24 May 2011.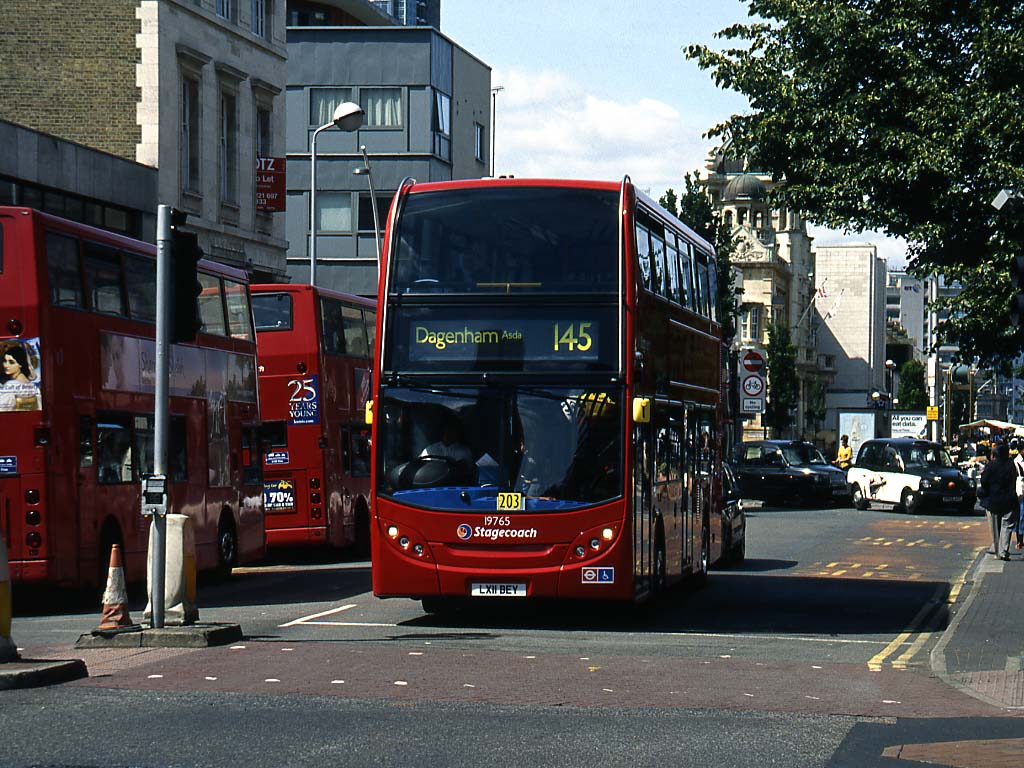 Photo © Stephen Williams.
Not a commonly photographed location is the Dagenham Asda terminus of the 145, where 17962 (LX11 BEJ) takes a break on Monday 9 May 2011.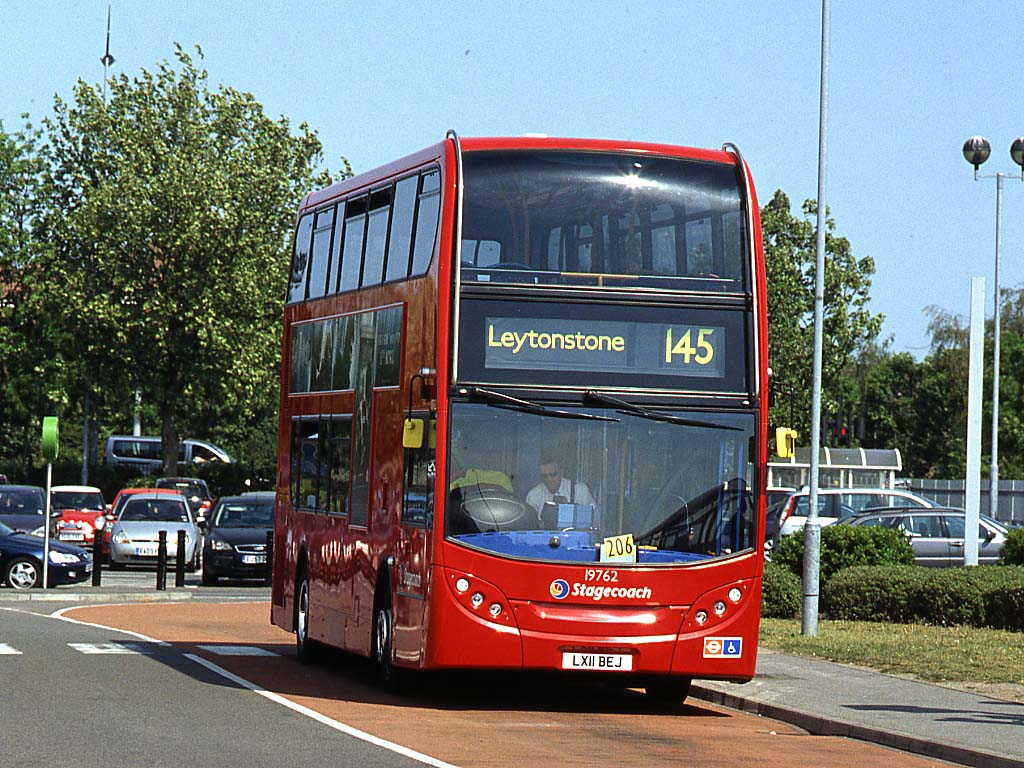 Photo © Stephen Williams.

Prior to the double decking, the 145 was unusually operated by 10.8m long Dart SLFs. In London, the 'standard' length was deemed to be the 10.2m chassis, and the longer and shorter versions were considered niche types for specific routes with a problem. The shortest, 8.8m, version, when introduced, quickly proved very popular, but the other lengths remained relatively uncommon. Stagecoach London was, to my knowledge, the only company in the country to operate examples of all five basic lengths of Dart SLF (and indeed, if one goes back a few years, all three versions of standard floor Dart were in stock).

The 10.8m variant is the longest version of the 'standard' Dart SLF (the 'Super Dart' is longer, but has different technical specifications). Indeed, the 145 was considered to need maximum capacity, and the 11.4m Super Dart might have been specified, but apparently there is a tightish turn from Longbridge Road into South Park Drive, near Barking. Thus Super Darts were confined to the 227, and the 145 gained the next longest version – this batch being the only ones of this length that Stagecoach London ordered. They were also the only ones of this length in London to have ALX200 bodywork.

Route 145 has been in existence for many years, although its form has changed rather from the 1936 map, when it ran from Oxlow Lane in Becontree to Chingford via Bennett's Castle Lane, Goodmayes, Ilford, Woodford Avenue and Woodford Green. In February 1937 it was diverted to serve the present route via Porters Avenue and Hedgemans Road to Dagenham Heathway, and then via Heathway to Kent Avenue.

During the 1960s, the 145 was withdrawn north of Ilford, new route 179 (Barking – Chingford) taking over this section. However, some school journeys remained running through to Chingford. These school journeys were later renumbered 145A, then 345, then 645, and now (to match the 179) 679!

Meanwhile, the 145 began to grow again, with an extension from Ilford to Redbridge, replacing routes 147/148, and was also diverted through Dagenham Village (previously unserved) and via South Park Drive (replacing the 148). The 145 was one of the first routes to go over to Leyland Titan operation in 1980, but Ensignbus took over operation in June 1986, using ex-London Transport Fleetlines. The 145 came back to London Buses from June 1991, coincidentally picking up just where it had left off with Titans from Barking garage.

In the major Ilford area route scheme of March 1993 the route was converted to Dennis Dart operation, usually short 8.5m Wright bodied versions. At this time it also re-gained an evening and Sunday service, which had been withdrawn some years previously, and the route was extended from Redbridge Station to new territory in Falmouth Gardens. However, another change in the same scheme saw route 148 withdrawn, and the section north of Ilford to Redbridge, Wanstead and Leytonstone was replaced by new minibus route 366. As the 366 only ran every 15 minutes it couldn't cope with loadings, and in addition residents of the Falmouth Gardens area kicked up a stink, so the 145 was hastily diverted to Leytonstone instead, with the 366 cut back to Redbridge station. The 366 eventually restored the service to Falmouth Gardens, using more suitable vehicles on a lower frequency – although it has since been increased to match the 145 on both counts!

However, despite the greater frequency, the 145 was still not coping, so the decision was taken to transfer a batch of unusual Dennis Lances from Selkent early in 1995. These had been in use on the 75 and 160, but double deckers were needed on those routes, so these full size single deckers made a worthwhile capacity upgrade on the 145. In December 1996 some Optare Deltas were made redundant from the 150 and 369, these routes also being converted back to double deck, and the opportunity was taken to standardise on this type in the East London area by converting the 145, the Lances departing to Stagecoach Ribble.

But when the route was converted to low floor buses, as part of the March 2001 tendering exercise, London Buses again opted for Darts, and as the low floor Dart (even that long version) has a somewhat lower capacity this was considered by many to be a retrograde step. Furthermore, at the same time, route 366 was upgraded from 4 to 5 buses per hour to ease overcrowding on this increasingly popular route, but to compensate, the 145 was reduced from 6 to 5! The two routes may have a significant common section between South Park Drive and Redbridge, but the 145 has a major role to play well beyond both these points! Many questioned why double deck Tridents were not specified – the the folly of this decision soon became manifest and, thankfully, common sense soon ensued.

Navigation

See also routes 227, 179, 679, 147, 366, 75, 160, 150, EL1

Photo Gallery | Bus route list | Operational details | Service changes | Operators & Garages