Home | Bus routes | Operational details | Service changes | Operators & Garages | Photo gallery
---
Route 120
14 January 2013
In 1993 London Transport announced a trial of fully accessible low floor buses intended to transform what had been a minor niche market into the norm – in the event it took just 12 years to achieve full operation by such vehicles in London. Five bus routes were selected for the trial involving 68 vehicles. The very first to arrive were those for the 120 at Hounslow garage, which took the first ten of an order for 38 Dennis Lance SLFs with Wright Pathfinder bodywork. At that time the 120 required 8 buses, with buses running every 15 minutes for most of the day on Mondays to Saturdays, between Hounslow and Northolt.
However, the new single deckers replaced double deckers, and capacity issues led first to a frequency increase, and then to a reversion to double deck as soon as low floor double deckers could be delivered, in 2000. These were Volvo B7TLs with a mixture of ALX400 and Plaxton President bodies, the 120 nominally being allocated the latter. In fact the route was almost converted back to elderly Metrobus (non-low floor) operation in the intervening weeks. Anyhow, the now 16-strong 120 has further improved to a 10 minute frequency (8-9 in peaks).
Towards the end of the previous contract the opportunity had been taken to allocate some Scania OmniCity double deckers cascaded from route 148 via route H91, and a new contract from June 2012 formalised this with the remaining B7TLs replaced new E40D/Enviro400s. Once again two views are provided, and ADE9 (YX12 FNP) was seen in Lady Margaret Road in Southall on Friday 10 August 2012, just exiting one of the route's freehold sections at the junction with Carlyle Avenue, where routes 95 and 105 join it into Southall town centre. This is an area of London that is particularly poorly served by rail, with only a relatively infrequent rail service from Southall to Paddington, or the Central Line quite a way away at Northolt, where the 120 terminates.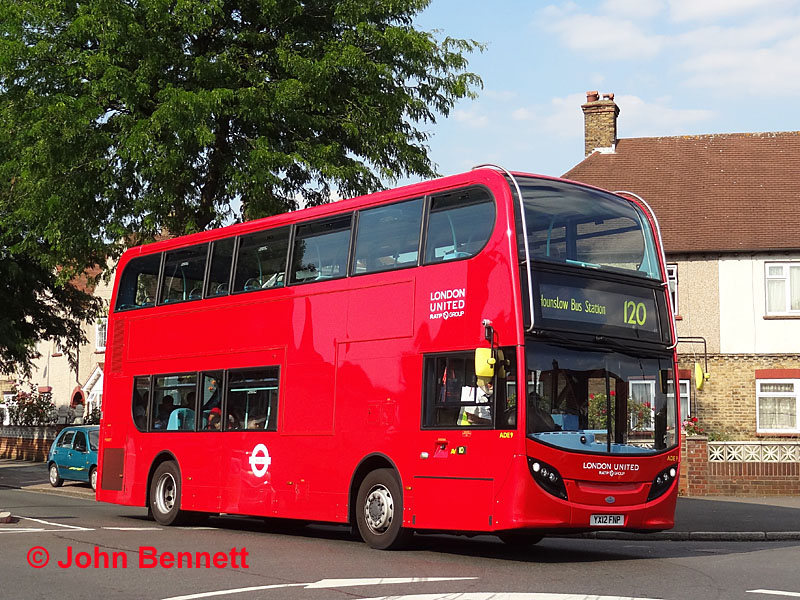 Photo © John Bennett.
The second photograph is at the destination, Hounslow, where ADE5 (YX12 FNL) sets down its last passengers in the rain on Thursday 21 June 2012, thought to be the first day of the type in service, with ADE3, 4, and 10, at least, also out. Although the Enviro400 has been around a few years now, until this time London United only had hybrid versions of the type, having otherwise bought Scania OmniCitys for its double deck needs.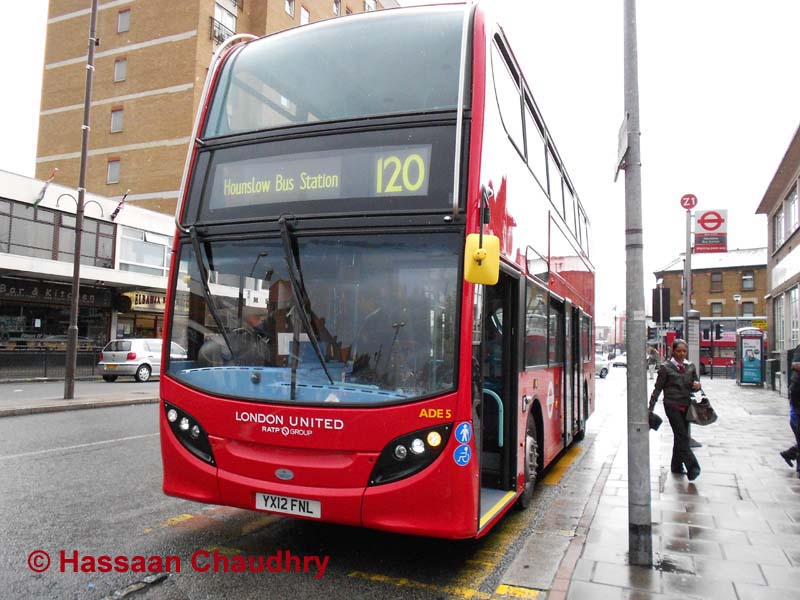 Photo © Hassaan Chaudhry.
As previously mentioned, OmniCitys are allocated to part of the 120, and indeed to several other routes at Hounslow garage, route H32 having been first. SP171 (YT10 XBU) is one that is officially allocated to route 111, and was seen slightly farther north in Lady Margaret Road on Saturday 2 April 2011.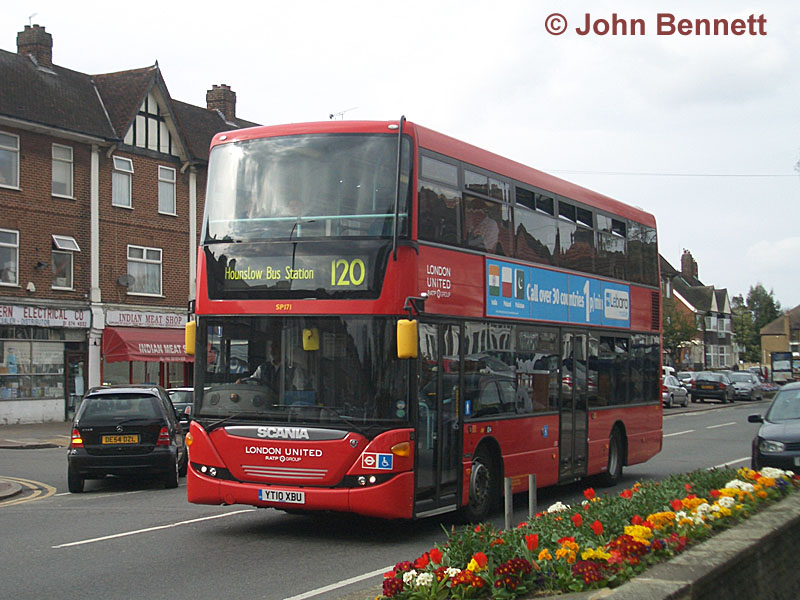 Photo © John Bennett.

In 1934 the 120 ran from Hayes & Harlington station via Southall, Heston and Hounslow Central to Hounslow Heath (Hussar). New route 105 started on Wednesday 4 March 1936, replacing the 93 from Shepherd's Bush to Southall via the Western Avenue and Greenford, and then on to Hounslow Heath replacing the 120. This rendered the 120 a very short route indeed, from Hayes to Southall (White Swan), with a running time of just 17 minutes. It generally ran half hourly, but every 20 minutes on Saturdays. The Sunday service was lost from May 1938.

However, the route was restored to Hounslow Heath from October 1938, to allow for an extension of the 105 at the other end, although the 105 remained as Shepherd's Bush to Hounslow Heath on Sundays when the 120 did not run. The 120 was re-introduced on Sundays from October 1939, between Hounslow Heath and Southall.

Then in 1949 a 120A variant appeared, diverting at Southall to Greenford (Civil Engineer) to provide a first service along Lady Margaret Road. This ran daily, thus replacing the 120's shortened Sunday service. However, in 1955 this disappeared again except on Saturdays, Lady Margaret Road being covered by new route 232, Hounslow Heath to Greenford (Civil Engineer). Consequently the 120 was restored on Sundays, but still only from Hounslow Heath to Southall.

Introduction of route 207A (Chelsea to Hayes) in 1960 resulted in the 120 being cut back from Hayes to Southall, initially with a token peak hours extension to Delamere Road. During 1965 it was extended a different way from Southall, to central Greenford via Somerset Road and Allenby Road, largely duplicating the 105 but providing some new sections. This was later introduced Sunday afternoons.

In 1987 the Monday to Saturday daytime service was diverted to Hounslow Bus Station instead of Hounslow Heath, usefully bringing buses closer to the Hounslow shops, and part of the service was diverted via Beavers Farm to replace the Hounslow local 257. This would appear to have involved a fairly lengthy double run! However, the service north of Southall was withdrawn in November 1988, along with the introduction of route E5. The 105 was diverted via Allenby Road to replace it. The rather queer arrangements at the south end were standardised in April 1990 when the H21 and H23 (and H22) were introduced, with all buses now running to Hounslow Bus Station. This was the "low point" of the route's recent history, requiring just 5 buses.

The next change was at the north end again – with an extension northwards to replace the 232, which was being withdrawn! (The Hounslow – Southall section became the H32). By then the 232 had been extended from Greenford (Civil Engineer) to Northolt station, and the 120 simply replaced this leg when the 232 was withdrawn in March 1993.

Navigation

See also routes H32, 111, 148, H91, 105, 93, E5, 423

Photo Gallery | Bus route list | Operational details | Service changes | Operators & Garages